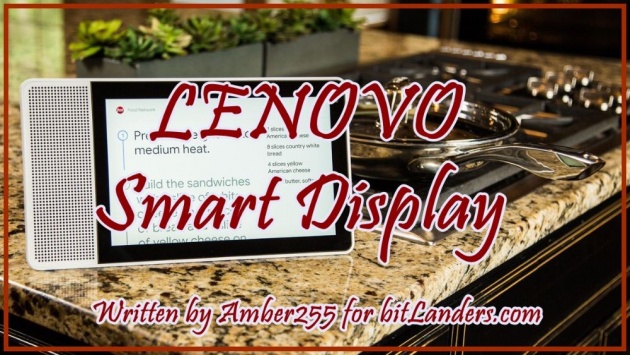 [Artificial Intelligence] Lenovo Smart Display: Introduction - Photo credit: twitter, edition by Amber255 via bitLanders
Modern portable speakers are getting smarter day by day. Just a few years ago, that the column could get the smart name, it has to have a wireless communication module (for to stream music from a mobile phone or from an online service). A few additional features: a built-in display, 360-degree sound dispersion, support for the new audio format, or conference call mode, made the device particularly advanced. Today, however, no one is surprised by such tricks. What is now an indicator of smart?
Today, a smart speaker is not just acoustics for listening to music, but a multifunctional device with built-in speakers. And the functionality is limited only by the imagination of its creators. I suggest getting acquainted with one of the most interesting and popular modern smart displays.
New technologies make our life more convenient. With the advent of artificial intelligence in smartphones, not only we can find out different information without even touching the gadget. That's why smart speakers are gaining more and more popularity.
At a time when all the new models of smart speakers appear on the market, Lenovo creates its own version of the device with a virtual assistant - a smart display. Unlike other gadgets that can only voice the results of your requests, Smart Display can also visualize them.
Lenovo has introduced a smart display assistant for the home smart display. This device resembles a touchscreen tablet, which is complemented by speakers, a video camera, and a voice assistant - Google Assistant, as well as many other useful features. The screen will help us find out the news, the weather, prepare new goodies for lunch, and call friends or relatives via video calling at any time using the Google Duo service. In standby mode, it becomes the photo frame, where the user-selected pictures are displayed.
The Lenovo Smart Display brings you the best of the Google Assistant with an enhanced visual experience. When you can see what you need, life gets a little easier. You can do more, like tackle a new recipe, watch YouTube videos, check the weather, or pull up your agenda. Just say "Hey Google" and you'll see.

Credit: lenovo
Lenovo Smart Display can become the center for controlling various smart home devices - from lamps to coffee makers. Note that for this, you only need to ask Google Assistant; for example, turn on the video from the camera in the nursery or turn off the lights in the garage. It is offered to connect the gadget to a smart home and set up its work through a special mobile application Google Home.
Lenovo and Google have created a gadget that combines all this in one device. This is a smart display with Google Assistant.
Lenovo Smart Display looks as if the tablet was integrated into a smart column or vice versa, depending on how you view it. Despite this, the equipment has an intriguing design with a rear overhang. The gadget is equipped with a physical button to adjust the volume, a microphone for noise reduction, as well as a convenient switch for the front camera.
Lenovo Smart Display is powered by Google's Android Things platform, which is designed to take into account the features of Things Internet applications.
Lenovo Smart Display - Video credit: youtube
Additional Information:
Watching videos. Lenovo Smart Display with integrated Google Assistant allows us to not only hear the answer to a question or request but also to see it. Thus, we can now cook with video recipes, view live video from surveillance cameras, and just watch movies and videos from the Internet.
Answers. Lenovo Smart Display through Google Assistant is ready to answer any questions, talk about the weather, tell you the latest news, the cash exchange rate or traffic jams, as well as offers and shows the most successful and fast route, for example, to your office.
Voice and video calls. Using the Google Duo service, it is easy to call your family and friends at any chosen convenient time. For communication, you can choose the most comfortable orientation of the screen, placing it vertically or horizontally.

Music. Lenovo Smart Display works with the services of Spotify, HBO Now, Pandora, YouTube Music, and Google Play Music. Playlists can be launched by voice commands.
Powerful speaker. It has a built-in full-range 10-watt stereo speaker with a dual passive driver, delivers balanced, high-quality sound.
Privacy. The 5-megapixel camera allows you to manually close the lens with a special shutter when not in use. There is also a mute button.
There is a Querlo chat that provides info about Lenovo Smart Display:
1. What is Lenovo Smart Display?
2. What Lenovo Smart Display Is Capable Of?
3. How To Start a Lenovo Smart Display?
4. How Lenovo Smart Display Works?
5. Pros And Cons of Lenovo Smart Display.
I invite you to QuerloChat: Lenovo Smart Display (the link opens chat in a full-screen mode):
After introducing, the Lenovo Smart Display was inferior in functionality to the new products from Google. However, soon Google itself has added multiroom support to all smart displays and speakers based on the Google Assistant, and that brought the Lenovo Smart Display closer to a more sophisticated Home Hub.
A smart display is a hybrid of a smart speaker and tablet. Imagine that you attached a tablet on an android to the smart column of the Google Home Mini and you'll understand what kind of device it is. The presence of a graphical interface in addition to voice makes it more convenient to use all the usual functions of a smart speaker. For example, asking about traffic jams by clicking on the screen, you can scroll through the map to see traffic on certain streets.
Connecting to your home network and setting up a smart display is done in the Google Home application. This process is step-by-step; it is intuitive, and the steps differ little from the settings of the previous smart speakers from Google.
Google conceived smart displays primarily as a device for the kitchen. There is a separate application with recipes, which, in a convenient form of steps, shows the process of cooking. In general, the graphical interface perfectly complements the Google Assistant. I believe that smart displays will gradually replace smart speakers. What do you think? Write in the comments.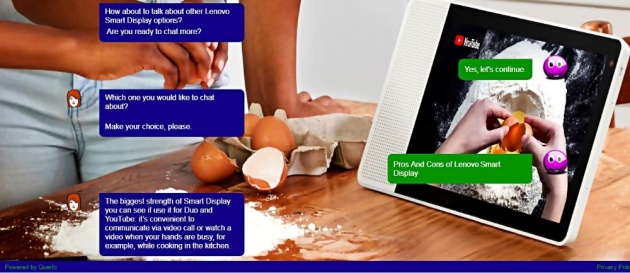 [Artificial Intelligence] Lenovo Smart Display - Photo credit: querlo
Lenovo Smart Display - the perfect kitchen device from Google. You can say that it can be used as an assistant with great artificial intelligence. But it is not. The device itself is quite simple but well designed. It focuses on simple and everyday tasks.
The Smart Display platform is a set of features that are best targeted by Google services. If you are an Alexa user, then I think you should not switch to a new device. But if you have entrusted Google to store and analyze a ton of personal data, then the Smart Display is made exactly for you.
************************************************************************
****************************************************************
******************************************
I invite you to participate in Bitlanders AI-themed Blogging and create your own AI-themed blogs and C-blogs on artificial intelligence theme:
bitLanders AI-themed blogging
After the successful launch of "The bitLanders C-blogging", conversational AI blogging by Querlo powered by IBM Watson and Microsoft Azure. bitLanders continues to support its joint venture Querlo. We believe in our mission to promote our future - Artificial Intelligence (AI) - and build AI conversations via blogging, here we are to introduce "bitLanders AI-themed blogging!"

Credit: quote from bitLanders
Always welcome back to check more Querlo Chat blogs on Artificial Intelligence theme.
***************************************************************************************************
Thank you for stopping by and reading my blog.
2019, All Rights Reserved.
You are very welcome to join Bitlanders and share your valuable knowledge and opinion.
***************************************************************************************************