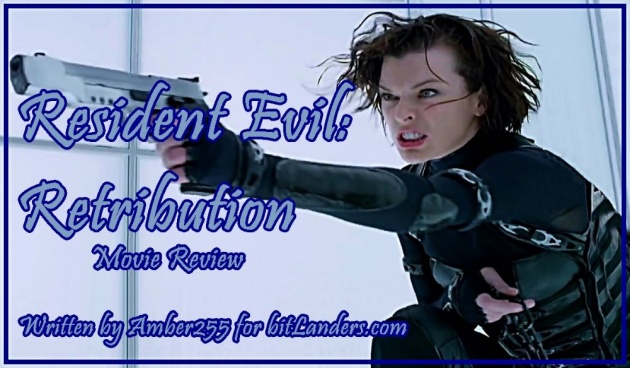 [Artificial Intelligence] RESIDENT EVIL: RETRIBUTION - Photo credit: residentevil, edition by Amber via bitLanders
Dozens of video games, comics, books and adaptations, multimillion-dollar sales, the international community of fans, the cult franchise virus Resident Evil continues to successfully infect the world.
The series Resident Evil has become as cult as the game itself. Honestly, I don't remember such a thing that they shot so many series on the game. This indicates serious commercial success not only among the fans of the Resident (which I am also) but also among people who are not familiar with the source. For Milla Jovovich, this epic was almost the best role comparable to The Fifth Element.
RESIDENT EVIL: RETRIBUTION turned out to be the most controversial and controversial part of the whole epic. Unfortunately, it has both disadvantages than advantages but as it involves artificial intelligence, I decided to tell you about this movie too.
Jovovich: Every movie is done better than the last and people want to see another one. We have the ideas for it, so it's not like anybody is bored and going "Okay, let's just write something. Whatever. Just put it out there." Paul constantly has these great ideas for it. I've been having zombie dreams for the last 10 years now.

Credit: collider
I invite you to check my Querlo chats on other earlier parts of Residual Evil that also involve artificial intelligence:
What RESIDENT EVIL: RETRIBUTION is all about?
The Japanese game's epidemic was also captured by the filmmakers of America, directed by Paul W. S. Anderson and his star wife Milla Jovovich. In 2002, they presented the first, but not the last chapter of their adrenaline and spectacular version of Resident Evil.
Humanity has almost completely lost its human face, turning into a horde of carnivorous monsters. It is all because of the spread of the T-virus, and it does not kill infected people, but makes the mutant killers of them themselves. The virus was developed by the omnipotent Umbrella Corporation under the control of the Red Queen's artificial intelligence.
In its central laboratory, hidden among the glaciers of Kamchatka, the last hope of Alice's people, the former Umbrella project, is now imprisoned. Together with another ex-agent Ada Wong, she is looking for a way out of the trap, moving from the pavilion to the pavilion, where Tokyo, Moscow, and New York, teeming with monsters, are modeled.
RESIDENT EVIL: RETRIBUTION - Official International Trailer - Video credit: youtube
In general, all this reunion of personages looked very beautiful and caused nostalgia. True, an overabundance of clones cannot be overlooked. Yes, there wasn't as much them as in the last part, but there's more than enough computer graphics. But again, the film begins to look more like a game, but whether it's good or bad is up to you.
I invite you to the world of bio-apocalypse, corporate conspiracy, spectacular battles, strong women, and offer to watch RESIDENT EVIL: RETRIBUTION.
Pluses and minuses of RESIDENT EVIL: RETRIBUTION
Let's start with the bad. I would like to note the lack of fresh ideas. Authors often force us to return to previous parts. Many moments are literally taken from the air. After the attack on the ship with the survivors, they do not tell us anything about their fate, as if they were not there.
Next is the reincarnation of old characters - part of a special forces detachment with Alice. On the one hand, it's good that we see familiar faces, but their appearance looks caricatured. Frankly, I was disappointed with Leon. The fundamental character of the world of the Resident appears as an ordinary commando, who completely lacks even a hint of charisma and some kind of personality. No difference if he is in the film or not. This is a big minus.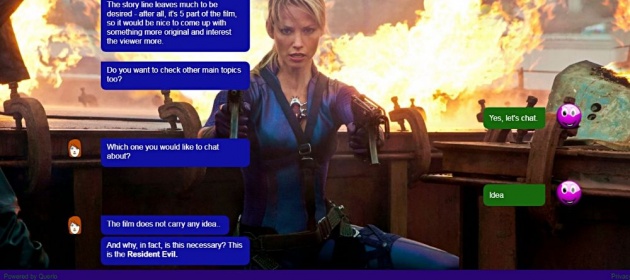 [Artificial Intelligence] RESIDENT EVIL: RETRIBUTION - Photo credit: querlo
But most of all, excessive Hollywood tricks disappointed. Of course, the series was stuffed with special effects and not quite real (from a visual point of view) moments. A smile stretches involuntarily on the face from such a view. And the acrobatic abilities of Alice! Jackie Chan himself, looking at this, will tremble in convulsions with envy. Well, okay, what is done is done.
Positive points are also enough. One of them is the introduction of classic characters - Ada, Jill; well, with the exclusion of Leon. It's nice to see on the screen those who have played for so many years. The only question is their appearance. Jill, judging by the game, should look like Alice - a short haircut, dark red hair. That is how she appeared in the first part of the legendary game. Ada was fully consistent with her image - Asian appearance and red evening dress. It is clear that the creators wanted us to recognize her right away. But if you are going to save someone and shoot at enemies, will you put on evening dresses?
For more info about RESIDENT EVIL: RETRIBUTION, check my Querlo chat and find what I share on these topics:
1. Plot 2. Idea 3. Artificial Intelligence
4. Main Personages:
a) Alice b) Jill Valentine c) Rain d) Carlos/Todd
5. Actors 6. Overall Impression
Chat with me on Querlo about RESIDENT EVIL: RETRIBUTION (the link opens chat in a full-screen mode):
The place where the film was shot - Kamchatka - was interesting. And zombies with Kalashnikovs and the old Soviet form were simply amazing. I found it funny. But when a zombie appeared, riding an army UAZ with a grenade launcher on his shoulder and in an officer cap - here I could not help laughing. The comic is a good element, but in this film, it seems to me, is not entirely appropriate.
I would especially like to note the musical accompaniment. It is here and in the first part that it reached perfection. Gloomy, tense notes, creating the atmosphere of the apocalypse fit perfectly into the picture. Listened in one breath with great pleasure.
On A Final Note
RESIDENT EVIL: RETRIBUTION - the fifth part of a completely free interpretation of the famous computer game leaves a double impression. Inside, negative emotions from a flat plot are struggling (which, by the way, can be turned into a very interesting channel in the sequel) and positive emotions from the beauty of the frame, killer shooting, monsters, and music. The zombie thriller turns into a global mutated fantasy.
The fifth part of the franchise is already far from horror with liters of blood and a mess of zombies. The film turned into an action movie with great special effects. Is there a plot in Retribution? More likely no than yes. Is it worth it to watch? Of course, well, at least for the sake of the above-mentioned special effects and a good game of actors. And no matter how we say that the Resident Evil is not the same, we are still waiting for the continuation, which judging by the end, of course, was created.
How many did not read reviews to the fourth and especially to the fifth part of the Resident Evil - everywhere is hatred. But, contrary to all, films pay off very well. Strange logic: few people like it, but thousands pay to see it.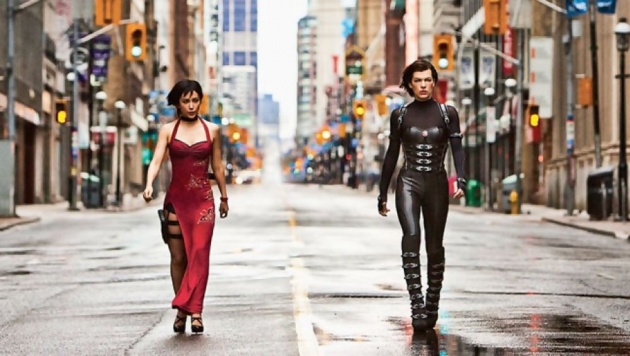 [Artificial Intelligence] RESIDENT EVIL: RETRIBUTION - Photo credit: querlo
Yes, I won't argue that this film does not deserve any high marks, but what can you expect from a fantastic action movie with the living dead, mutants, clones and superhumans, and also a director shot on a computer game who specializes in fantastic action films?
I perfectly understand that the plot of the first part, compared to the plot in this one, is just a masterpiece, but you could already understand what was going on when viewing the second and fourth parts! Yes, I like to watch the films of Resident Evil franchise, but, honestly, I expected much more from the fifth part, but instead, I got an hour and a half of rest and a spectacular meat grinder.
************************************************************************
****************************************************************
****************************************
I invite you to participate in Bitlanders AI-themed Blogging and create your own AI-themed blogs and C-blogs on artificial intelligence theme:
bitLanders AI-themed blogging
After the successful launch of "The bitLanders C-blogging", conversational AI blogging by Querlo powered by IBM Watson and Microsoft Azure. bitLanders continues to support its joint venture Querlo. We believe in our mission to promote our future - Artificial Intelligence (AI) - and build AI conversations via blogging, here we are to introduce "bitLanders AI-themed blogging!"

Credit: quote from bitLanders
Always welcome back to check more Querlo Chat blogs on Artificial Intelligence theme.
***************************************************************************************************
Thank you for stopping by and reading my blog.
2019, All Rights Reserved.
You are very welcome to join Bitlanders and share your valuable knowledge and opinion.
***************************************************************************************************