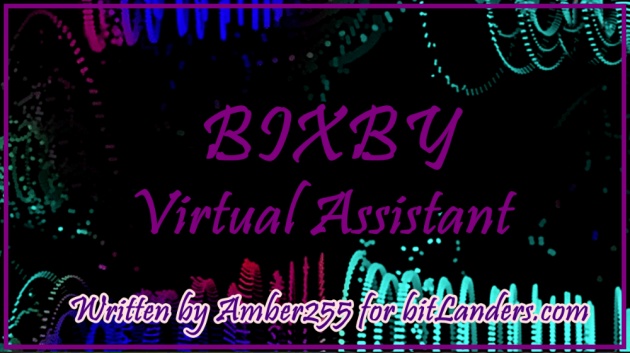 [Artificial Intelligence] Samsung BIXBY Virtual Assistant - Photo credit: ca.linkedin, edition by Amber255 via bitLanders
Today, leading companies are heading for the development of IoT (Internet of Things), which is based on the synchronization of all components of your home with a smartphone in a single ecosystem. A fundamental factor in this chain is smart voice assistants, designed to simplify user interaction with the smartphone, the Internet, and control home devices.
One of these assistants is Samsung Bixby, which is positioned by the company as a smart assistant for working with the phone and corporate appliances of Korean engineers.
Can Bixby compete with better known Google Assistant or Apple Siri? What is the real benefit and functionality of the program?



Bixby helps you unlock the full potential of your Samsung device. By learning what you like and working with your favorite apps, Bixby makes it easy for you to get more done.




Credit: samsung



In April 2017, Samsung urged its users to forget about Google Assistant and other virtual assistants. New flagships, starting with the Samsung Galaxy S8 will be equipped with a virtual assistant Bixby. This is artificial intelligence designed to help you search for information, manage your smart home, and perform various tasks through your smartphone. That is, it does everything the same as similar virtual assistants from other major developers.
Samsung designed its virtual assistant Bixby for its own devices but not only. Bixby will be possible to control the TV, home air-conditioning system, and many other smart home devices. Combined control (voice and through touch) is also possible.
On the flagship of Samsung to call Bixby, there is a separate button on the left side. The voice assistant is designed to adequately perceive normal speech and be trained in your work with it.
Samsung has set itself an ambitious goal: by 2020, absolutely all electronic and household products of the company will be able to connect to the Internet and be equipped with artificial intelligence systems and voice assistant Bixby.
Bixby is different from competing companies already existing virtual assistants on the market. Siri, Google, and Alexa focus on gathering and understanding information from the Internet and then answer user questions.
At the same time, Bixby is more trying to help in the use of the smartphone itself. Samsung engineers are trying to eliminate the need for physical use of a mobile device. It is assumed that Bixby using voice commands can do what the user does by touching the touch screen.
This is quite an ambitious goal, and it will be difficult to implement it. So far, Bixby allows revealing its potential only in a few of Samsung's applications. The company's representatives said that Bixby will work with Google Play Music, other third-party applications, and Samsung Connect smart home devices.
Samsung's new BIXBY Personal Assistant: Official Introduction - Video credit: youtube
Samsung has announced the presentation of the Galaxy S8 that the new voice assistant will not be the exclusive flagship for long. And it happened, the support of Bixby received not only smartphones but also various household appliances.
Bixby can completely replace touch control. The assistant can click on any menu item for you, open the image you need in the Gallery, and perform other similar actions.
The Bixby virtual assistant has object recognition feature. This feature is borrowed from some other services, including those created by the Amazon online store.
However, the possibilities of Bixby turned out to be much broader. The assistant recognizes in the photos not only things that are sold in stores. And not just barcodes. In theory, the voice assistant Bixby is ready to recognize any interesting object.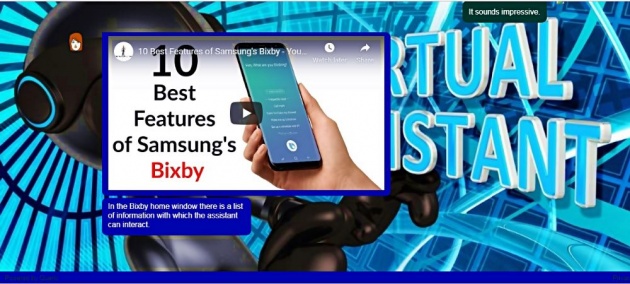 [Artificial Intelligence] Samsung BIXBY Virtual Assistant - Photo credit: querlo
For example, it may be a monument or a building. The assistant will try to instantly find on the Internet information about the photographed object. And in this way, the text in a language that you do not know is translated in real-time. This allows you to at least partially forget about the translator applications for Android.
Another great feature is the understanding of the natural language of speech.
Many voice assistants are still very limited in their vocabulary. For them to understand you, you need to pronounce some special phrase. Bixby understands natural speech. At least English. Only as a last resort, it re-asks the interlocutor. The service needs to actively study natural speech, only after that will it learn to understand it. And this takes time.
About other Bixby's function and what it is capable of, chat with me on Querlo.
I want to share with you basic info what is Bixby, how to set up it, and many more.
Just check it for the info about:
1. What is Bixby?
2. How to set up Bixby?
3. What is Bixby capable of?
a) Bixby Voice
b) Bixby Vision
c) Bixby Home
4. Bixby camera.
I invite you to the chat: [Artificial Intelligence] Samsung BIXBY Virtual Assistant (the link opens chat in a full-screen mode):
Bixby can self-learn. That is, every day an assistant will become smarter and better cope with various tasks.
Samsung is focused on the introduction of third-party development for the application. Programmers from all entire world are invited to come up with tools for managing popular programs through Bixby. And then the program will get almost unlimited possibilities.
************************************************************************
****************************************************************
******************************************
I invite you to participate in Bitlanders AI-themed Blogging and create your own AI-themed blogs and C-blogs on artificial intelligence theme:



bitLanders AI-themed blogging
After the successful launch of "The bitLanders C-blogging", conversational AI blogging by Querlo powered by IBM Watson and Microsoft Azure. bitLanders continues to support its joint venture Querlo. We believe in our mission to promote our future - Artificial Intelligence (AI) - and build AI conversations via blogging, here we are to introduce "bitLanders AI-themed blogging!"




Credit: quote from bitLanders



Always welcome back to check more Querlo Chat blogs on Artificial Intelligence theme.
***************************************************************************************************
Thank you for stopping by and reading my blog.
2019, All Rights Reserved.
You are very welcome to join Bitlanders and share your valuable knowledge and opinion.
***************************************************************************************************