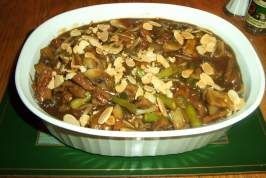 Ingredients:
Directions:
Cut meat into thin strips.

Combine 2 tbsp cornstarch with sugar, blend in 1 tbsp soy sauce and 2 tbsp oil; mix to blend.

Pour over pork strips; toss well to coat, marinade in mixture for 20 minutes.

In a wok or large saute pan heat 2 tablespoons shortening; brown the meat lightly on all sides in hot shortening (after browning the pork you may add in chopped garlic and saute for 2 minutes if desired).

Add remaining 4 tbsp soy sauce and 1-1/2 cups water; simmer, covered on low heat for 45 minutes.

Add in the celery and onions; simmer for 15 minutes more.

In a small bowl, blend in remaining cornstarch with 1/4 cup water; stir into meat mixture.

Add molasses, water chestnuts, bean sprouts and mushrooms; heat thoroughly.

Season with salt and pepper.

Garnish with chopped green onions and toasted almonds.