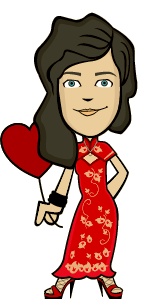 I can now breath! After more than a month of wearing those hats and masks, my avatar is now free from all those stuff!

How do you like my hair? I love it that my avatar is just showing the right hair that I really have before the straightening thing was applied in it. I now just wearing those recent ones which I had purchased from the store like the Chinese costumes but I just noticed, I still do have my Christmas costumes too! It's been staying there for more than four months now!

Well, I can't really take it off my wardrobe because I love it. I love the red stilettos, the red top and skirt too so I am keeping it. I still have some bangles as well as the bags, well those are expensive stuffs so I am definitely keeping them.

I wonder if bitLanders is planning to give us more options with the costumes.

How do you like my new avatar?