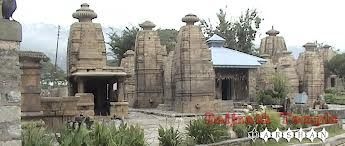 Baijnath Temple is positioned about 16 kms away from Palampur at Kangra in the state of Himachal Pradesh, India. This temple is devoted to the Deity Shiva. Deity Shiva is worshipped in this temple as the Deity of Physician or Vidyanath. Deity Shiva is considered to be here since the year 1204. This temple's history belongs to the era of the King Ravana. According to the legends, Ravana worshipped Deity Shiva inside this temple and forfeited his head 10 times at this place. For this reason, the locales of the bordering areas never celebrate Dussehra here as Ravana was the devotee of Deity Shiva.
In accordance with the inscriptions written on various stone slabs inside this temple, it was founded by 2 local merchants during 9th century. The ruler Sansar Chand later renovated this temple in 19th century.
The architecture of this temple is of Shikhara pattern. This temple is situated in a neatly maintained compound of pathways, gardens and lawns in a sole walled patio. There are elegantly fixed floral images and patterns of many deities on the exterior walls of this temple. The Baijnath temple's sanctum is 8 Sq.ft inside & 18 ft outside, having a pointed spire at the top. The sanctum consists of a linga known as the Vaidyanath. Other than having 2 significant shrines, this temple is also having 2 very striking statues. These well carved statues shows unusual features of Deity Shiva's vehicle known as Nandi Bull along with a little human figure which is holding the tail of Nandi. This Baijnath temple is recognized for an exceptional expertise of Kangra artesian.