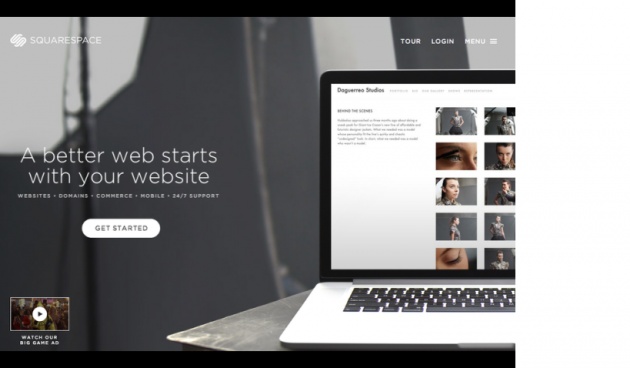 BEST FREE BLOGGING SITES
Tumblr (Web/iOS/Android/Windows Phone)
Tumblr Logo Don't let Yahoo's $1.1-billion Tumblr acquisition or the recent launching of the platform's official book club deter you from what is one the premiere microblogging tools of our day and age. Whereas many popular blogs boast a confounding number of features and customization options, Tumblr revels in simplicity and ease of use. The platform remains ideal for publishing short-form ruminations and image posts, offering sleek layouts optimized for artwork and photos, while housing additional post options for text, links, music, video, and quotes. It's not equipped with a particularly complex backend, making it ideal for first-time users and those looking to post within minutes of signing up, but the front end also tends to visually attractive enough to warrant the general lack of complex features. Still, customization and minor tweaks to the UI are available in the top-right corner when viewing your blog — such as theme and page changes — and the site won't charge you a dime to use a separate domain name should you figure out how to register one elsewhere.
Posting works in a similar manner to all blogs on our roundup, requiring you to draft a headline and a body of copy prior to publishing, but there are additional options for publishing immediately or at a specific, scheduled time. Although the lackluster text editor highlights the platform's strong emphasis on limited copy and frequent image postings, additional tools like the mass editor and "reblog" function promote active ties with some of the more renowned social media networks and further cross-platform support. For instance, users can follow other Tumblr blogs at the click of the button or set up their account to automatically post Tumblr posts to Facebook or Twitter feed.
Tumblr isn't the most industrious for long-form journalism, but the gradual learning curve and visually-feathered design make it a standout for those looking to break into the field and showcase their artwork, photography or other visual mediums. Plus, users can directly post to Tumblr using the Web-based software, email or any of the accompanying mobile apps.
Tumblr screenshot
Tumblr screenshot 3
Tumblr Screenshot 5
Tumblr Screenshot 4
WordPress (Web/iOS/Android/Windows Phone)
Wordpress logo
I doubt many people batted an eye when WordPress co-founder Matt Mullenweg said the platform powers a staggering 18.9 percent of the entire Web. Sure, it's a large number, but the open-source platform is one of the most assiduous and capable blogging platforms ever constructed for popular use. The blog is saturated with a healthy dose of themes, plugins, and widgets that help pave the way for veterans and new users alike. Unlike the aforementioned Tumblr however, WordPress is a intuitive platform rooted in customization and a sprawling back end, allowing users to perform a diverse sundry of customization tasks and deep level of control regarding nearly all components of the suite. Initially creating a blog is simple and straightforward, whether you opt for an elaborate premium theme or choose one of the hundreds of freemium offerings, and including additional elements such as an archive tool or Goodreads widget is as easy as dragging the available component into a coupled sidebar. Moreover, WordPress provides options for directly purchasing a unique domain name through the site for a measly $18 per year when you first sign up or at any later date.
Despite the steep learning curve associated with the advanced customization features, posting is by far the easiest task to utilize on the platform. Like Tumblr and Blogger, users need to do little more than enter a posting title, add the desired multimedia content or copy, and click the publish button. Drafts can be saved and tagged, as well as automatically charted via the built-in analytic system, and posts are designed to cater to both short and long-form writing. The platform also offers a host of social media plugins capable of broadcasting posts to sites like Facebook and Twitter, while simultaneously aggregating and republishing responses as WordPress comments.
WordPress is arguably king when it comes to sheer customization and advanced levels of control. The platform's steep learning curve is daunting and can require an extensive amount of time to master, but users can essentially make the site look and perform however they desire with a bit of ingenuity, an extensive look at the diverse online tutorials and little engagement with the extremely-active user community. I guess it's no wonder Digital Trends runs on the platform.
Wordpress screenshot
Wordpress screenshot 2
Wordpress screenshot 3
Wordpress screenshot 5
Blogger (Web/iOS/Android/Windows Phone)
Blogger logoAnd then there was the Google-owned Blogger. Launched in 1999 and acquired by the multinational corporation in 2003, the blogging platform has been one of the most trusted and utilized of blogging tools of the last decade. Though incredibly easy to set up and use via a Google account, it's enriched by a premiere host of customized utilities and design improvements carried out over the course of the last couple years. Less tech-savvy users won't find their lack of programming knowledge and HTML coding to be a hindrance due the platform's drag-and-drop design and dynamic updating. It features all the traditional posting options we've come to expect on a dedicated platform — such as text, video, images, etc — while additional options for geotagging location, incorporating RSS content and toggling between multiple languages are all readily available within the hassle-free backend. It doesn't offer custom coding akin to WordPress, nor or it bolstered by an underlying user base quite as tenacious as other sites, but the site's integration with third-party apps and gadgets makes it versatile and more capable than feed-centric platforms like Tumblr.
Blogger also allows users to create a team blog, thus simultaneously supporting up to 100 users and expanding editorship beyond one initial contributor. It's incredibly easy to implement given your blog is automatically associated with your Google account, while allowing users to set differing authorship and administrative privileges for a more overarching level of control. Stats and traffic sources are built directly into the software, as are the dedicated monetization tabs and coupled AdSense options, but most users will find little need for the tools given Blogger's heightened focus on new users and those working in the amateur blogging realm. Still, the platform's robust integration with Google allows users to interact via their Google+ accounts and image uploads to be automatically saved as Picasa web albums with little fuss.
The blogging platform is a middle ground of sorts, walking a thin line between dead-simple and brawny backend, while delivering a template designer and hodgepodge of widgets that should appeal to those just entering the blogosphere and those already residing within it. It's more apt for the personal blogger than the professional, but it has the capacity to be what you make of it.
Blogger screenshot
Blogger screenshot 3
Blogger screenshot 2
Blogger screenshot 4
Free & premium alternatives
There is no doubt Tumblr, WordPress, and Blogger are the three best blogging sites overall, but there are always other choices designed to fit other individual aesthetics, limitations, and motives. Perhaps you're keen on a particular backend layout not present in the aforementioned options, or maybe you want a service excelling in top-notch customer service or extensive commerce tools. Whatever the case may be, below are several more of our favorite options currently on the market. The days of Posterous and Moveable Type may be gone, but they're not completely forgotten … yet.

Weebly (Web/iOS/Android)
Weebly was the first site I ever used to create a "professional," post-college website given its flexible framework and broad appeal. Both blogging and backend customization utilize the platform's straightforward, drag-and-drop interface, while the swath of template options offer additional designs should you decide to forgo the bundled HTML and CSS editor. It's not the most phenomenal when it comes to features, but it's free, devoid of ads and loaded with statistical tools and SEO options for a more comprehensive look at your blog's performance. Unlike many blogging platforms, Weebly's mobile services are some of the best offered, touting admirable customization and posting options within a sick, attractive interface that bodes well for the future of the platform's design. It's pretty basic as far as blogging sites go, but it serves as fantastic introduction and gateway to more capable platforms requiring a better understanding of website construction.
Weebly screenshot
Weebly screenshot 4
Weebly screenshot 3
Weebly screenshot 1
Squarespace (Web/iOS/Android)
Squarespace may pride itself for its gorgeous, modular design, and versatility, but it touts the same accessibility when it comes to price. However, the content management platform is also one of the most stable and reliable, equipped with built-in website analytics and a slew of dynamic templates customizable with or without prior CSS or coding knowledge. Available widgets implement everything from real-time Twitter and RSS feeds to search utilities and contact forms, but most are tailored with the platform's e-commerce focus in mind. No matter the content though, posts can still be set up for later publishing and coined by multiple authors, providing ample options regardless of the price bundle you choose. Importation and simple synchronization with cloud services like Dropbox are also welcome additions, as are the expansive gallery variations and intuitive image manager. The most basic plan will run you $8 a month, but you can always opt for the free trial first.
Squarespace screenshot
Squarespace screenshot 2
Squarespace screenshot 4
Squarespace screenshot
TypePad (Web/iOS)
Based on Moveable Type, a former forerunner in the blogging industry, TypePad was originally designed using the same technology. It sports many of the same APIs and templates, though it varies on which price package you purchase, and places a heavier focus on less tech-savvy users. Although not necessary, themes can be altered with custom CSS coding, and the platform boasts a fair share of SEO, RSS, and AV-managing assets to keep it competitive with other freemium and premium offerings. Posts can be published through the well-designed Web interface, mobile platform or even email, while boasting multiple authors and rich editor that provides extensive customization. Stats are available via Google Analytics, and though the premium package will run you $30, most users prefer the more affordable $9 and $15 packages given their beautiful design and unlimited storage capacity. The platform's stable, closed-source code only a plus.
TypePad screenshot
TypePad screenshot 4
TypePad screenshot 3
TypePad screenshot
What do you think of our selection of the best free blogging sites? Did we miss something in all the post-maddening fanfare? Let us know which platform you prefer and why in the comments below.
Also watch: Best Movies on Hulu
Solaris (1972)

by Taboola Sponsored Links From The Web
Easy To Pick Up, But Hard To Put Down. Dive In To The World of Pirates
Pirates - Online Game
This Special Report Explores Financial Opportunity in Brazil
The Financialist by Credit Suisse
Sparta : The Best Free and Addicting Online Strategy Game
Sparta Online Game
Read more: www.digitaltrends.com/social-media/best-free-blogging-sites/#ixzz3zUd6kHLY
Follow us: @digitaltrends on Twitter | digitaltrendsftw on Facebook