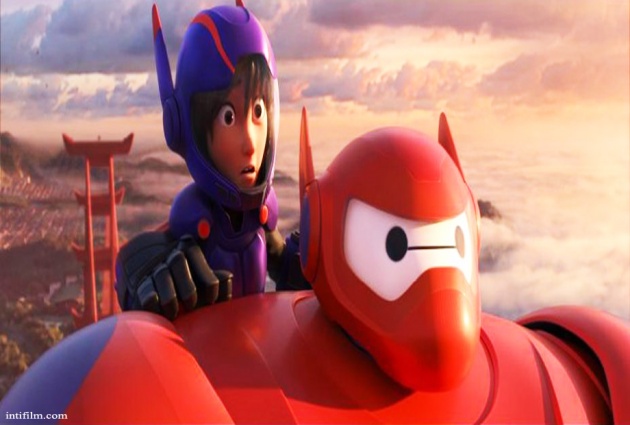 Big Hero 6 (2014)
Player:
Ryan Potter, Scott Adsit, Jamie Chung, Damon Wayans, Jr., Genesis Rodríguez, T. J. Miller, Maya Rudolph
Animated film 54th in the Walt Disney Animated Classics series, after the last film that was released in 2013 Frozen ago, the 14-year-old teenager tells Hiro Hamada (Ryan Potter, as the voice), who is a genius in the field of robotics. After the death of his brother Tadashi, Hiro together a robot named Baymaxx (Scott Adsit) formed the team "superhero" to try to solve the mystery of a crime.
Hiro living in metropolitan San Fransokyo (a combination of the city of San Francisco and Tokyo), trapped in a criminal scheme that will destroy the city with high-tech destroyer. He had reported the danger of evil masked figure to the police. However, the police did not believe the testimony Hiro. Finally, he tried on their own to protect and save the people in her town.
Hiro collects his friends Wasabi (Damon Wayans, Jr.), Honey Lemon (Genesis Rodríguez), GoGo Tomago (Jamie Chung), Fred (TJ Miller). Coupled with Baymax which is a robot combat, they became Big Hero 6. Not only presents a story of adventure and action Big Hero 6 in costume, especially respectively, the film also presents some hilarious scenes of friendship Hiro and Baymax.
Baymax itself has a shape that plump skin soft and bouncy like a balloon, as well as white. No wonder so many funny things that happened to him, like a robot when it closes holes that leak air by using tape. Although many serve their actions in crushing crime, but indirectly the film also features a safe atmosphere for children like other Disney cartoon with a variety of cuteness that.
Let you watch this movie trailer opens with a scene that Hiro is being reported to the police station San Fransokyo. He said that he and Baymax kabuki attacked by a masked man who can control microbots that could fly, but police do not believe it. When attacked, he sent Baymax so fast run, but Baymax says "I do not fast,". Inevitably, Hiro's interesting Baymax ran through the narrow gap that makes Baymax pinched.
"So, Mr. Kabuki use the ISP to attack you and your balloon," police said, looking incredulous.
Baymax took the tape that the police are on the table and patching leaky arm. There are three leakage as a result he was forced to pass through a narrow slit. Baymax was patching one by one leaked by using tape. Police handed masking closer towards Baymax when Baymax want to patch the third hole.
"I know this sounds crazy ..." said Hiro. "Yes, why do not we call your parents, you simply write the number here," police said, taking the book with his pen and Hiro.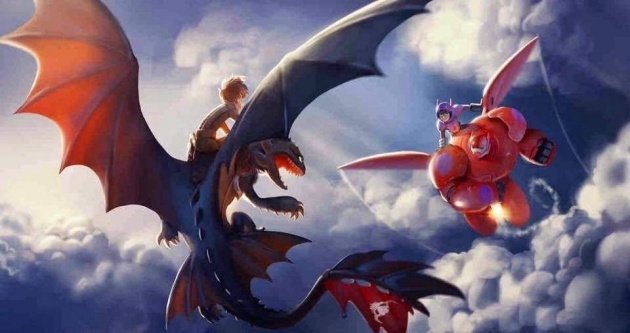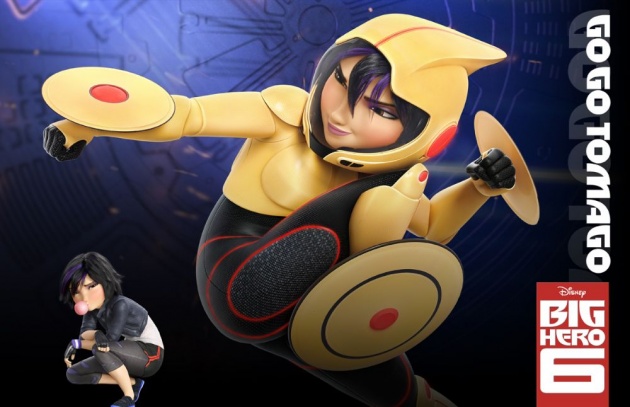 When the police want to give up a pen and paper, and Baymax Hiro's gone ahead, even without a chance to cut the duct tape so that the adhesive tape drawn out, and stumbled on the police station door. heheh
Because he felt the police could not help him, Hiro makes clothes for Baymax super hero, superhero outfit like yours Iron Man can fly too. No wonder lah, you see this movie, do not you, once got Marvel. She paired the outfit was a bit difficult because Baymax belly fat. Hiro also gathers his friends to get together face masked villain Kabuki. They are involved in the chase scene in the streets with criminals Kabuki.
The film has a high rating, tablets, 8.6 on IMDB and 100% on Rotten Tomatoes! No wonder because the film was made by filmmaker Frozen and Wreck it Ralph is a great success of it. Really worth watching.
Can Big Hero save his town from the evil buggers figures? Big Hero 6 will begin to release the CG animation format (Computer Graphics) and 3D on November 7, 2014 in the United States.