Hello guys
I'm here today with my first blog which will be about bitlanders and its features. In my today's blog, I will tell you some amazing features of bitlanders and I'm sure you guys will like it.
Video Credits: Asad Munib via YouTube.com
So dear friends, first I will tell you about the bitlanders.
Image Credits: Bitlanders.com
Bitlanders is an online social media site which helps us to earn revenues in bit miles through blogging and sharing our thoughts. Bitlanders is used on the computer and mobile app and it is used to earn revenues. Our earned rewards are calculated in bit miles and then can be converted in US dollars for withdrawing. Bitlanders helps us to earn rewards very easily through sharing our thoughts in shape of blogging. We have to write the blog for earning money on bitlanders and our blogs are submitted for review to the editorial team of bitlanders. The editorial team reviews our submitted blog post and gives us rating against our submitted content.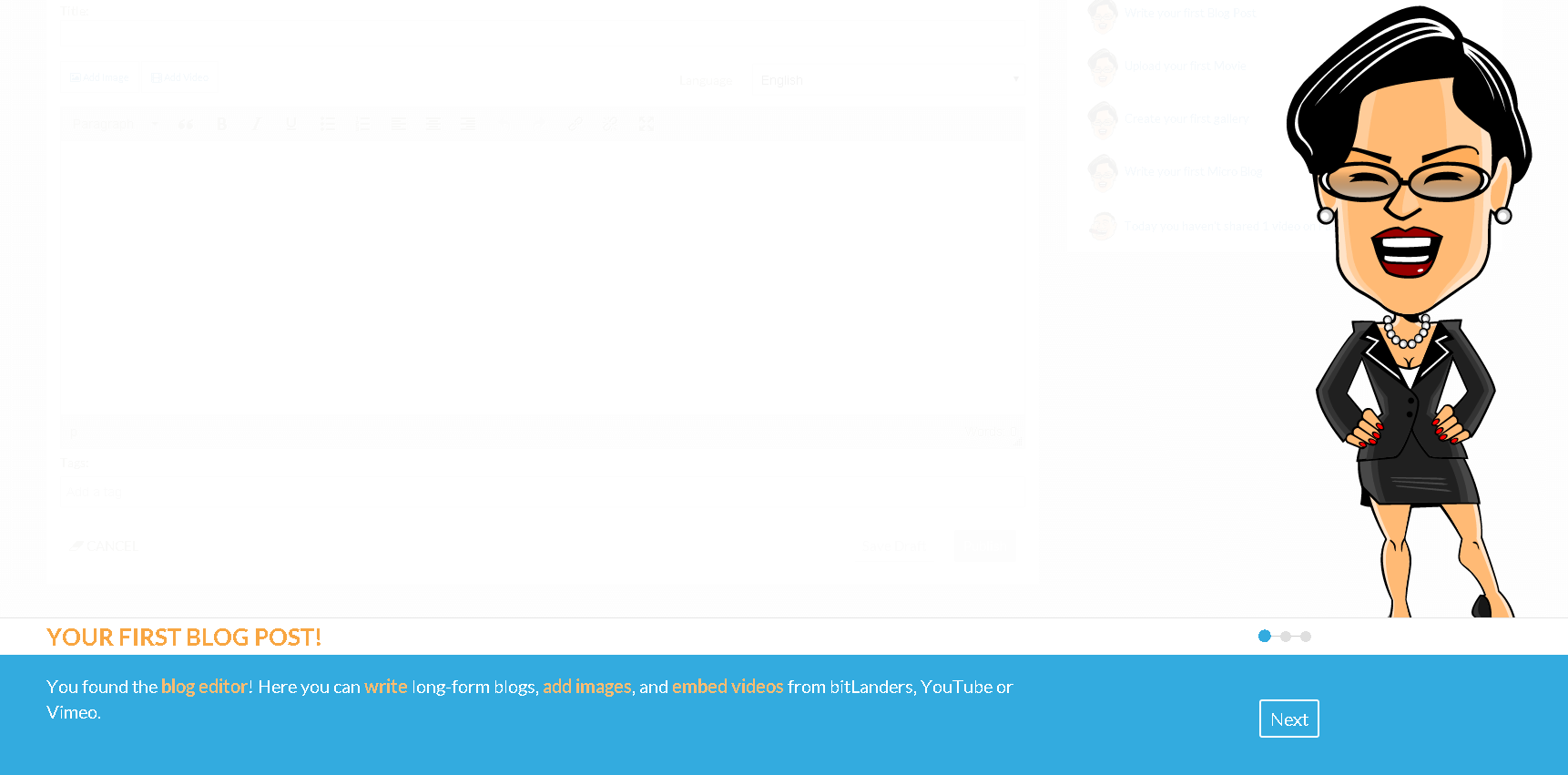 Image Credits: 99bitcoins.com
The Buzz Score:
Image Credits: http://www.cosmic.bm
The buzz score is the method of calculating our activity on bitlanders. When we submit blogs frequently on bitlanders, our buzz score increases. Our earning also matters with buzz score and with huge buzz score earning will also increase. Buzz score is calculated in two kinds furthermore. Here are these;
The base buzz score
The direct power-ups
Now I will explain these two types.
The base buzz score:
The buzz score is the initial buzz score which is calculated through our rated content and our influence on the site. The base buzz score decreases and increases our rated content and our influence. If we submit blogs constantly then our base buzz score will increase. But if we don't submit blog regularly then our base buzz score will decrease.
The direct power-ups:

The direct power-ups are also known as buzz score bonus. The direct buzz is calculated with our blog results. When we get blog results then we are also rewarded with buzz bonus which is added to our buzz score for specific days. The buzz score increases with the help of direct power-ups but it remains for some specific days. The direct power-ups may be rewards on some specific activities like when you are rewarded with blog results or while purchasing gems or accessories from the bitlanders market. The direct power-ups are also added daily to your buzz score by doing daily quests. For example, watching 5 videos daily gives us +3 buzz bonus and submitting a blog for review also gives us +3 buzz bonus for 2 days.
Bitlanders Leader Board: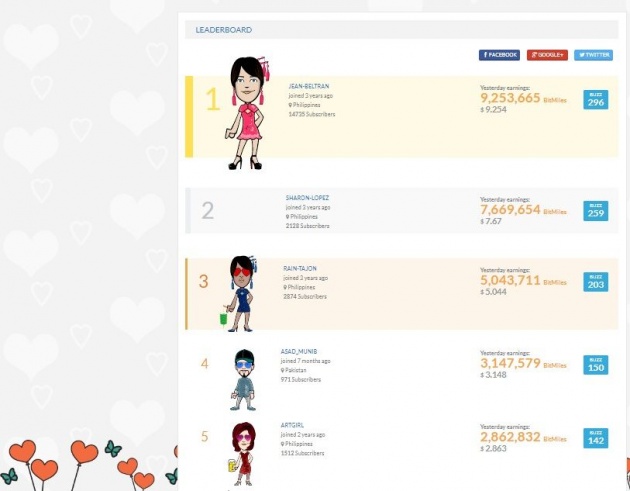 Image Credits: Captured by me via Bitlanders.com

Bitlanders has a unique feature of leaderboard which shows the top 30 profiles of bitlanders who have highest buzz score. Recently the top earner of bitlanders is Jean Beltran who is earning approximately 10 dollars daily and her buzz score is above 300. The top 10 people are earning more than 1 dollar daily and submitting blogs regularly. The leaderboard helps you in reaching to their profiles easily. You can also see the activity of these users from the leaderboard. The leaderboard is updated daily when the box appears to each user with their daily earning.
FAQ of Bitlanders:
Image Credits: http://www.rhinoplastys.net

FAQ of bitlanders can be seen by clicking on the gear button and then scrolling to FAQ. The FAQ of bitlanders can help a new user and describe the complete theory of bitlanders. Because new users are not aware of bitlanders so they should read FAQ for getting complete help. FAQ consists of questions and answers about bitlanders social media site and explains each category separately.
Image Credits: https://2020wordpress.es

You can read the FAQ thoroughly for getting complete help about the site.
Bitlanders Rewards:

Image Credits: https://bloximages.newyork1.vip.townnews.com

Bitlanders allows users to earn and withdraw rewards through bit miles loyalty points which are further converted in US dollars and can be withdrawn through PayPal and Payza method. PayPal can be used for withdrawing but as we are in Pakistan, officially PayPal is not allowed here so we have to choose another method which Payza. Payza dollars can be converted easily and can be withdrawn in our local currency.
You have to find a broker for converting Payza dollars.

But before withdrawn method, you have to verify your bitlanders account first. Account verification is required before your request for withdrawing.

How to verify your bitlanders account?
Image Credits: http://www.citadelsystems.com
Bitlanders account can be verified with following documents.
You must submit these documents to the bitlanders team on the following email address;

cs@bitlanders.com
The documents which may be submitted for verification are following.
Selfie Verification:
Image Credits: https://findbiometrics.com

A selfie of the account holder with identification card is required. The account holder should carry the identification card and a paper on which bitlanders should be written clearly and visible.
Identification card:
Image Credits: hackermoon.com

For the personal identification, CNIC may use and the document should be in English. Identification document shows the name and address of account holder and also shows the picture of the account holder.
Driving License:

Driving license may also be used for verification because name and address along with pictures are mentioned in that document. Driving license is the next choice if the account holder doesn't have CNIC.
Utility Bill:

The utility bill can be used if the account holder name is mentioned on it. Utility bill should be new and should also be paid.

The above documents must be scanned properly and then would be sent to the bitlanders email address for account verification.
A Querlo Chat is added for you friends!
Querlo chat via Querlo.com

If you add the following paragraph in your email then it may be a better idea.
Dear Sir, I'm submitting my documents for account verification so that I can withdraw from bitlanders. It is my humble request that please accept my documents and verify my account so that I can withdraw from my account. Regards

Dear friends, Above method, is used for account verification and after successful verification, you will receive an email from the bitlanders regarding the verification of your account. You may withdraw from bitlanders after verification.

Why is verification needed for withdrawing?

Verification is a very important figure before you can withdraw from bitlanders so they can know about whom they are sending the payment. The anonymous person cannot get paid. Verification tells the bitlanders team about you and exact details for sending payments. Verification is very important and no other person can withdraw from your account without your consent.
Dear friends, I've mentioned some important features of bitlanders and account verification procedure and I am sure that newbie will learn from it.
Video Credits: AsadMunib via YouTube.com
Please note: The above-mentioned words are my own thinking and there is not a single word copied from anywhere else and all the blog is written for bitlanders. If something from my blog is missing then I apologize for that. No one is allowed to copy the blog or any words without my consent.
Thanks for reading my post and spending your precious time.
Regards
Hassan Umar