Believe me, for two years of staying here in bitLanders, different changes had happened to the site. It went from being a simple social networking site which pays bitcoin to a blogging and content related website which not only pays its users but also shares the blessings to charitable institutions, one of the many reasons why I had never left this site.
So here's one of the new update which had occurred to bitLanders: Chat Surveys! Below is a video I had screen captured while receiving questions from Hillary :
And if there's one impression that had been staying in me about this site that would be this:

Nothing is certain for this specific website. There's always change and as what the team here had mentioned under their frequently asked questions section. They are constantly doing minor changes to the system for the reason that I don't also know but one thing's for sure, they are updating the site for the betterment of the entire community and for the benefit of course of the users.
GLIMPSE OF THE PAST

It would be better for me to enumerate and provide a general information on these changes that had occurred and taken place in bitLanders:

Treasure Box + Daily Login Bonus
From the normal daily earning update which we have to go check on each of our account balance histories, bitLanders came up with the idea of giving treasure boxes. A fun and exciting way of providing us, its users their much awaited daily earnings.
Intro to Gems
Gems are precious to the real world and so as to bitLanders due to the fact that it can be used for a user to get specific items from the shop, it also enables one to get his or her contents reviewed.
New Costumes
Each of the users get to enjoy and play around with their avatars because of the new clothing or costumes available almost every month here in bitLanders. It provides us a way of expressing ourselves and our fashion senses.
Content Review
One of the huge or major change within bitLanders is the content reviews which had encouraged their users to blog and post original contents through these content reviews. This also had been a stream for users to reach the Leaderboard.
Leaderboard
Speaking of content reviews, after a few weeks of receiving feedback from users who have received good review results, leaderboard was born. This is a way of showing to the users who had the biggest earning for the entire community and since bitLanders is a competitive social networking site.

bitStickers
When I can't say anything about a post, I would normally leave it without doing anything except buzzing but when bitLanders introduced their stickers, I have always something to leave as comment. Thankful for those stickers and by the way, they are cool too!
Satoshi Hunting
When bitCoin was still the payment option for bitLanders, they also offer satoshi hunting at the newsfeed. It encourages users to view certain articles or videos for ten satoshis. At this point, the hunting is still there but it would provide bitMiles points instead of satoshis.
Charities
My favorite! Because of this, I had been able to also share and give back to the community, specially to those who really need. I have my top three favorites :Americares, Action Against Hunger Foundation and Lifevest Inside.
Global Chat
The most efficient way of peer to peer communication would be through Global Chat where you can see who's online at this point of time and you can also perform a Private Chat with. Cool right?
Watching Videos and Earn 100 bitMiles
Watching videos on bitLanders will not just entertain the viewer but also will earn him or her 100 bitMiles. There are lots of videos available within bitLanders and although not all provides this, most videos will show you a few ads and gives 100 bitMiles afterwards. This is just one more ways on earning more in bitLanders.
More of these innovative changes here in bitLanders is also available on another blog which I had posted long long time ago : bitLanders in a Year of Innovation
CHAT CHALLENGES

Chatting and socializing is fun and although it has advantages, there were also disadvantages with the launching of the bitLanders' Global Chat. Two of the most issues and challenges while using the Global Chat were the following:
English Policy Not Followed

Users in bitLanders come from different parts of the world and everyone speaks different languages too! That is why it was hard to really maintain an English Only policy in the site. That would cause confusion to other users since they can't understand the other languages and as well as to the moderators like Micky and the developers too. That is why, they had implemented the English Only policy in the Global Chat. It was introduced a few months after introducing the Global Chat.
However, this was still not being followed by other users. Although the team had already set up banning temporarily these specific users who are not using English in communicating to other users, there were still non-English phrases and words being used in the communication.
This was really hard to be taken out of the Global Chat. Users would still use their own languages specially when talking about certain steps or things to do into the site. I know it is really hard to get this out of the Global Chat. As long as banning temporarily is concerned.
Buzz Deals is Rampant
Aside from the English Only issue, the worse case inside Global Chat is the Buzz Deal disease which had spread out from the start of the Global Chat until these days. It was super hard to eliminate and although the team of moderators had already issued a call to stop this buzz deals, more and more users are just using this to get buzzes on their posts. Most of these guys are just posting spam information and even giving buzzes to those spammed posts.
Aside from that, they are also giving spammed comments and copy pasted items too. It was indeed a challenge for the entire bitLanders community on how to stop this disease.
MAJOR CHANGE COMING
Due to these challenges and issues which the Global Chat had encountered because of these users who had abused this functionality, bitLanders had gone into making a major change in the system. This change would mean that only those information or contents which had been rated and has stars on it will matter. This will be a test of perseverance and creativity for all the users. Any buzz which a user would receive and will give for a reviewed content, he'll be earning from it but buzzes given and received for those ones which have never been rated won't anymore matter in this system.

This had given different responses to the users of bitLanders. Some may have reacted that because of these changes, users will start leaving the site however, other users had agreed on this change due to the fact that there are many many users who had climbed their way up to the top of the leaderboard without actually giving out good content. They were able to go get a spot on the leaderboard because they had been engaging in the buzz deals.
By the end of the month, everyone will be experiencing the changes that will occur to bitLanders and it will be a test of creativity and article making or posting or good quality videos and also with images for the gallery review.
CHAT GOING THE EXTRA MILE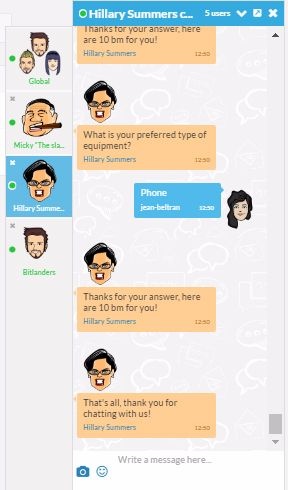 Before the major change had been introduced, bitLanders also had given the users another way of earning on the site. It doesn't really require much effort because this only requires clicking the answers. bitLanders introduced Chat Surveys from Miss Hillary! It includes questions and reactions on certain topics. Most of these topics are about the ongoing campaign topics and issues from the United States of America.
I myself is based in Cebu, Philippines and although I am aware of the upcoming elections happening in the US, we are not really that knowledgeable about all the matters that the Chat Survey had been presenting.
But I am definitely glad that these functionalities had been available to the site which gives us more options on getting more bitMiles. It will be another way of enjoying the Global Chat and the bitLanders as a whole.
bitLanders Team on Chat Bot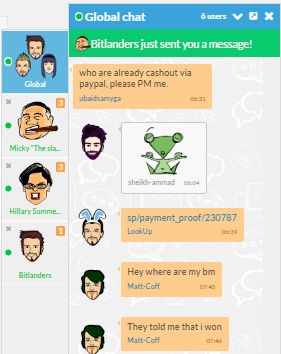 While it was only Miss Hillary Summers who had been going to the Global Chat for the chat surveys, it was surprising to see the other bitLanders team going to the Global Chat giving out questions and surveys.
It was my first time to get a private chat from Micky-the-Slanted-Salerno and of course the bitLanders account too! All of them are just bots actually and had been coded to provide questions and surveys which will provide 10 bitMiles points to every question or survey being asked.
bitLanders gave me one question while Micky-the-Slanted-Salerno had provided a few and Hillary Summers gave me the most number of question surveys.
Copyright 2016. All rights reserved Jean Beltran-Figues