I have this blog idea of writing a sample tour guide which should cover the places which can be visited by tourists and other locals who would like to do certain Bohol tour within a day, but I want it to be unique this time so that I won't be reiterating the same places which I had blogged about before. Previously, I had posted three entries about Bohol tour, there's one during our family tour and another one with James which I refer as the Bohol Mini Tour.
So today, what I thought is a perfect idea because this will not only bring memories but will also give you, my readers the idea of what the common Bohol Educational tour would be about base on my personal experience.
Video credits: Edward Sueno via YouTube.com
Educational Tour by DepEd
You know when we were still in our secondary years, we have this certain Educational Tour mandated by the school in charge. It is a bit controversial because of course our parents have to shell out some amount in order for their kids to be able to join. Shouldering specific amount would be a challenge for the parents specially if they have more than one child in the same school. Gladly, this has been taken out by the Department of Education because of the issues and problems that came with it. Also, there were many accidents that had happened before that caused alarm and even caused certain deaths. Thus, Educational Tours have been abolished and not anymore mandated by secondary schools. Although certain colleges still has this imposed to their college students.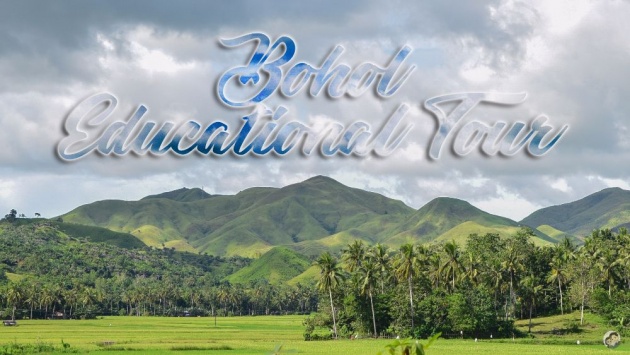 Image credits: Jean Beltran-Figues via bitLanders.com
Anyways, I am sharing here our usual route as I had gone to around four Educational Tours since first year. By fourth year, we didn't have one but during my junior year, we had one Science Tour since I was part of the Science Organization so that made it four in all.
Now Educational Tours has this mission of giving the students specific knowledge about the actual processes related to certain school subjects and has the aim that each student would have their personal view and actual experience with these certain processes giving them the physical and tangible application of the things talked about in school.
So here's the usual list of places within Bohol that we normally go to during these field trips.
Ubay Dairy Farm
Image credits: topsy.one
I checked for blogs about the Ubay Dairy Farm but couldn't find a decent one, there are only resources which are either news or site updates of the farm itself so I think this spot has never attracted bloggers of any sort and it saddened me. In fact, after reading one site who's writer had made a whole round Bohol tour, I thought to myself that it is possible for me to do the same, my husband and I can travel around Bohol in two to three days and just document the experience. It would be a perfect idea for a Bohol blog series about the towns around the circumference of Bohol. This will be my knowing your province again process.
Anyways, when we had field trips, this is the first destination. It's just an hour away from our town so it is the usual route.
Image credits: zarenestravel.blogspot.com
In the Ubay Dairy Farm, we were shown the different carabaos which produces milk. They also have their own plantation of vegetables and fruits in a greenhouse. But the highlight really is the manufacturing of the milk products like ice creams and milk varieties. They even have their own Albino Carabao! The milks go into a certain process like pasteurization then packaging as well. My favorite product is their Chocobao which means Chocolate Carabao milk.
Marcela Feeds Factory
Image credits: www.marcelafarms.com
An application to subjects such as product composition, processing and packaging, students were brought to the Barangay Gabi of Ubay. We were inside this huge housing which has the smell of chicken feeds.
We got to see the gigantic machines used for milling the feeds, workers were there to manipulate and command the machines and there were others who are quality checking the products.
Marcela Feeds take pride of providing livestock feeds which are 100% non-use of anti-biotics. Since the company itself is producing livestock and fish supplies to the major stores and groceries in the province, Marcela Feeds is the major producer and supplier of these certain feeds.
Palm Tree Plantation
Image credits: pinoyweekly.org
I only have a vivid memory about this but I do remember we had gone to this huge land filled with trees which looked like Palm trees producing red fruits grouped like that of a dates tree. I never thought at that time that it has controversial issues. Today, this plantation is not anymore in business.
During these trips, we were intorduced to the seedling production to the number of months that these palm trees start producing fruits. These fruits will be harvested and oil is extracted from it after going through certain processes.
I can't anymore recall which area was it in Ubay but I am pretty sure that was in Ubay.
Malingin Dam in Ubay
Image credits: www.boholtourismph.com
Another stop in Ubay was their dam site. There's a huge lake in town and a dam was constructed for power supply. During my college years, I normally travel to Cebu via Ubay port so I get to pass by this area and its a beauty whenever I pass by it. When it is rainy season, water rushes from the top of the dam which creates this terrifying but beautiful view.
But in high school, we only get to see the view and we can't get nearer to the water. That was the only memory I had during these field trips.
Pilar Dam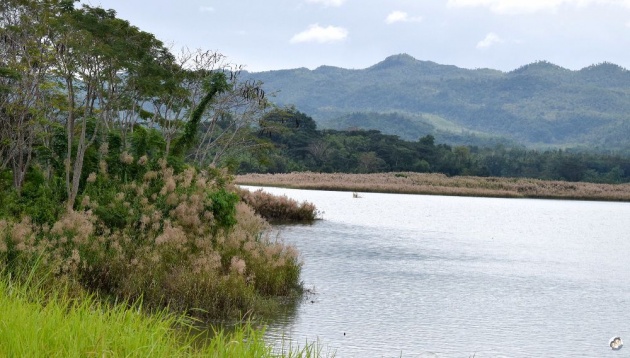 Image credits: Jean Beltran-Figues via bitLanders.com
After seeing the Ubay Dam, we then proceed to check yet another dam, the Pilar Dam this time. I got to visit it again two years ago with James during our mini tour. The dam was not anymore filled with water but way back in highschool, the water filled to the brim of the dam and it was very calm.
The view however from the top is wonderful as there's another island at the lake side and certain people live there. They use boats to transfer from the main land to their homes.
After this, we would normally go to the Bilar man made forest then to the famous Chocolate Hills then to the Tarsier Sanctuary so I don't have to mention this any furthermore.
Coca Cola Plant
Image credits: www.ft.com
This is a fin and interesting visit because everyone of us who joined the field trip has coca cola products with us as soon as we got out of the plant itself.
But before going out, we had the chance to see the quality assurance process that each glass of soda which are sold at groceries and even local mini stores.
We saw this conveyor which moves each bottle from this side to the next procedure. They have a section which cleans the bottle thoroughly, then it goes to the filling up of its content, next a worker would make sure that each bottle gets the same amount of content then it goes to the capping process which I enjoyed the most.
And then at the very end of the tour, we were given a bottle of 8 oz coca cola. All were smiling as we saw the unique but smooth process. We had to be silent the entire time so not to disturb the workers.
Bohol Museum
Image credits: Ryan Macalandag via www.flickr.com
History of course shouldn't be forgotten so it is definitely a must for us to go to a museum. Back in the days, the museum was still an old vintage house of the former President Carlos P. Garcia. I know there's a new museum in Bohol which I had been to as well for a couple of times but this one was the original museum which contains most of the historical relics of the province.
I don't know what was the reason why it was changed into the new one but for me, it would have been better to keep the old house as the museum because it showed the old house designs of the Spanish Era plus it gets this historical feels when seeing this type of structure.
ICM or BQ Mall
Image credits: commons.wikimedia.org
At the end of the day, most students got what they were all waiting for, to check out each corner of the mall. Our teachers had given us the"buddy-buddy system" so each of us has someone to look out for whenever we are outside specially when in the last destination which is often populated.
Inside the mall, everyone would have their eyes wide and smiles all over the face like it was the highlight of the entire field trip. Most student has pocket money with them so they had been keeping that amount so they could bring something back home either food or souvenir items.
Whilst this is supposed to be an Educational tour, I am quite certain that most or shall I say at least 80% of the student population who came were not really paying attention to what they have seen in the entire tour.
I am very much in favor of abolishing the field trips because of the reasons below:
1. It requires money which is a budget unfriendly to parents.
2. It doesn't guarantee education knowledge because of the number of participating students.
3. Safety is at risk given that the entire school population is within the care of only a few teachers.
It has been decade since my last field trip and although it is abolished now, it doesn't take away the fact that we all had fun during those trips and our memories of these experiences stays even after we grow up.
Video credits: Chris Ramasola via YouTube.com
xoxo,
Jean