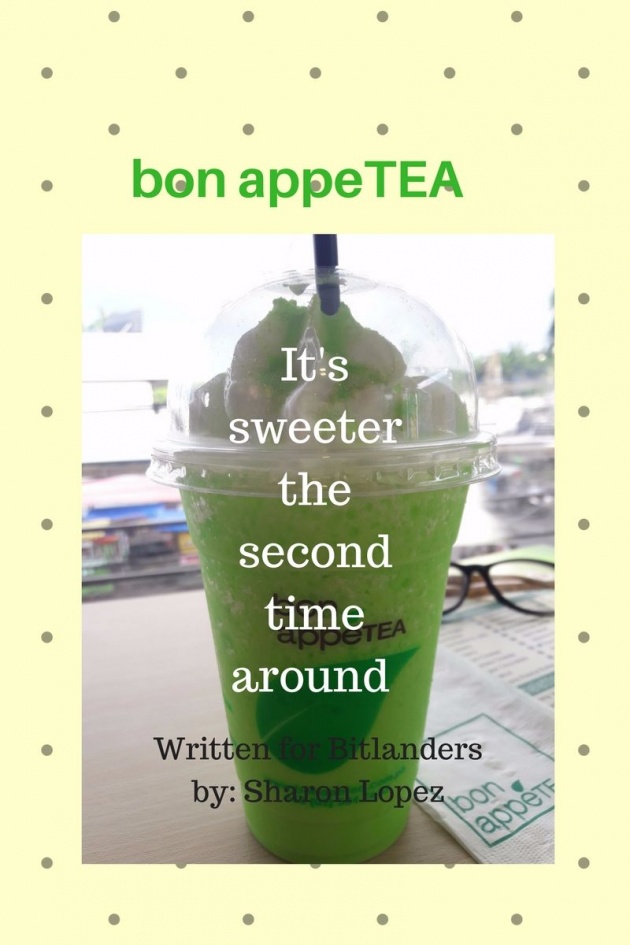 Image Credits: Sharon Lopez via Bitlanders
Oh, yes it's Sunday again. How fast time flies! It seems that I have just shared about the Sunday bonding moment with my daughter and another week has gone away, too fast. You may read about it here. It is really true that time runs faster when we are enjoying.
Well, the past week has been a very busy week for me. I was tied up with the speaking engagements for 3 consecutive days and other important stuff. It was indeed a productive week and I am happy with the brilliant result of my activities.
I spent the Saturday preparing my things for the coming week's training in the Community Based Monitoring System (CBMS) which I am about to attend coming week. I also spent some time at the salon in preparation for the coming Christmas party in the office and other events related to the season. I need to have my hair fixed -- it has been a year since my last treatment and new hair started to grow making it looks messy.
We have a lot of activities lined-up in relation to the holidays but I don't want to think about it first until I am done with my other obligations. I need to buy a ball gown, need to practice cotillon, need to buy gifts for Christmas parties, etc. I'll just cross the bridge when I get there, provided there is a river, then there might be a bridge.
The Princess on Her Sunday Dress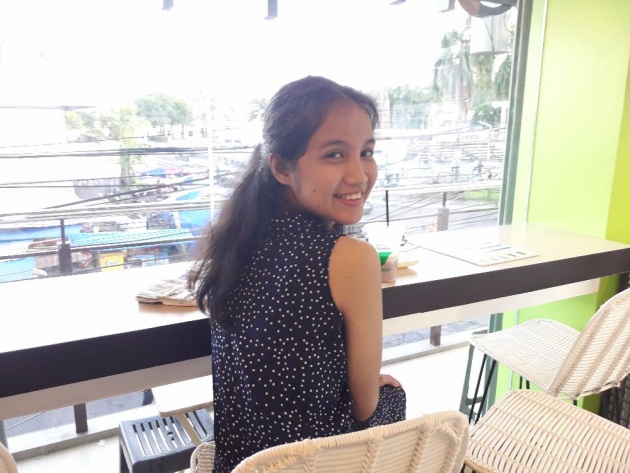 Image Credits: Sharon Lopez via Bitlanders
My daughter was excited to go back to the newest cafe in town, Bon AppeTEA. She already has in mind what she'll order on our next visit. She was wearing a blue dress with a tiny white polka dots all over. She looked so pretty especially now that she had gained some weight and her cheeks plumped up a bit. This is a result of taking up the vitamins given to us by a friend. My little princess is now a lady.
We attended the 2:45 PM mass and after the celebration, we proceeded to the cafe which is just a walking distance from the church. The cafe is on the second floor of the Sifelan Building so we had to take the stairs in order to reach the place.
A Nice View of the Outside Area
We chose to sit beside the window so we could have a clear view of what is happening outside. From this position, we can clearly see the Albay Capitol Building which is just across the street as well as the Peñaranda Park.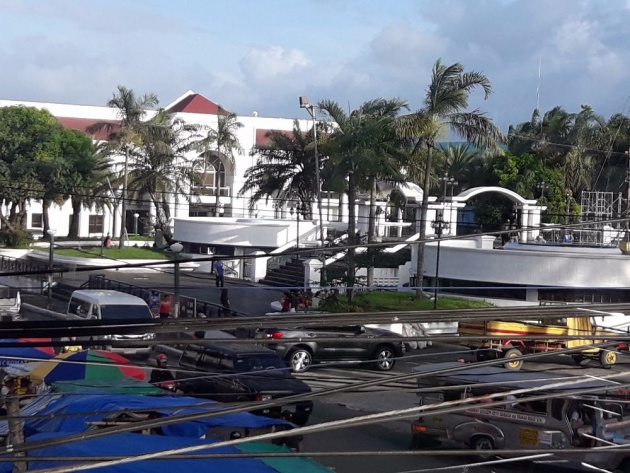 Image Credits: Sharon Lopez via Bitlanders
"The view from the Bon AppeTEA Cafe window seats"
When we came here last week we weren't able to order anything aside from the Nirvana Milk Tea which was part of the 'buy-one-take-one' opening promo of the store. That was because we were trying to be at the cinema before the start of the movie.
As soon as we entered the cafe, she got hold of the menu. I chose Honeydew Ice Blended Frappes and she chose Blueberry Cheesecake for our drinks. For the snack, she chose Penne and Cheese pasta and Banana Hazelnut Waffle Sandwich. she then went to the counter to place the order.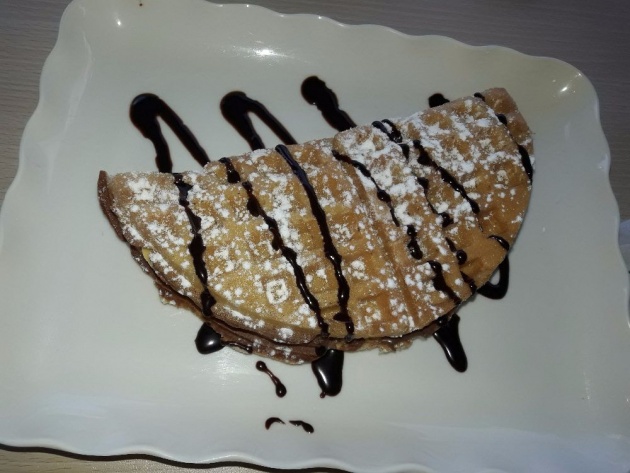 Image Credits: Sharon Lopez via Bitlanders
I like the just-right the 'not-so-sweet' taste of the Banana Hazelnut Waffle Sandwich with a touch of chocolate and ripe banana filling.
Image Credits: Sharon Lopez via Bitlanders
My daughter has enjoyed the Penne and Cheese Pasta with some toasted waffle on the side. But I guess she is planning to order all those listed on the menu. I'm sure she already mentioned this to her cousin who will be visiting this December. Oh, well, she has to save more.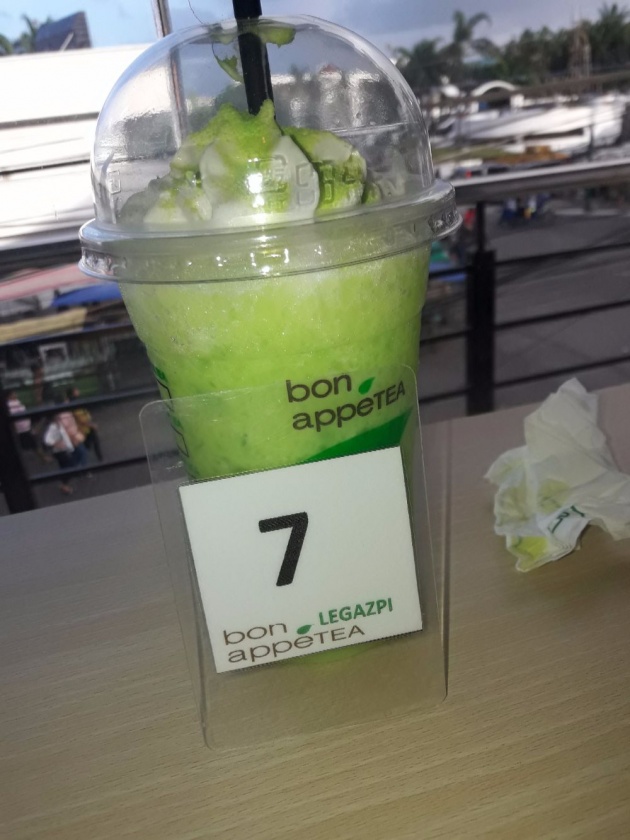 Image Credits: Sharon Lopez via Bitlanders
I really love the refreshing taste of this Honeydew Ice Blended Frappes. Will order this again on our next visit.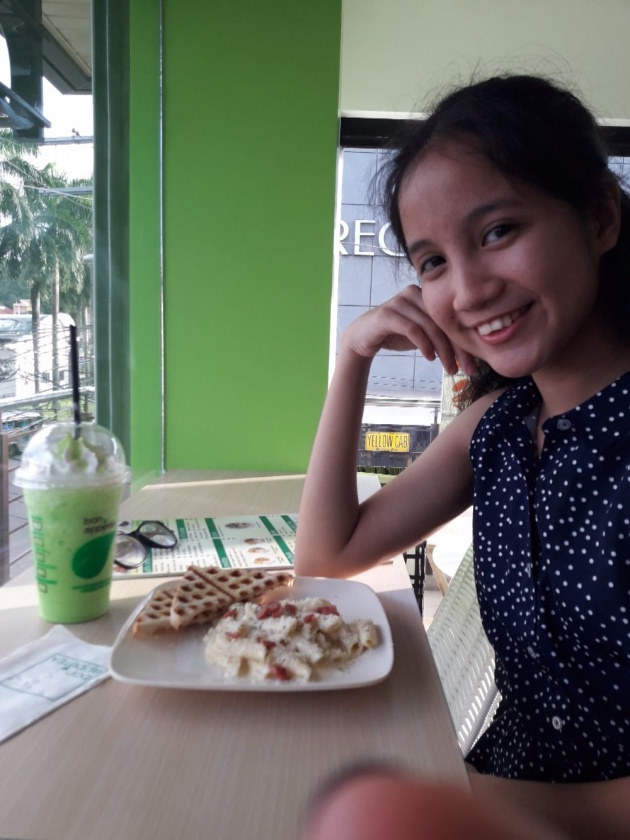 Image Credits: Sharon Lopez via Bitlanders
Meanwhile, a young man sitting next to us asked me if I was the one who wrote the blog about the cafe. I said yes. He told us that he recognized my daughter. He said that his girlfriend owned the cafe and he even offered some food but I refused.
I told him that I am writing as some form of a hobby and I am happy if my articles help others in one way or another. He then thanked us and excuse himself.
Sir if you can read this I wish you more success in your business.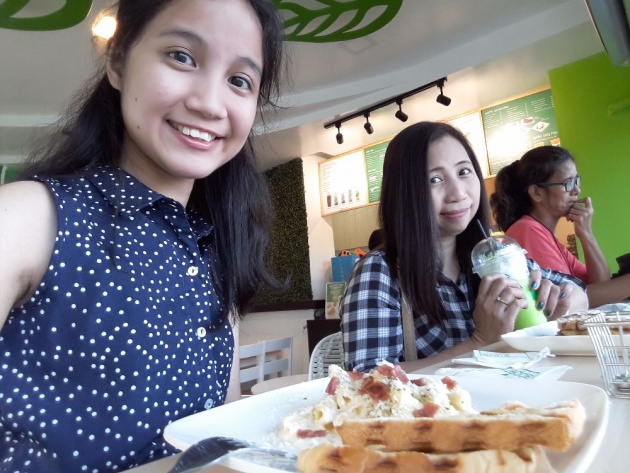 Image Credits: Sharon Lopez via Bitlanders
I and my daughter having a pose while enjoying the delectable meals from Bon Appetea.
Here are additional photos of the different drinks and snacks that they are serving.
Image Credits: Bon Appetea Albay Facebook Page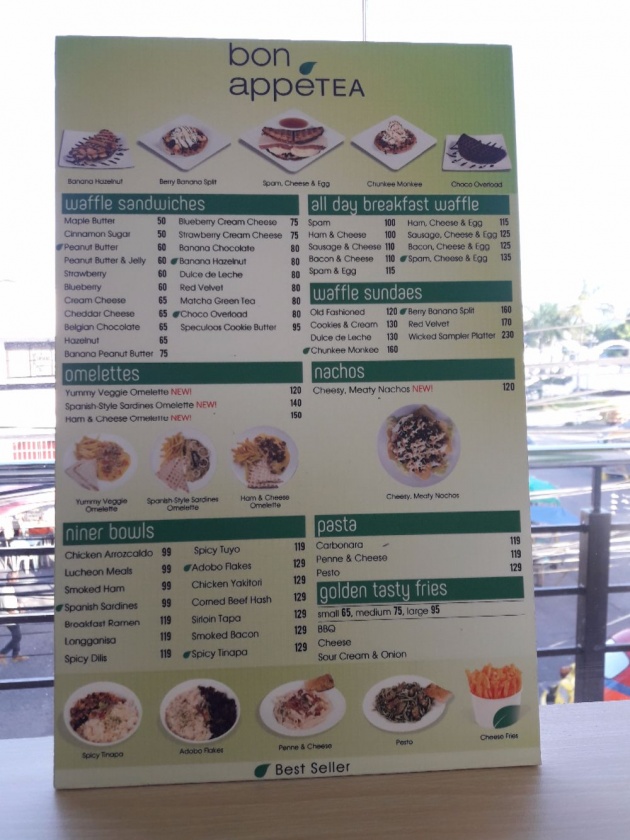 Image Credits: Sharon Lopez via Bitlanders
A Lovely Place
On the overall, I find the place comfortable and perfect if you want to relax after a day's work. You can also spend time with friends for a small talk or even business related meeting with a small group.
The Price
Based on the menu presented above, I can say that the pricing is very affordable even students can afford. Although the price may seem a little bit higher than other stores, I still believe that such a high-quality product can demand a good price.
Allow me to attach the video I have taken during our first visit for you to have a second look on it.
Video Credits: Sharon Lopez via Bitlanders
Here is a Querlo Chat for you...
Thank you for reading my post and hope the business continues to grow so as to serve more and more Albayanos and even visitors coming from other places.
Disclaimer: The views and opinions expressed in this blog post are that of the author and does not in any way represent the agency or department she currently belongs.
Additional Note: The opinions presented in this review may be subjective but does not in any way influenced by compensation in any form. The author does not receive remuneration for this review and the opinions are based mainly on her experience.