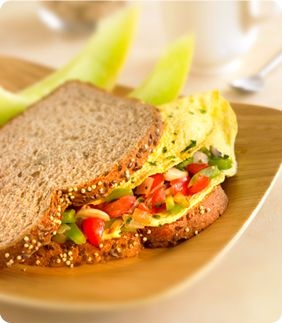 Prep: 25 minutes
Cook: 20 minutes
Serves: 2
Here's a hearty and tasty breakfast idea. You can make a savory vegetable omelet even better by sandwiching it in between slices of whole grain bread.
Ingredients:
1/2 cup chopped fresh mushrooms
1/4 cup chopped green bell pepper
1/4 cup chopped tomato
2 tbsp. finely chopped onions
1/2 cup cholesterol-free egg substitute
2 tsp. freshly grated Parmesan cheese
4 slices Pepperidge Farm® Farmhouse™ 12 Grain Bread
Directions:
Spray an 8-inch nonstick skillet with vegetable cooking spray and heat over medium heat for 1 minute. Add the mushrooms, pepper, tomato and onion. Cover and cook until the vegetables are tender. Remove the vegetables from the skillet. Remove the skillet from the heat. Wipe out the skillet with a paper towel.

Spray the skillet with the cooking spray and heat over medium heat for 1 minute. Add 1/4 cup egg substitute and top with half the cooked vegetables. Cook until the eggs are set but still moist on top, lifting the edges of the omelet with a spatula. Sprinkle with half of the cheese. Fold the omelet in half. Place the omelet on 1bread slice and top with another bread slice. Repeat with the remaining ingredients.

Easy Substitution: Also delicious with Pepperidge Farm® Whole Grain 15 Grain Bread.