Following the recent news that
Alliance will replace
Invictus Gaming in the upcoming Phase 2 of DreamLeague,
Joakim 'Akke' Akterhal has shed some light on the players who will represent the Swedish organisation for the rest of the competition.
Henrik 'AdmiralBulldog' Ahnberg appears to be taking a break for the winter, but some familiar faces from the European scene will step in.
After Akke announced that Alliance would take some time to 'rebuild' their squad, rumours were flying around concerning the future of all of Alliance's members. This tweet only gave fuel to those flames, adding uncertainty to the positions of AdmiralBulldog and
Rasmus 'Misery' Filipsen in the lineup.
Kai 'H4nn1' Hanbueckers will fill in for the second time for Alliance on LAN, as he joined up with the squad to play in ESL ONE NY, and he will be joined by ex-MYM players
Marcus 'Ace' Hoelgaard and
Johan 'Mynuts' Andersson.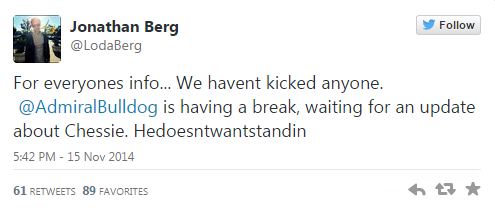 To help dull some of the rumours,
Jonathan 'Loda' Berg clarified the situation with AdmiralBulldog, saying he was only taking a break, a fact which was later discussed in the
Blog post
that Akke promised:
"Bulldog felt he wanted to take a break because he was tired of playing with standins most of the times and I guess not having so good results are a part of it as well. He asked to take a break and not play officials (and I guess Misery felt the same way as well)."
The ongoing trouble with Alliance finding a midlaner still remains, but now they're left with only 2 official players in Loda and Akke, which no doubt means many are doubting how they will perform in DreamLeague. This could be the start of a new-look Alliance side should things start going their way and they can finally get some stability in their roster, but only time will tell as they jump straight into LAN play.
Will this lineup become the next Alliance squad or will Bulldog and Misery return?