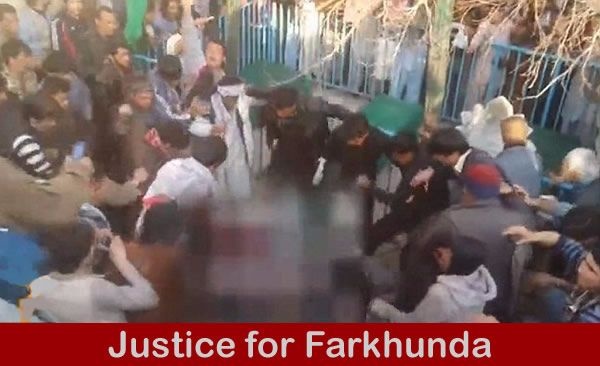 I cannot forget the feeling of pride just a few weeks ago when I saw the picture of the president of Afghanistan on television sitting beside his wife for the celebrations of March 8, International Women's Day. I felt a storm of hope build in my heart as tears fell from my eyes. I was still dreaming of a good future for women in Afghanistan when I heard the news about Farkhunda.
The headlines were shocking. A young woman was killed and burned in central Kabul because she had burned our Qur'an. It sounded ridiculous to me—a woman in Kabul, daring to burn our Qur'an? Afghanistan women are mountains of patience. They are women who cannot even ask for their legal rights, women who follow Islam by all possible means.
Farkhunda had evidently gone to a mullah to be given a ta'wiz—a small paper with Qur'an verse written in code. The mullah wets it with his saliva, it is covered in a green fabric, and you are supposed to wear it on your arm or hang it around your neck and then the prayers will be accepted and the problem solved.
According to the news reports on TV, radio, and many online news sources, she paid a lot of money to the religious man, and he said it would work out in three days. After three days passed, Farkhunda returned to talk with the mullah because it had not worked and she asked him to pay back the money. Maybe she burned the ta'wiz, maybe not. But the mullah, in order save himself from repaying the money, shouted: "Look! She burned the Qur'an!"
Soon an angry mob of men and women gathered, first hitting hit her with stones, sticks, and their belts and taking her scarf from her covered head. Then they ignited her with fuel and burned her. Police watched the scene. People were happy and proud of it. The news soon spread through the entire city. Media announced it and some religious politicians and religious scholars reacted on Facebook. They condemned Farkhunda and said the treatment was right for a person who burns the Qur'an.
The mullahs who give ta'wiz are hidden devils who play with people's beliefs by selling the Qur'an and Islam. Their customers are youths—men and women. In Afghanistan there are no psychologists to treat mentally ill people. Women who don't have children can face a very difficult relationship with a husband who has taken more wives. If they are sick or feel terrible, they usually go to the religious stores to get treatment. There, the mullah can be found sitting in a room with some books. He sees these women in private and alone. He will ask what the problem is and once he knows how serious the problem is, he asks for more money. He claims that he writes Qur'an verses in the ta'wiz papers.
I don't know what made poor Farkhunda go to the mullah, what hurts she carried in her heart that she felt she needed help. But I can feel that she was helpless when all the doors were closed to her and she probably went there to pray and hoped to find a solution for her problems.
She was buried on Sunday; her burned body was carried by brave women who broke the rules and didn't let men bury her. She was buried, but her sad story remains alive in the history of a country where freedom to do violence is legal.
I believe it won't be long before Afghan women rise up and begin to break down the dark walls with our fists, and burn every wrong belief in our minds and souls.