Gentle Giants - this is how these humongous creatures are referred to because of how chill and cool they are considering their sizes. Aside from that, they are also harmless and very gentle, they only eat tiny fishes and shrimps although they were part of the sharks family. This blog is a new entry to my unlimited number of swimming journey with these whale sharks in Oslob, Cebu.
The video above shows the entire trip. Video is mine.
Note that while starting to write this blog, I am considering the fact that I had written two or more blogs about the whale sharks for the past two years. Because I am a local of the Oslob Municipality now, I only pay PHP50 for the whale shark experience. It is an affordable experience that I have not yet grown out of. I actually thought that I am over it but actually it is the opposite.
Before any of that, let me share the few other blogs I have posted about my past experiences with these gentle giants.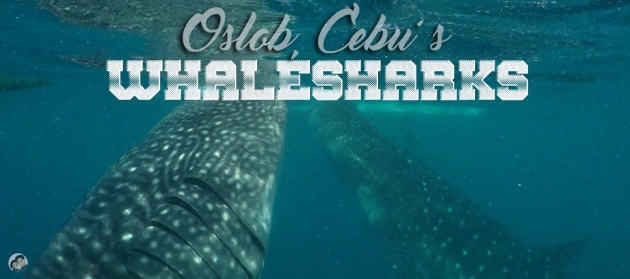 Twin whale sharks at Oslob, Cebu Philippines. Photo is mine.
In this blog, I would like to share my reasons as to why I am not yet getting over the gentle giants and why I kept on going back each time I have a chance. There are few reasons for that, let me share these with you all.
1. Seeing them up close is an amazing experience.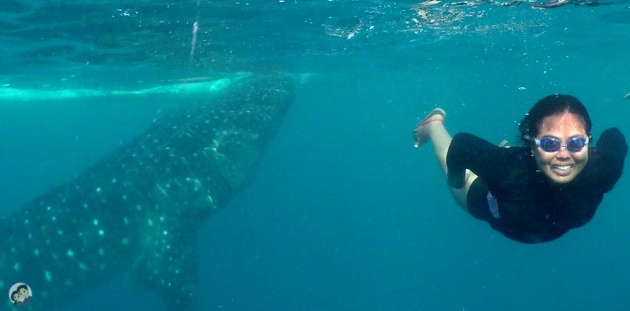 I become really happy seeing them. My face seemed enlarged with this photo. Photo is mine.
The very first time that I have heard about these creatures was way back in 2012. It broke the internet and made the news like wild fire. The news went from local to nationwide to international that this brought a huge income to the Tourism of Oslob and Cebu in general. Thousands of tourist both local and international flock towards this little Southern town of the Cebu Province.
Since I was based in Cebu and my husband, James who was my boyfriend at that time is a local of the said town, I had asked him to bring us to where these intriguing creatures are and he did.
The entire story is available on my first blog post about the gentle giants. Click here to read it.
One thing that I would never forget with that first encounter was that they were definitely huge and scary! Scary in a sense that they are of course sharks which brings chill to my spine because of those shark movies which I hate to watch before and opt not to watch anymore these days because it brings terror to my dreams and mind although these are also living creatures which are looking for means of survival.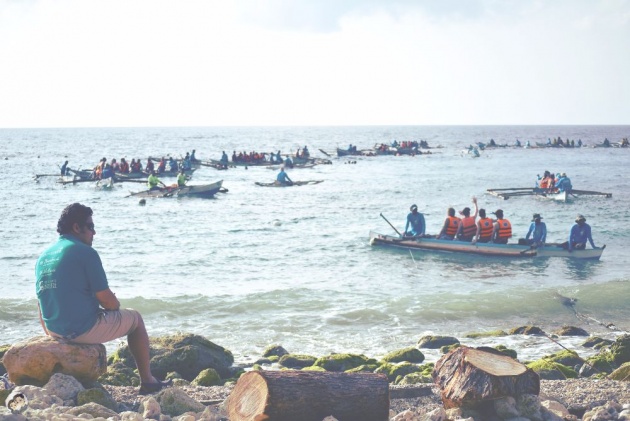 A foreigner watching over the boats. Photo is mine.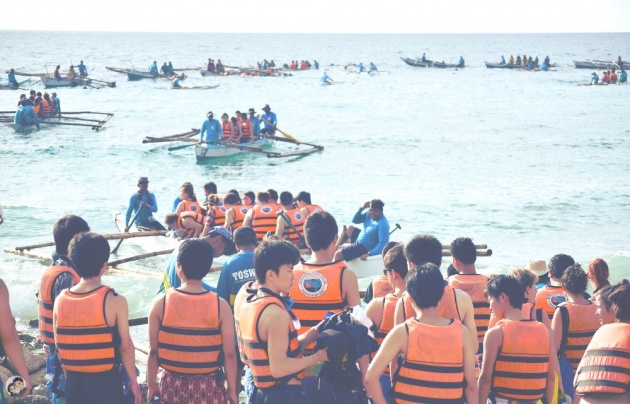 Tourists waiting for their boat. Photo is mine.
So yeah, the experience only lasted for thirty minutes that I can't get a good view of the whale sharks considering that the waves were also getting in the way plus there was no proper monitoring of the time. Like the boat men brought us there ad after a few minutes, time was all up and we have to go back to the shoreline that fast! I then thought it was not really enough for us to observe these giants and swim with them so I better find a better timing, better weather and better boat men.
But that was such an experience I already treasure, it made me fall in love with the fact that these creatures, although huge have no thoughts of hurting us which were surrounding them, taking photos of them and just simply mesmerized with their size! It was just amazing to see them up close without having to spend a lot of money traveling just to see them. I realized we were really lucky the whale shark had chosen Cebu to be their home!
2. Swimming with them is always challenging.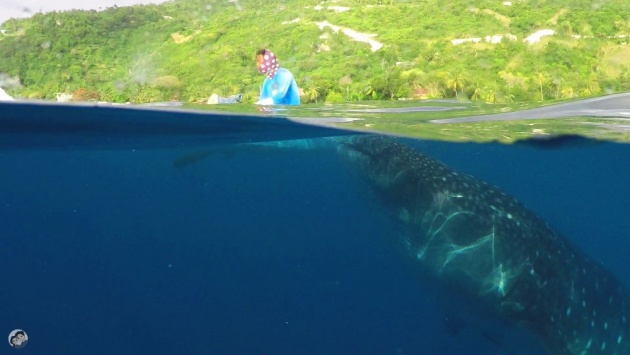 Dome shot of the whale shark and feeder. Photo is mine.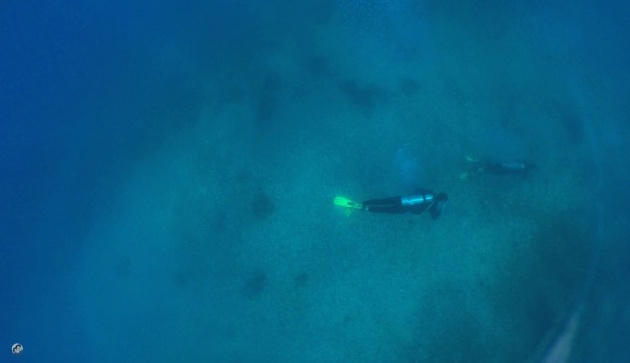 Scuba diving is also allowed, here I caught some who were on their way to the whale sharks. Photo is mine.
Here's the fun fact: Getting close to them is not easy. I salute those who are brave enough to face these giants. Although I know that they are harmless, still in my little mind, they can bump into my body and I'll get lots of bruises perhaps or worst, I would drown because of their weight.
I commend the Oslob Municipality for continuously improving their service. Before, I can't really get to see the sharks properly as there were a lot of other tourists around flocking, snorkeling and getting on your way while swimming so there were lots of blockage.
This time around, during the last time that I had swam with them, one boat is to one whale shark. So there are still people around but not that much compared to before. The boats are now positioned in a semi circular form which makes space for the whale sharks to swim around without bumping to each other or to the people around.
Although there are less obstruction this time, it doesn't mean it would still be a seamless swim, it is still challenging as one need to be attentive and watch out for the whale shark, making sure you get a glimpse of them before they go away. Most of the time, the whale sharks gets into the way for jsut a couple of seconds then swims away out of sight.
3. Can't get the best photo/video with them.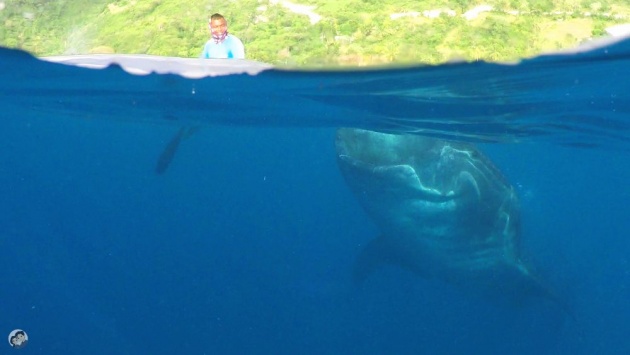 Feeder and the whale shark which was still hungry. Photo is mine.
This is probably the best alibi as to why I kept on coming back to the Oslob Whale Shark watching - I still have no lit photo or video of these giants.
The first time we came there back in 2012, we bought a waterproof camera but ended up getting foggy so we didn't have any proper video with the sharks. Fortunately, we got our money back after complaining about the leakage.
The second time and third ones, we brought our SJcam action camera but still the quality was not really great. The last few times, we brought the GoPro Hero 4 and got better coverage but still no steady shots because of the waves plus the boat man who was suppose to take the video while we swim had pressed the stop button so there was no video captured at all during that time.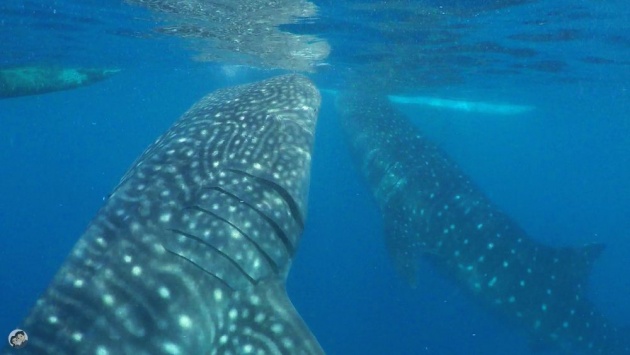 It was not expected to see two whale sharks. Photo is mine.
Then the latest one was so far better than the rest as we got clearer videos, the water was a bit calm and we got a dome casing for the GoPro which had given the camera better coverage but this is still not the best and I was still not contented with the shots so I will definitely comeback with much better videos soon.
4. Opportunities Always Knock on my Door
Since I am already a local of Oslob ( I registered in the town last year), I have all the opportunity available to experience this.
The souvenirs at Oslob Whale Shark watching. Video is mine.
So each time that James and I get to Oslob, it is always possible that we would be going there. But of course we will still have to consider the water. If the sea is not harsh and it is very calm, we would go for it but if it is hash, there's no way of getting there since the water would give us a hard time to take videos. It would be very challenging as well to swim properly with a camera at hand.
With only Php 50 for me since I am already a local, it is indeed an opportunity not to make the most out of it.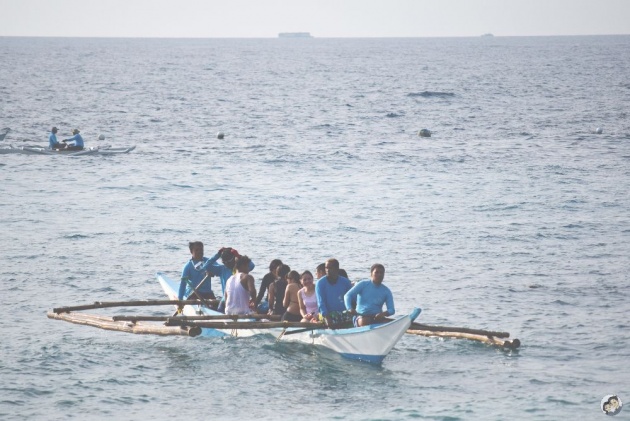 Tourists done swimming with the whale sharks. Photo is mine.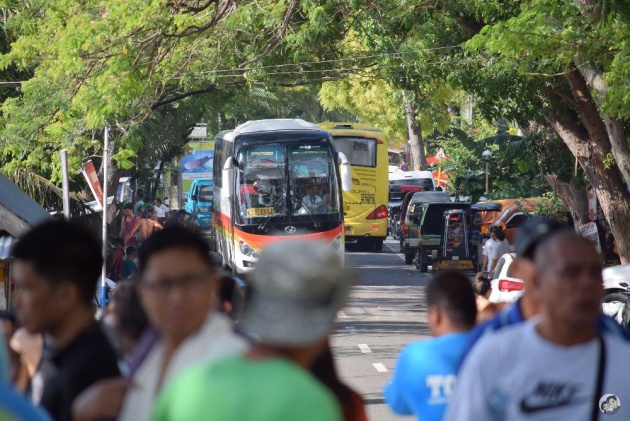 So many tourists and visitors who visits the Oslob Whale Shark watching everyday in the morning. The business is only until 12nn. Photo is mine.
So there you go, I wish I can state more, each single time that I have the chance to go there, I would definitely grab that chance. Not everyone has been given this opportunity so I might as well make the most out of it even if my husband is almost not willing to keep me company.
As long as the whale sharks are available in Oslob, I will try everything to keep in touch with them.
Best regards,
Jean Beltran-Figues
bitLanders user since 2015