It is quite evident how I am a fan of GCash. From the time that I had opened up an account until this day, I had been constantly using it in different ways, even use it to invest my money aside from also paying our monthly bills. It has made my life better in terms of paying bills most especially that I don't have to really go to a bank branch personally to deposit because I can do this process over some few taps on my phone.
With that, I would like to share yet another way of maximizing the use of GCash account to automate money transfer. This eliminates the tedious job of going to a bank, filling up forms and wait in forrm your turn. It has been a daunting task to go to a bank for this which had become also very boring as most banks are now filled with so many customers.
On GCash, I can move our Payroll funds to another bank account so I can pay our bills, all this can happen within a matter of minutes if not seconds. It felt great to be able to finish this task without going out of the house.
With that, allow me to share with you how GCash had made it possible to transfer funds to bank accounts. Follow through the Querlo Chat below to figure this out yourself and eliminate the hassle of traditional bank deposit.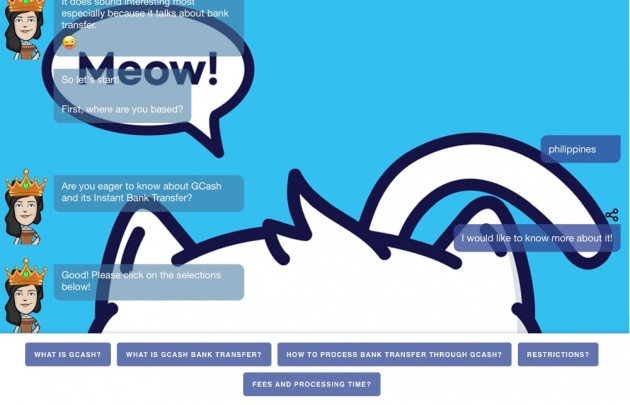 Image credits: screenshot of the Querlo chat - GCash Bank Transfer
After learning of this GCash option, do you think you can make use of this so you can save time, energy and effort? I do, this is my new means of being able to get tasks done without going out of the house. Aside from this saves me energy because I don't need to spend time to prepare and get out, use gas for travel and even save nature because I am eliminating the option to write on paper as well as add up to the environmental pollution, it also saves me so much time!
I highly recommend that you try this specially with the PayPal Cash in and then Bank Transfer which both occurs instantly.
This blog is published in support to bitLanders' C-blogging. Learn more about it in the quoted box below:
The future of blogging - The bitLanders C-blogging

bitLanders, the worldwide blogging platform, introduces the future of blogging "The bitLanders C-blogging", Conversational AI blogging by Querlo powered by IBM Watson and Microsoft Azure with the purpose to provide bloggers the possibility to communicate and establish a conversational relationship with their readers.

Thanks to the world's most prompt technology - Artificial Intelligence, powered by Querlo's conversational AI technology.

Querlo integrates the DeepQA Artificial Intelligence functionality of IBM Watson and Microsoft – a collaboration which sets Querlo apart from other solutions in the market.

Information from: New topics for "The bitLanders C-blogging"!

Thank you for reading and participating in this Querlo Chat!
---------------------------
About the author:
Jean Beltran-Figues is a photography enthusiast.
A traveler who wants to promote her beloved country, the Philippines.