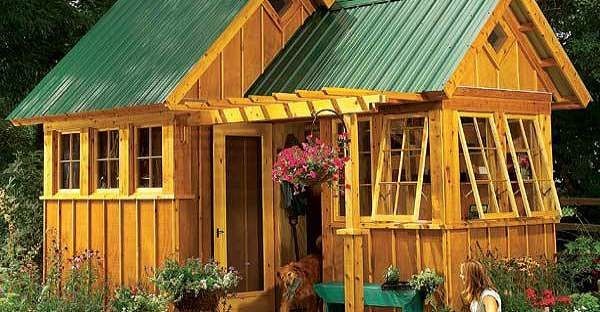 You will want to take a look at this "Ultimate Garden Shed," with the materials list and shed construction drawing for the ultimate garden shed. Wouldn't you love to have a garden shed in your backyard like this! This is a place where you can start all your seeds, keep your gardening tools, dirt, pots and seeds. This climate garden shed has a cute green roof, natural wood and lots of windows.
The Log Home Planbook is a Log Home Lovers Dream Book 65% Off Today Only..
A garden shed is the perfect place to get all your gardening stuff organized, you could even set up a nice space in the shed to enjoy your morning tea, and read through some gardening books and magazines before you start your gardening projects. This tiny shed is the ultimate place to relax and enjoy your favorite hobby.
The Family Handyman is the number one DIY home improvement website. On the site you will find help on rooms, skills, parts of the house, outdoors, and more. You will find all sorts of DIY projects for attics, basements, bathrooms, bedrooms, closets, garages, home offices, kitchens, laundry room and workshops. Some of the DIY projects on the site include; How to Build a Copper Trellis for Your Garden, build a unique, natural-looking garden trellis for your climbing flowers and vines using standard copper water pipe. This long-lasting copper; Oriented Strand Board vs. Plywood, OSB and plywood can both be used for walls, floors and roofs, but there are some differences between them; Tree House Building Tips, tree houses are for everyone with imagination. You can improve on your building skills with these tree house building tips from experienced builders; Screen House Plans, this is inspired by classic north woods cabins, this cedar screen house is the perfect summer hangout; How to Build a Pergola, learn how to build a vine covered pergola in your backyard to shade a stone patio or wood deck using wood beams and lattice set on precast; How to Build a Storm Shelter, learn to build a super strong safe room designed to withstand dangerous high winds, tornadoes and flying debris; Latticework Porch Trellis, this trellis is an elegant way to get a degree of privacy for a porch, deck or even a patio.
You could also use logs to build a tiny garden shed, with some trees that sit on your property, it's a great and rustic way to try this do it yourself project. There are a number of different log styles that are used to build log homes or log sheds. From sawn logs that are logs that are all cut to a certain width. Milled logs, which are manufactured logs to all have the same appearance and size. Handcrafted logs, that are logs that look similar to their original appearance when they were trees, except for being peeled of their bark.

Once your garden shed is complete you might choose to use some log furniture inside, and outside of your log shed space. Log Furniture, is the type of rustic furniture, that incorporates the use of whole logs in its design. Log Furniture is often very durable and long lasting, depending on the manufacturing methods used. You can use smaller logs or larger sized logs depending on the project. Log furniture, reclaimed wood furniture and other types of rustic furniture have increased in popularity in recent years, and as a result, there are many more styles of decor and options available for those looking to furnish their mountain lodges, country homes or log cabins.
To improve page loading speed, we have put the photo gallery for this article on the next page: view photo gallery.
http://canyoubelievethisisashedthatcouldbe.wikidee.org/can-you-believe-this-is-a-shed-that-could-be-in-your-yard.html