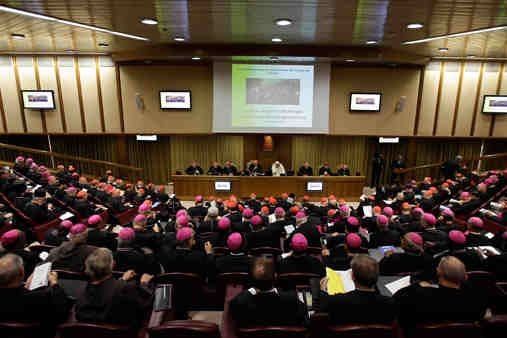 VATICAN CITY - Roman Catholic bishops on Saturday reversed a historic acceptance of gays, dropping parts of a controversial document that had talked more positively of homosexuals than ever before in Church history.
The document, issued at the end of a two-week assembly, or synod, of some 200 Roman Catholic bishops from around the world, pointed to deep divisions within the Church on issues such as reaching out to homosexuals and Catholics who have divorced and re-married in civil services.
After an initial draft was released on Monday, conservative bishops vowed to change the language on gays, cohabitation and re-marriage, saying it had created confusion among the faithful and threatened to undermine the traditional family.
Gay rights groups expressed deep disappointment with the final version, while the conservative Catholic blog Rorate Caeli hailed it as "a considerable setback for the revolutionaries".
The two-paragraph section of the final document dealing with homosexuals was titled "Pastoral attention towards persons with homosexual orientations". The previous, three-paragraph version had been called "Welcoming homosexuals."
The earlier version spoke of "accepting and valuing their (homosexuals') sexual orientations" and giving gays "a welcoming home". The final version eliminated those phrases and most of the other language that church progressives and gay rights groups had hailed as a breakthrough.
The new version used more vague, general language, repeating earlier church statements that gays "should be welcomed with respect and sensitivity" and that discrimination against gays "is to be avoided".
GAYS DISAPPOINTED
Francis DeBernardo, executive director of New Ways Ministry, a Catholic gay rights group in the United States, said it was "very disappointing that the synod's final report did not retain the gracious welcome to lesbian and gay people that the draft of the report included".
"Instead, the bishops have taken a narrow view of pastoral care by defining it simply as opposition to marriage for same-gender couples," he said.
The final version stressed that "there is no foundation whatsoever" to compare homosexual marriage to heterosexual marriage, calling heterosexual marriage "God's plan for matrimony and the family".
The earlier version said the church should acknowledge that couples in same-sex relations offered "mutual aid" and "precious support" for each other in times of difficulty.
"People who found hope in the respectful, welcoming tone of the midterm report will be crushed by the removal of that language in the final document. It's just gone, replaced with the same off-putting phrases we've heard for decades," said Marianne Duddy-Burke of DignityUSA, a Catholic gay rights group.
Voting counts released by the Vatican showed that controversial articles, including the final version of one of the two on gays, failed to get the two-thirds majority needed for a consensus.
This indicated that progressive bishops may have voted against them because they felt the language had become too restrictive or watered down.
Vatican spokesman Father Federico Lombardi said the entire document would now serve for further reflection among Catholics ahead of another, definitive synod next year.
In his final address to the gathering, Pope Francis, who had called on the bishops to speak their minds frankly, said he would have been "worried and saddened" if there had not been such heated, honest discussion during the gathering.
The pope also warned against both "hostile rigidity" by traditionalists as well as "destructive good will" by progressives who wanted change at any cost.