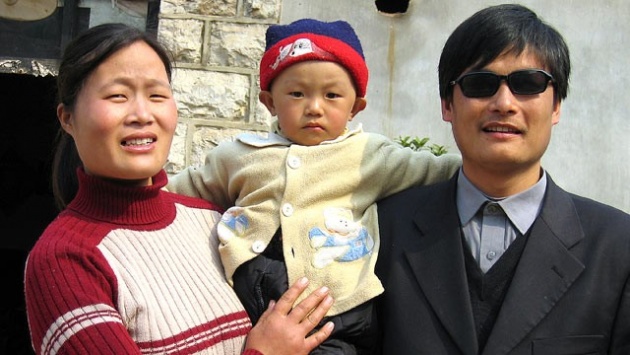 China apparently did not get the memo and opt for the smart path in addressing the case of "escaped, blind, dissident" Chen Guangcheng. They demanded an apology from US officials for alleged interference in China's internal affairs, rather than maintain low profile or encourage Mr. Chen and family's (Photo Above) departure from the country as a whole. The Chen affair will be a sore for some time is what I anticipate, although even Washington will opt to downplay it.
As US Secretary of State Hillary Clinton and US Treasury Secretary Timothy Geithner arrived in Beijing, Mr. Chen apparently has voluntarily left US diplomatic property. No immediate reprisal against him is evident, and we are uncertain of what pressure may have been exerted upon Chen and/or his family to return. Mr. Chen is now in a China hospital receiving treatment for a foot he injured while escaping house detention by China authorities. See our Blog for Video – "China's New Human Rights Headache"
Clinton Commitment to Chen?
Secretary of State Hillary Clinton issued the following statement which emphasizes apparent "understandings" with Beijing regarding Mr. Chen's treatment: "I am pleased that we were able to facilitate Chen Guangcheng's stay and departure from the U.S. embassy in a way that reflected his choices and our values. I was glad to have the chance to speak with him today and to congratulate him on being reunited with his wife and children. Mr. Chen has a number of understandings with the Chinese government about his future, including the opportunity to pursue higher education in a safe environment. Making these commitments a reality is the next crucial task. The United States government and the American people are committed to remaining engaged with Mr. Chen and his family in the days, weeks, and years ahead.
Beijing Seeks Apology:
On the other side of the diplomatic table, Beijing's Foreign Ministry issued a statement which not only failed to acknowledge any "understanding" but demanded an apology from the United States. "What the U.S. side has done has interfered in the domestic affairs of China, and the Chinese side will never accept it."
Chen Back to Detention & Potential UN Scrutiny:
The future of Mr. Chen and his family is not likely to be transparent at least until Clinton and Geithner leave Beijing. However, it is not secure as Chinese officials acknowledge no "understanding" but to the contrary speak of US inteference, certainly a possible if not probable step before ignoring any deal. Of course the US would have no means and I doubt a true will to enforce any such understanding. I would actually expect this case/situation to end-up before the UN Human Rights Office if and when Mr. Chen is effectively detained and "punished." See our Blog for Film: "Unprecedented Scrutiny of China Human Rights"
Below is a more comprehensive description of how Mr. Chen came to the US Embassy and what occurred. At least as described by a US official:
"Cheng Guangcheng, who I think all of you know, entered the United States Embassy in Beijing under exceptional circumstances on April 26, 2012, requesting medical treatment from the embassy. In part because of his visual disability, he was injured while travelling to Beijing from his home village of Dongshigu in Shandong province - that's a couple of hundreds of miles away. On humanitarian grounds, we assisted Mr. Chen in entering our facilities and allowed him to remain on a temporary basis. U.S. medical personnel conducted a series of medical tests and administered appropriated treatment while he was there.
"Throughout his stay at the embassy, U.S. officials consulted regularly with Mr. Chen to discuss his wishes. Mr. Chen made clear from the beginning that he wanted to remain in China, and that he wanted his stay in the United States Embassy to be temporary. He indicated that he placed priority on reunification with his family, and that he sought relocation to a safe environment elsewhere in China from the province that he's been living (in). He expressed his desire for assistance from the central government in addressing his concerns and grievances, primarily relating to his reported mistreatment and that of his family at the hands of local officials.
"Mr. Chen decided to depart the embassy today and travel to a hospital in Beijing. He did so on the basis of a number of understandings. China acknowledged that Mr. Chen will be treated humanely while he remains in China… He has been reunited with his family - his wife and two children - at the hospital, and they remain together with him as a family. He had not seen his son in a few years, and his wife had not seen him (the son) either, so this was a family reunification after a long and difficult separation.
"When he leaves the hospital, the Chinese authorities have stated that Mr. Chen and his family will be relocated to a safe environment so that he may attend a university to pursue a course of study. I think many of you know that he is a self-taught lawyer, that he has long sought the opportunity to study at university... We understand that there are no remaining legal issues directed at Mr. Chen, and that he will be treated like any other student in China.
"Chinese officials have further stated that they will investigate reported extra-legal activities committed by local Shandong authorities against Mr. Chen and his family. The United States will take a continuing interest in the well-being of Mr. Chen and his family, including seeking period welfare visits and raising his case with the appropriate authorities. We will look to confirm at regular intervals that the commitments he has received are carried out. We have conveyed to the Chinese government the concerns that he has expressed about friends who helped him travel to Beijing, and have urged authorities to take no retribution against them. We have worked together, we have sought to resolve this case in a manner consistent with American values and our commitment to human rights, and in the context of a cooperative U.S.-China partnership."
Ambassador Muhamed Sacirbey - FOLLOW mo @MuhamedSacirbey

Facebook-Become a Fan at "Diplomatically Incorrect"







Twitter – Follow us @DiplomaticallyX







See more at our Popular Video Blogs & Current News Event Articles at http://diplomaticallyincorrect.org/c/war-crimes-justice