Cousin's Pre-birthday Celebration at Mary Grace Cafe
Last June we had our small get-together. Our eldest maternal cousin decided we visit our maternal grandparents and then go to the mall. Because her birthday then was also near (and she had other plans that time), she planned to treat us to early dinner.
It was her treat, but she had no idea where we'd eat yet. My outgoing sibling suggested that we dine at Mary Grace Cafe at SM San Lazaro because it is famous for delicious cakes at a reasonable price.
It's a cafe, but they serve breakfast meals like tocino, and tapa, cult favorites like pasta and pizza, and lastly but not the least: soups, salads, and sandwiches. It's a cafe but you can have your fill of breakfast, lunch, and dinner here.
About Mary Grace Cafe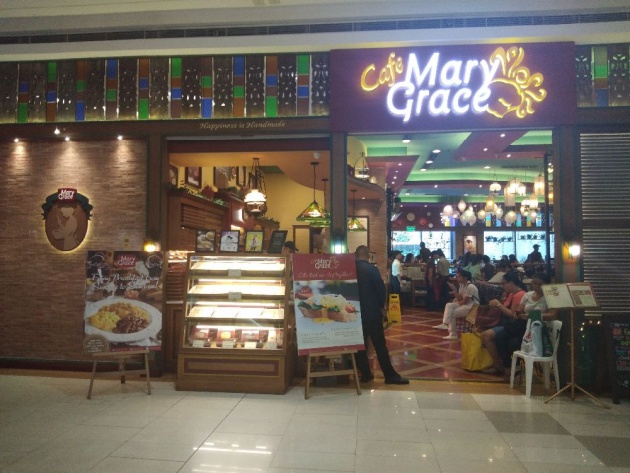 Photo credit: lapiz-lazuli
As a child, I was always thrilled to watch dough expand with a life of its own, a fascination which I carried on to motherhood.

- from Mary Grace Cafe
Mary Grace's about me page has simple explanation and history but it's presented in a time-line. It tells how the cafe expanded from such simple fascination with dough until they have four kiosks that were up and running.
Starting in 1983, Mary Grace would make cakes for her children and give away homemade fruitcakes to her friends. She then take her baking to the next level by attending 12-month baking classes in the U.S. in 1991.
After her overseas training, she made her very own recipe of Ensaymada, and with trial and error, perfected the recipe which became famous. She then marketed her Ensaymada (plus her Cheese Rolls) in a bazaar in 1994.
Almost a decade passed and she opened her first bakery and after its expansion to 4 stalls, it has become what it is today: a cafe with numerous branches especially on malls.
To this day, my fascination with dough lives in my heart alongside whipping up new recipes for all to enjoy during joyous family Sunday lunches – the source and inspiration of what Mary Grace is.

- from Mary Grace Cafe
The Place
Video credit: lapiz-lazuli
The Mary Grace Cafe at SM San Lazaro is spacious. We have a little tyke in a stroller and we had an easy time moving the stroller inside the restaurant. The chairs which some are mini sofas but almost all were made of rattan, were also comfy and clean-looking, without frays on edges. I only think that the table decors were too much as we found it hard to place our orders on the table.
The wooden tables have a glass covering and slid underneath it were letters from numerous Mary Grace Cafe fans (see picture on movie slides-show). It would make you feel you're in a hearty place.
The wall decors look modernly vintage and "westernly," but the rest of the decors like the capiz lanterns, plants on mason jars, stained glass windows, seemingly brick walls and wooden faux-windows make the whole ambiance Hispanic-Filipino.
The Food

Video credit: lapiz-lazuli
I took pictures of the menu and I made it into a slide-show. I know it is unreadable but you can check out what they offer here. The pastas were for sharing so we only ordered a few and requested for extra plates.
Crispy Cassava with Onion Dip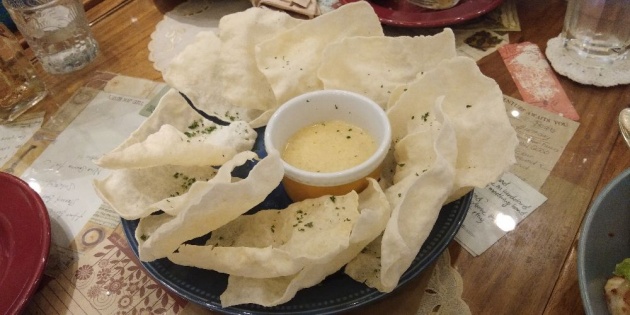 Photo credit: lapiz-lazuli
This dish was among the first to be served on our table. This was surprising good considering I have tasted cassava cake before and it was nothing like it. It's like eating potato chips without the saltiness and greasiness. I highly recommend this appetizing appetizer but do take note it tastes a bit bland without the dip.
Prawn Salad with Mango Papaya Vinaigrette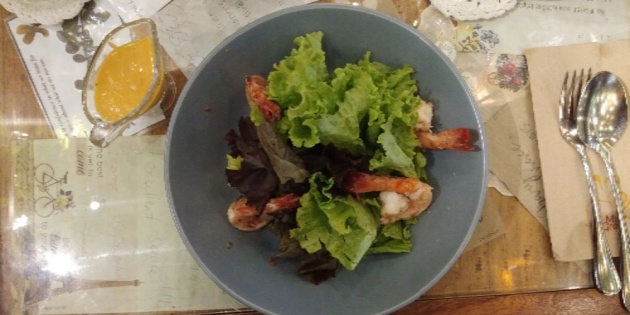 Photo credit: lapiz-lazuli
I can taste the delicious dressing when mixed with the rest of the ingredients but the portion size might need an up-size. The prawns were a bit cold but soft to chew. The veggies were OK.
Mushroom Cream Pasta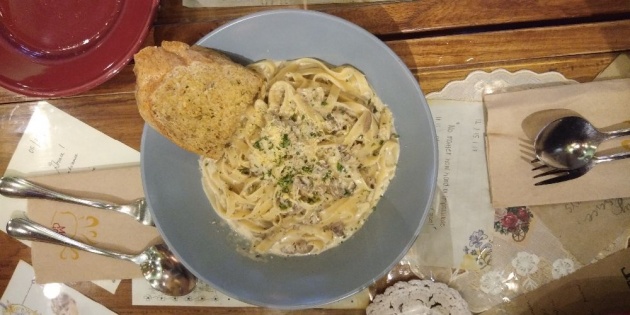 Photo credit: lapiz-lazuli
The pasta used was fettuccini, and it was cooked like a carbonara, but I think the taste was leaning on the side of tasting like cream of mushroom (because they have another pasta dish entitled carbonara). It says on the online menu that it has truffle essence, but I don't know what truffle tastes like. It just tastes like carbonara but seasoned quite good. It wasn't salty (and I can't remember if it was garlicky), but my palate remembers that it's an a-OK dish!
Spanish Sardines and Olives Pasta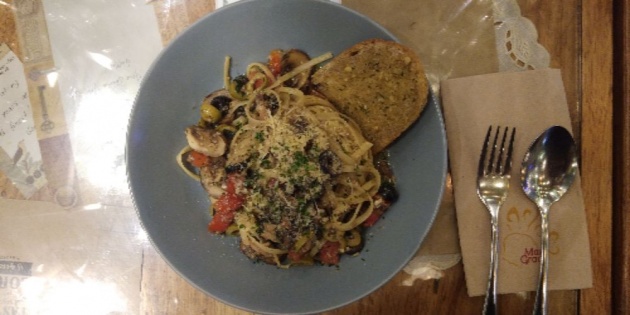 Photo credit: lapiz-lazuli
I picked this dish not knowing what was coming but I guess I got really lucky. I highly recommend this pasta from Mary Grace Cafe because it was quite delicious, I mean really delicious. The secret must be on how they cook and spice up the olives. I tasted olives in pizzas before and the olives here was never like it. Also, the sardines weren't gag-worthy salty; it was actually very yummy!
Pasta Amatriciana with Italian Meatballs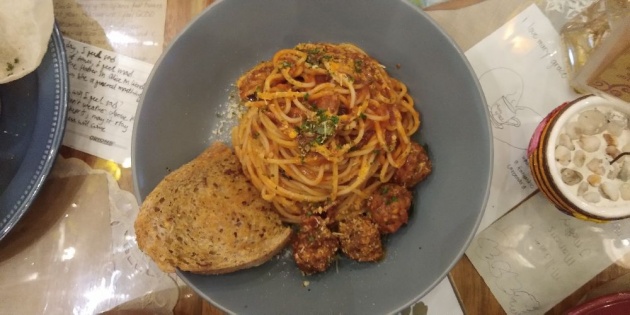 Photo credit: lapiz-lazuli
I never tried the meatballs because it was taken when I picked my share on this plate. But I can vouch that this is also an a-OK dish.
I generally conclude that their pastas are seasoned really well, that it seems like they only use fresh ingredients for them and that they don't use MSG to make their dishes flavorful. However, I wasn't really a fan of the bread that came with the pasta.
Italian Sausage Pasta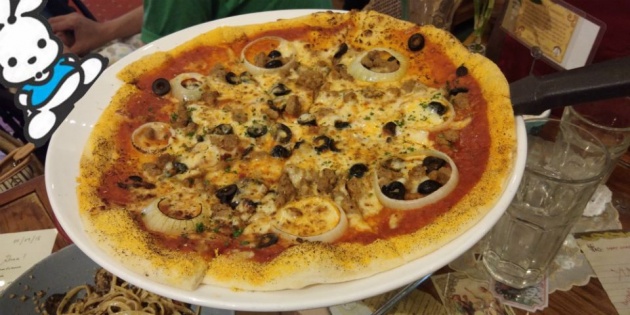 Photo credit: lapiz-lazuli
Nothing special about this pizza, but I enjoyed every bite of my share. It is a bit greasy, but you won't remember being it all bread, cheese and tomato sauce. It has more flavor and texture than that.
The Classic Cheesecake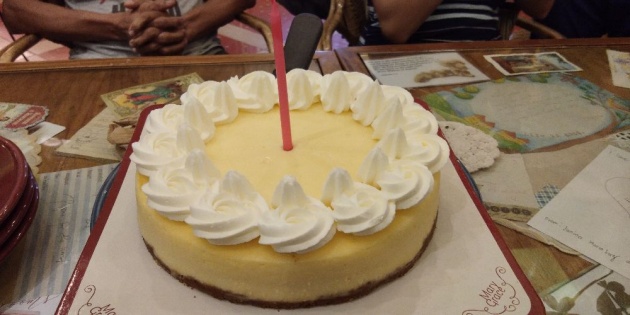 Photo credit: lapiz-lazuli
You really can't go wrong about their baked goods. I was really full, still I managed to finish my serving of their cheesecake. Take note that their icing wasn't what us Filipinos call "nakakaumay." It means that you won't feel fed up as you take munch after munch of this cheesecake. However, the crust was a bit crumbly for my liking, but it still tasted good.
Peach Iced Tea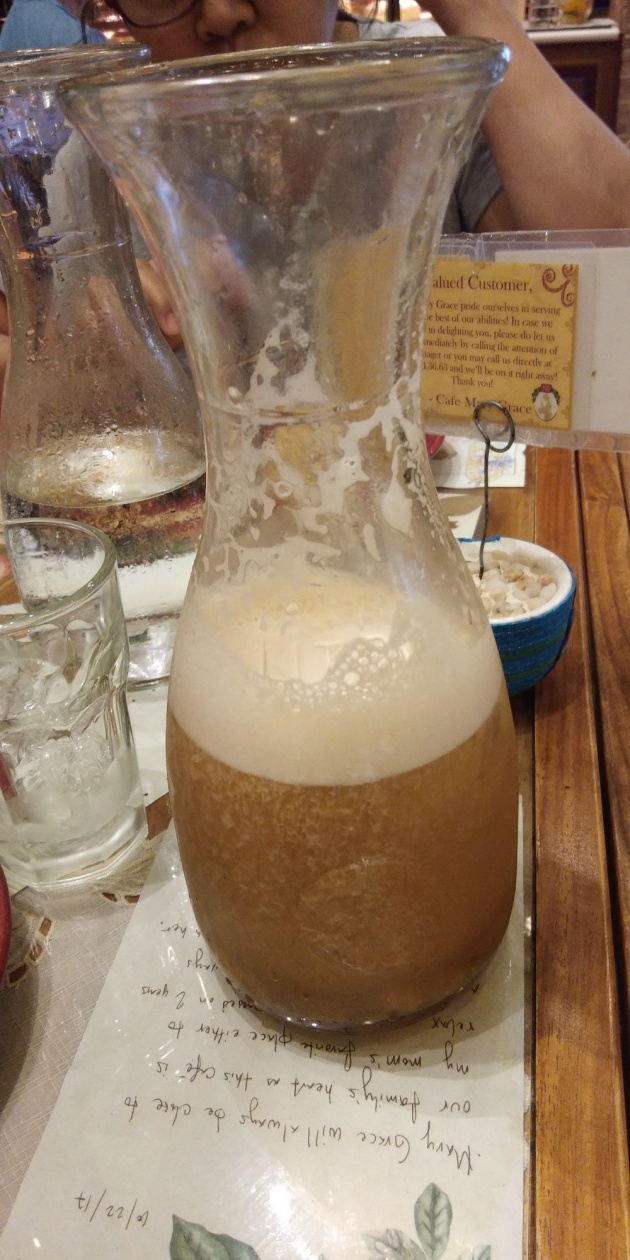 Photo credit: lapiz-lazuli
It smelled like Jollibee's Peach Mango Pie! The taste, however, was like it had alcohol in it. It tasted OK but in comparison with the other iced tea we ordered, this beverage is an acquired taste.
Apple, Cinnamon Tea and Honey Tea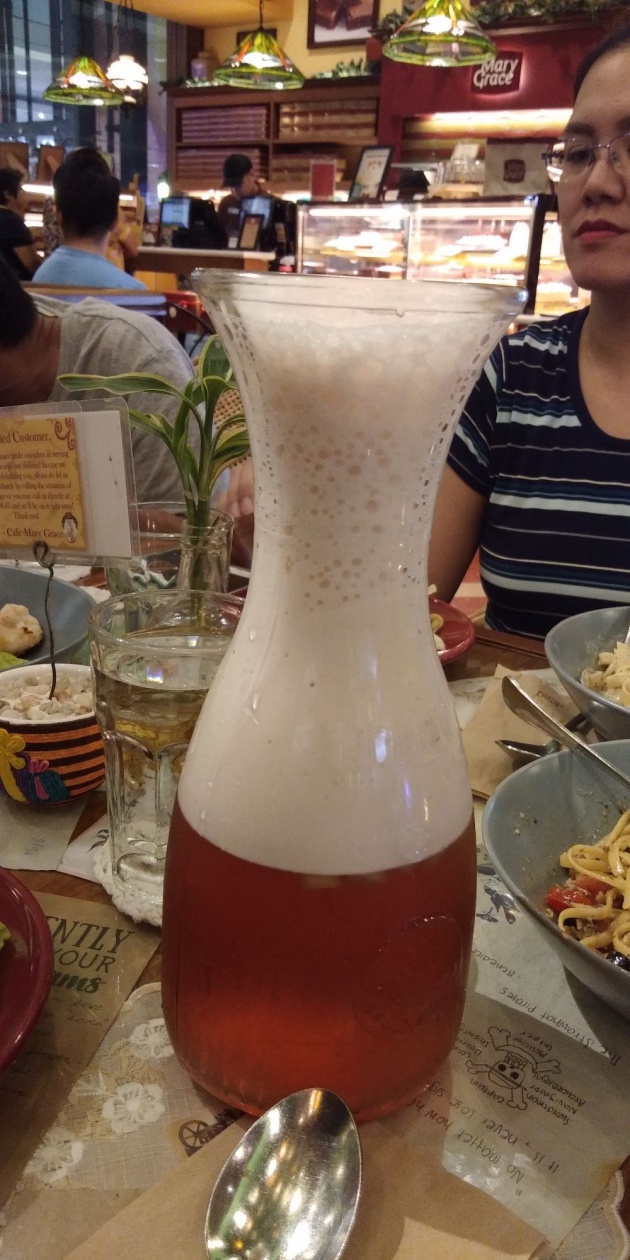 Photo credit: lapiz-lazuli
Their Apple, Cinnamon Tea and Honey Tea had just the right amount of sweetness that you won't get choked up by the sugar content and is a bit effective in washing down the taste of your previous eaten food. I really liked it!
The Staff
The staff were generally courteous and approachable. I never noticed any rude or uncouth behavior from them. Also, they were very patient with our simplest questions especially with the menu. They were also easy to request things from (like requests for extra plates, spoons, and napkins).
Overall, I had a delectable experience at Mary Grace Cafe because they simply cook and season food very well!
Disclaimer: pictures, videos and write up are originally shot/written by lapiz-lazuli, unless otherwise stated. Views and opinions on this blog post are truthful, but subjective, and are not influenced by sponsorship of any sort.