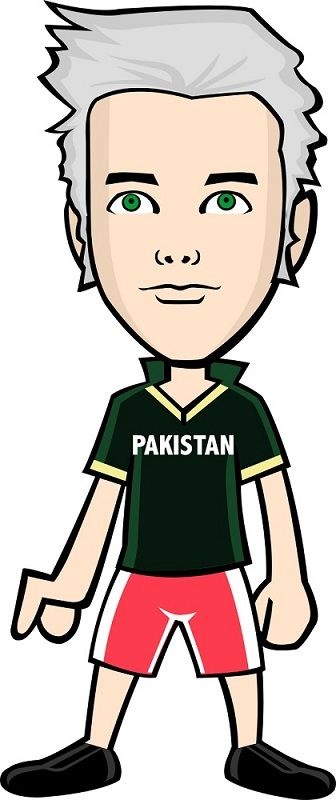 Recently a new topic for double rewards was announced by Micky about cricket and accessories for our avatars. It is basically to celebrate and promote upcoming World Cup in March 2016. As per topic's requirement, I'm going to be covering a little introduction of international cricket with discussing about avatar accessories, e.g. pants, shirts or cricket bat. I'll try my best to merge and summarize cricket and Items available for users in Cricket Section of Bitlanders' online shop.
I saw some of my friends from other countries saying they can't blog about this topic because they do not have knowledge of cricket and it is not played much in their country. Let me tell you that you need to know a basic knowledge about Cricket and if you don't have, search or read my blog.
Let's proceed with definition of cricket.
What is Cricket?
(Image source google.com)
Stated as gentle men's game, cricket is a game played in a large field of grass having pitch in middle of that ground or field. There are two teams per match, both of eleven players. Game is played with bat and ball and starts with a toss. The toss winner chooses to bat or ball. Only two players from batting team play on the pitch until one is caught out or bowled. Their goal is to make as many runs as they can by hitting the ball with bat and throwing it out of boundary or by running from on wicket to another. The opposite team has all eleven players on the field standing in an arranged manner who catch ball and stop the ball to cross boundary line.
Basic types of Cricket
(Image source google.com)
Test Cricket, One Day International / ODI and Twenty Twenty / T20 are basic types of cricket which are played internationally. I'll give a short introduction of all types.
Test
C
ricket
(Image source google.com)
This match is played with red ball and teams have to wear white dresses. Test Cricket lasts for 5 days having 90 overs per day. Each team plays 2 innings. To win the match one team must have more scores in scorecard and bowl out other team. If match does not end in 5 days, it is said to be drawn.
One Day International / ODI
(Image source google.com)
A match played by teams having status of playing international matches. Each team wears colored dress and kits. Ball used in this game is of white color. The game consists of 50 overs and both teams play one inning. Team which scores more runs than rival team wins. It is the simplest form of Cricket and doesn't have complications to understand.
Twenty Twenty/ T20 Cricket
(Image source google.com)
The difference between this and ODI Cricket is ODI is of 50 overs while T20 is played for 20 overs. Normally ends in not more than 3 hours because of 20 overs and therefore sometimes called "Quick Cricket". You can still watch that match even if you are not really fond of watching cricket matches. It is the mostly played cricket match in the world.
Teams with International Status
(Image source google.com)
Only ten teams have right to play all international cricket matches. However there are many teams in the world which play cricket. International Cricket Council (ICC) chooses which team to play all kinds of international cricket.
I'm showing these ten Cricket teams and as per requirement avatar accessories related to cricket. In order to purchase any cricket item from shop go to cricket section of the shop. Each purchase from cricket section will give you +1 buzz bonus for 3 days.
Australia
Australia can play all sorts of International Cricket matches. You can find Australian Cricket team's Blouse, Trousers and Helmets.
You can purchase blouse from here, trousers from here and helmet from here.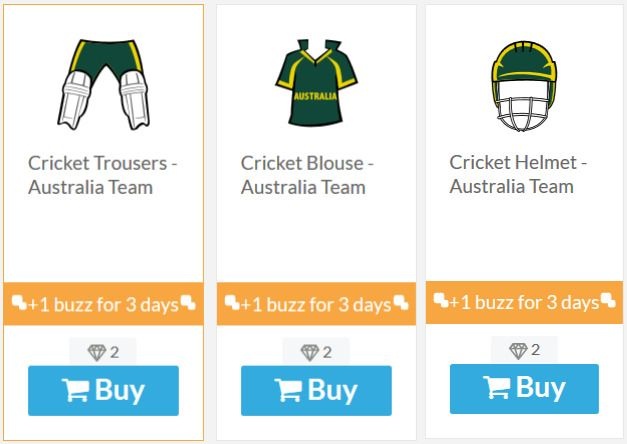 Bangladesh
Bangladesh Cricket Team accessories for you avatar are also available in cricket section of bitlanders' shop. Bangladesh can also play international cricket.
Here are links to purchase blouse, trousers and helmet.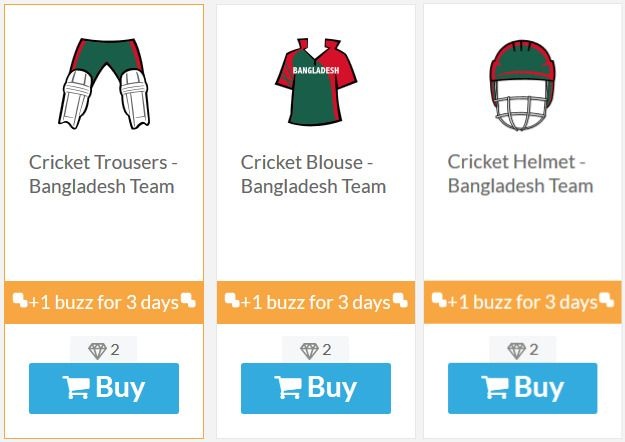 England
England also has shown its worth to play all international matches. You can find England Team Blouse, Trousers and Cricket helmet for your avatar.
Go to these links in order to purchase England Cricket Team's shirts, trousers or helmet.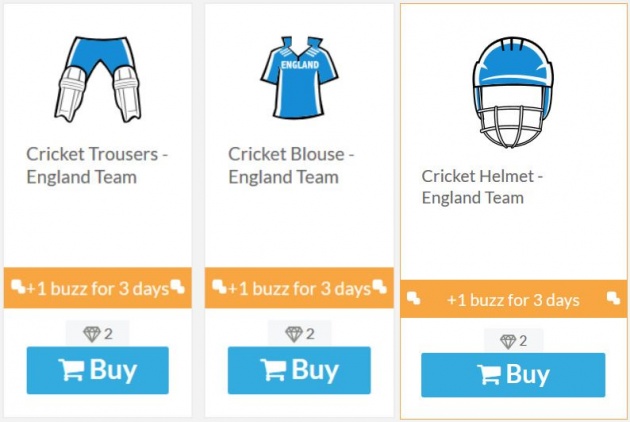 India
India has the right to play cricket internationally and if you are fan of Indian Cricket Team, you can find its shirt, trouser and helmet.
Blouse, trousers and helmet of Indian Cricket Team can be purchased from here.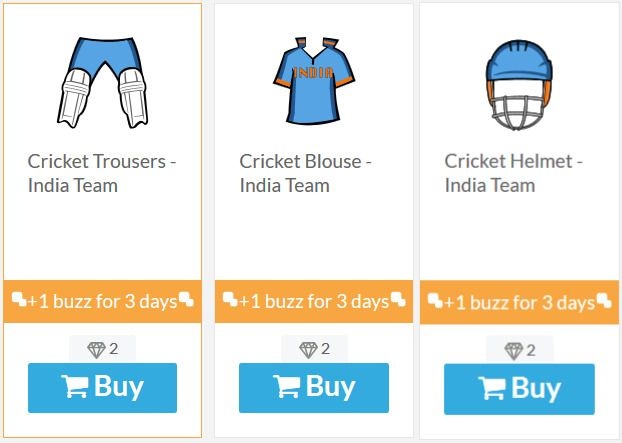 Pakistan
Pakistan can also play all international cricket matches as it has shown its worth in international grounds. You can find Pakistan Cricket Team blouse and pants with helmet on online shop. You can also find cricket accessories for your avatars of your city's cricket team.
A video of purchasing Pakistan Cricket Team blouse.
Here are links to buy
blouse
,
trousers
and
helmet
. A large number of users in
Bitlanders
is from Pakistan and are wearing these items.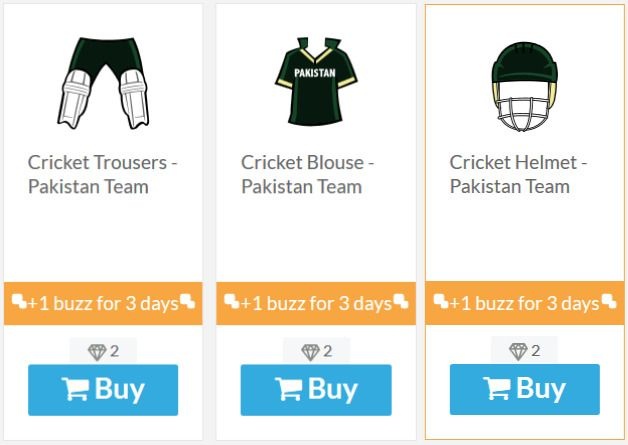 South Africa
It is also included in ten teams which are eligible for participating in all types of cricket international matches. Here is their shirt, pants and helmet with links.
Outfits of South African Cricket Team including blouse, trousers and helmet are available to be purchased.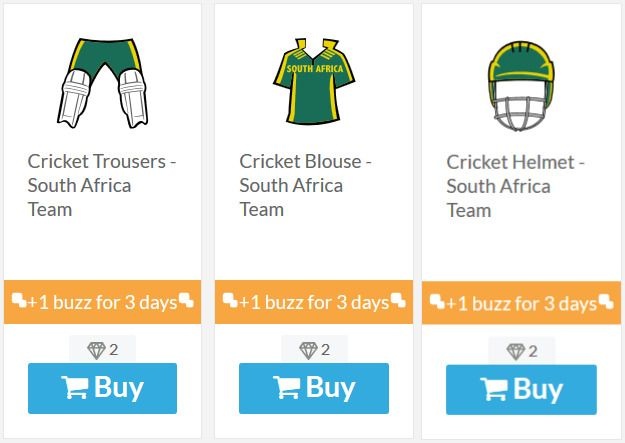 Sri Lanka
Avatar accessories for Sri Lankan Cricket Team are available for purchase in Bitlanders' cricket section. This team can play international matches.
Avatar items of Sri Lanka Team are purchase here. Click blouse, trousers and helmet to order them for you.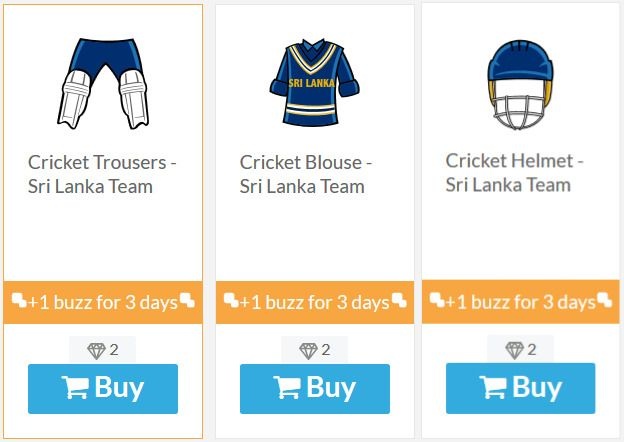 New Zealand
New Zealand is eligible to play and participate in all cricket matches which are played internationally. Accessories of New Zealand Cricket Team including shirt, trousers and helmet are added in shop of Bitlanders.
Blouse, trousers and helmet of New Zealand Team are added for purchase.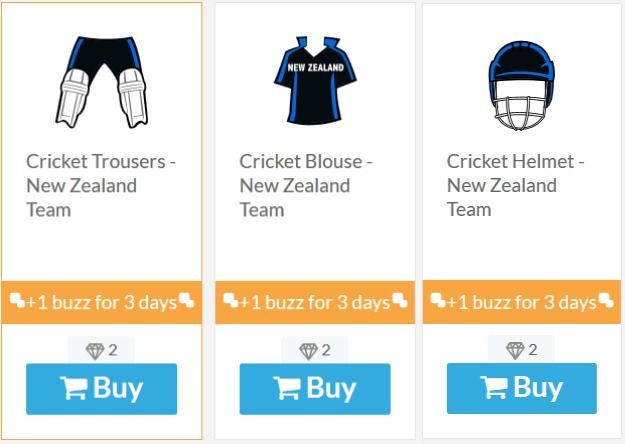 West Indies
West Indies Cricket Team can play all international cricket matches and avatar accessories of this team are available in shop.
Purchase this team's blouse, trouser and helmet from here.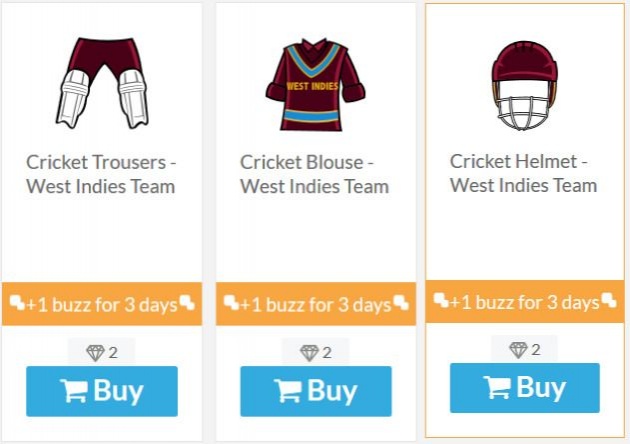 Zimbabwe
Zimbabwe has eligibility of playing international cricket matches. If you are fan of Zimbabwean Cricket Team you can find its blouse, trousers and helmet.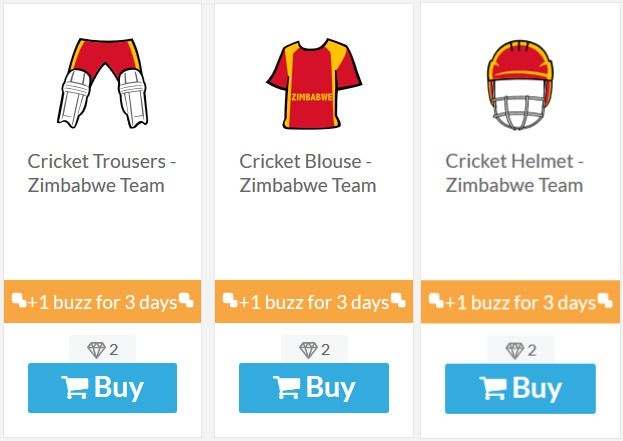 Other Cricket Teams in Bitlanders Shop
Tops and bottoms of other cricket teams as well as cricket bat are also available to be purchased in cricket section of Bitlanders' online shop. Remember that all purchases from cricket section of Bitlanders' shop cost 2 gems and are giving +1 buzz bonus for 3 days. Some items which are not included in above headings are discussed here.
Video for changing avatar dressing to Pakistan Cricket team blouse.
Tops and bottoms of local cricket teams of Pakistan are included in the shop. Which include teams from Quetta, Peshawar, Multan, Lahore, Karachi and Abbottabad.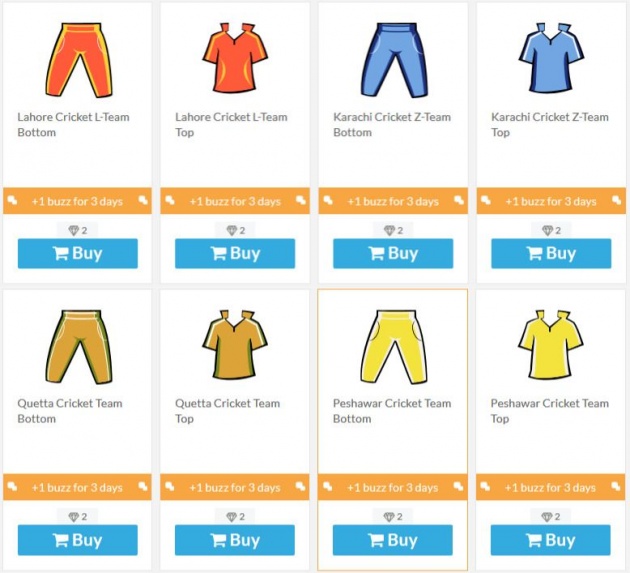 Accessories of United Arab Emirates, Scotland, Ireland and Afghanistan are also included in online shop. Picture of some of these items are added here.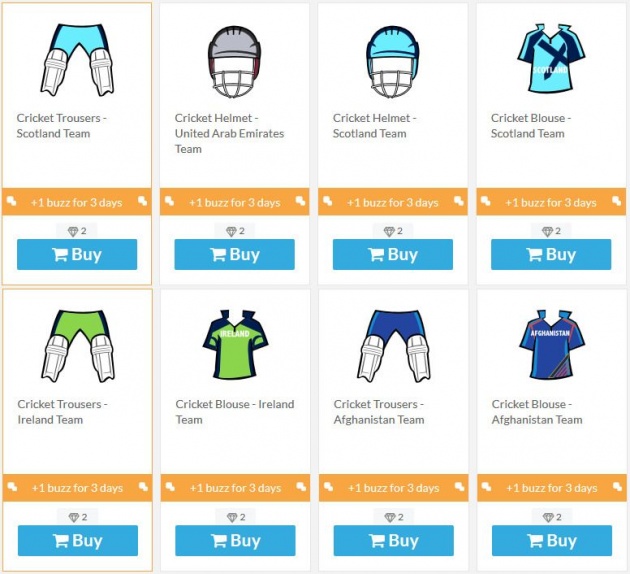 Random green shirt, trousers and helmet are present in shop to be purchased. A cricket bat is also included for purchasing in cricket section of the shop.