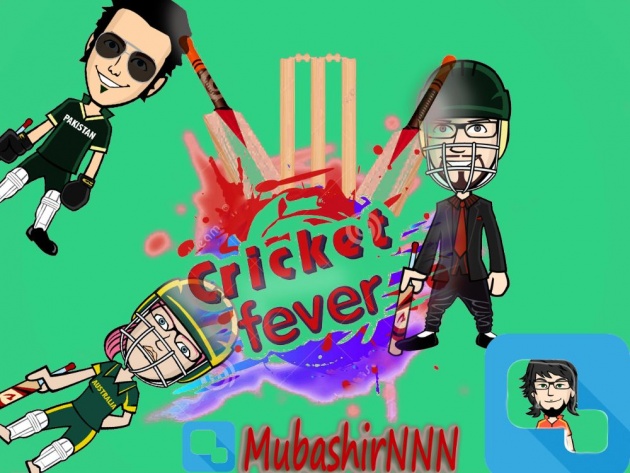 (Source=My Own Edited)
Cricket Fever
Many of the sports have being playing by millions of people. Everyone has different taste for different sports but the fans of Cricket game is more than any other game. Cricket is spreading like fever specially in our country and neighboring countries too. Peoples of different Countries play different games but in Asia, Cricket is most the played game. Everyone like to play cricket, on school level, college level or University level. Grounds have the pitches of cricket. Specially, cricket is being played by every person whether he is jobless or employed. They prefer cricket to any other weekend night activity. Especially, every youngster has bat and high quality ball for his weekend or daily basis. They got serious interest in cricket even if they are involved in other sports too but cricket is necessary.
Cricket Fever in My Country Pakistan:-
I'm resembling cricket with fever because cricket spread like fever. As fever attacked Older, Younger and baby, the cricket also has same impact on old, young and child. I'm sharing my experience of seeing Cricket fever nearby me and throughout the city.
Caption on Weekend Cricket Night
(Image Source=Google)
When I came back to Pakistan from Kuwait after 2 year, approximately. My friends invited me to go with them to play cricket. I was shocked to see the crowd there. A lot of people playing cricket there in one ground. About, 15 teams were playing cricket in one ground and there pitches were not too far from each other but they were playing great and comfortably. Everyone playing cricket and such a big crowd. I think the Cricket stadiums are not enough in my country for the teams that only showed up on Sunday. In our street and neighboring streets, they light up the street just like the stadium and play cricket whole night and it just not end up by playing at night. They went to near by famous placing where everyone comes i.e Liaqat Chowk Roads. Even the people of age 45+ love to play cricket, only cricket they don't even love to watch another sport.
Crowd on

Cricket Matches
(Image Source=Google)
Cricket is affected too much on our people that when there is match between Pakistan and India, it becomes a holiday and everyone watches the whole match without moving an inch. LED's of 60" were displayed in the streets and on highways to enjoy the match. A lot of people watch love to watch cricket on cinema screen that's why our cinema services started to provide cricket live show on wide screen. People love to watch and gives their own point of view(Commentary) on the match. No matter who wins, they just enjoyed gathering they made. Where big LED's are displayed, a lot people arranged their sitting and food for everyone to enjoy the match with their fellows and in such big gathering the support their team and enjoy the jokes and funny moments of the match. Especially, this scenario is common during World Cup. This is just the beginning of cricket fever I described, Our Government even change the electricity shutting during World Cup match.
(image Source=Google)
As the World Cup of 2015 is passed, I saw my cousins and friends awaking up early in the morning to see the matches. My buddies who don't even got up early for school, was awake for World Cup. A guy lived near by me, he leaved his examination in the fear of missing World Cup final. World Cup T20 is coming this March, 2016 and every one is excited. Pakistan had won World Cup and World Cup T20. When Pakistan won World Cup I was not born that time 1992. But I remember the noise made by people when Pakistan won World Cup T20. People came out of their houses cheering up. They gave each other congratulation as they played the match and in the morning, different food items were distributing among people in the happiness of winning of World Cup T20, I'm thinking the reaction of our people that time when Imran Khan (Was Captain of Pakistan's Team in 1992) gave them World Cup. Anyone can judge the craze and love of our people towards Cricket than their own National Game. They don't even know their National Game's player name and children even know the names of all cricket teams. That's unbelievable. People of my country loves cricket too much that they don't even to want to watch any sport on Television. They are just too much affected by "Cricket Fever" or they are biggest fan in the world. The people of India also like cricket too much as we like it.
Bitlanders increasing Cricket Fever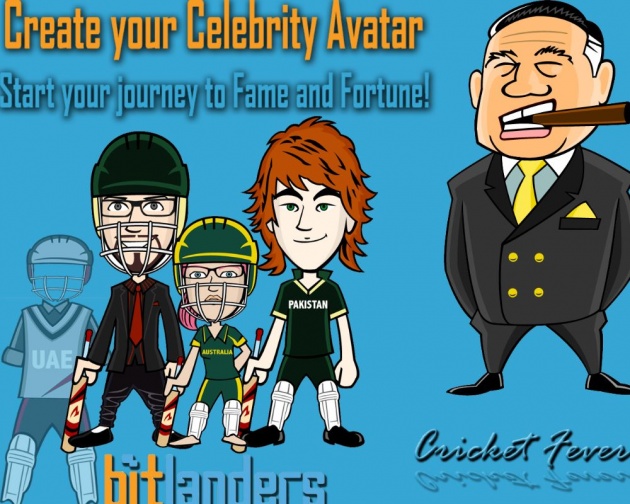 (Source = My own Edited)
Day by day, bitlanders taking lead as one of the biggest social network through around the world. People increasing on bitlanders regularly and bitlanders' management playing great role to handle them. A great role is being played by Micky Slanted Salerno in guiding the users of bitlanders, anytime.
Bitlanders playing great role in increasing cricket fever even on social network by providing cricket stuff on their store. People who love cricket and they would love to have it even on internet. I think Micky also felt the interest of people in cricket and that's why he gave topic this month is cricket to see their experiences. Bitlanders keep in touch with their users always and provide them ways to customize their avatar with different stuff they provided in the store. But this time, Bitlanders gave +1 buzz bonus for 3 days on buying any cricket equipment from the store. That means a user buzz score will increase if he buy these accessories from store with a buzz score.
Here is the picture of cricket accessories available in the store with a bonus buzz for 3 days for each in exchange of 2 gems.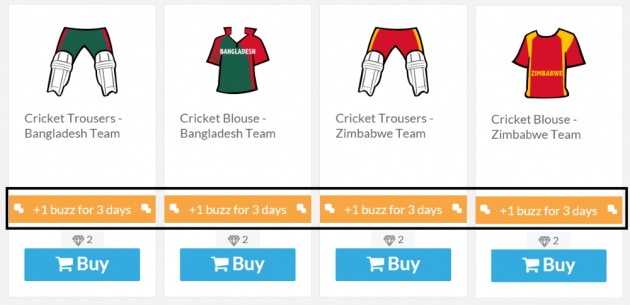 (source= Screen Shot)
Bitlanders introduced the whole kit of the cricket that's need a batsman to play, Like Shin guards, Growing guard and Helmet etc with different countries Cricket's uniform. It is the best way to provide everyone their home country cricket team kit easily available at the store.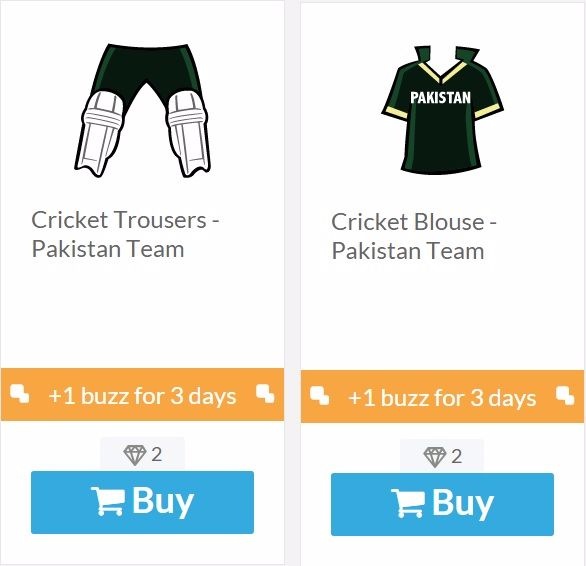 (Source=Google)
These are two from Pakistan Roman Nawab's and Muhmmad Irfan Aslam's avatars. They are wearing their Country's cricket team kit for cheering up on bitlanders or to show their affection towards cricket.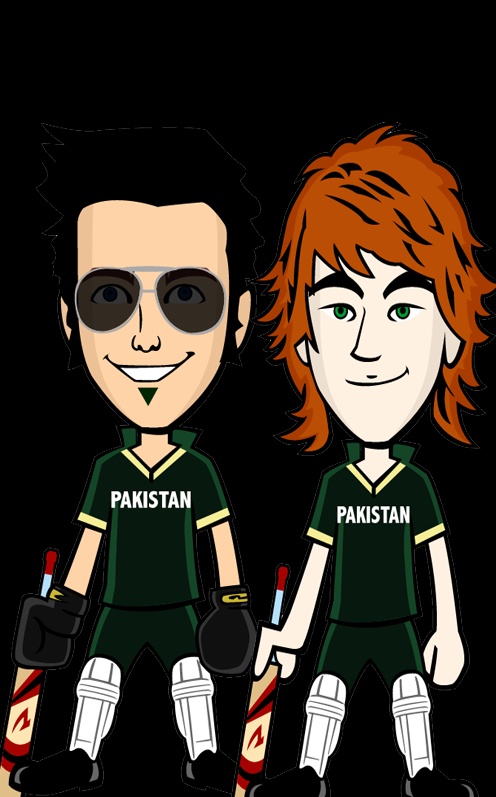 (Source=Screen Shot)
Not only Pakistanis getting accessories for their avatar but other country's users also getting these stuff from store of the team they're supporting. Bitlanders almost gave the total kits of whole cricket team so that there users can buy whatever they want their avatar to wear.
Cricket Accessories Provided to Users:
A lot of accessories are available in the shop of different sport like Football and Karate too. But bitlanders has got collection of the cricket teams' kit of whole World. Cricket is being played too much and that's why bitlanders introduced the whole teams' outfit available in the stop.
Here are the following Cricket's outfits collection in Store
These are the uniforms of different Cricket teams' available in the store of bitlanders

(Source=ScreenShot)

(Source=ScreenShot)

(Source=ScreenShot)

(Source=ScreenShot)

(Source=ScreenShot)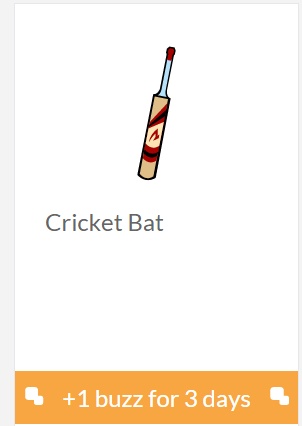 (Source=ScreenShot)

(Source=ScreenShot)

(Source=ScreenShot)

(Source=ScreenShot)
This is the only greatest collection of cricket stuff by bitlanders. Bitlanders Management always come up with unique idea and great collection of attractive things.