Cricket on bitlanders : Accessories and outfits for Avatars for Cricket's fans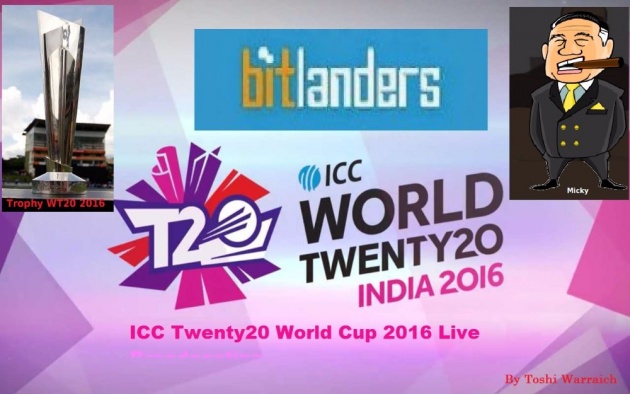 (source : google.es edited by myslef)
Introduction
Believe it or not, but you cannot ignore the work he has done to make bitlanders better and better platform for bloggers. I would never have written if I haven't known bitlanders, he made me change my mind and write. He needs no introduction, you all know him, he is the man himself Micky-the Slanted-Salerno . Best part about blogging on bitlanders is that they give you a new very interesting topic every month and you can earn double reward for writing a blog about that topic and by submitting it for review. why am I even telling you this ? you all know it already. Here comes my favourite part, this time the topic we have been given is "Cricket" since I am sportsman and I love to do sports no matter what kind it is, so this is an golden opportunity for me to right about my passion.
As Micky said, this blog is not just about cricket but about accessories and outfits of cricket. So my focus will be more on bitlanders shop instead of cricket but I will definitely talk about cricket for those who do not know about cricket. I was born in Pakistan but then I moved to Spain with my family, why I am telling this is becuase that is how I know about cricket. Because in Pakistan, cricket is a massive sport and is played in every part of the country. After moving to spain, I learned about Federacio Catalan de Criquet (Catalunya Cricket Federation) and also about Cricket España. I have been playing for catalan cricket and I also played for Spanish national team.
Here is a screenshot of Micky's Blog taken from the web.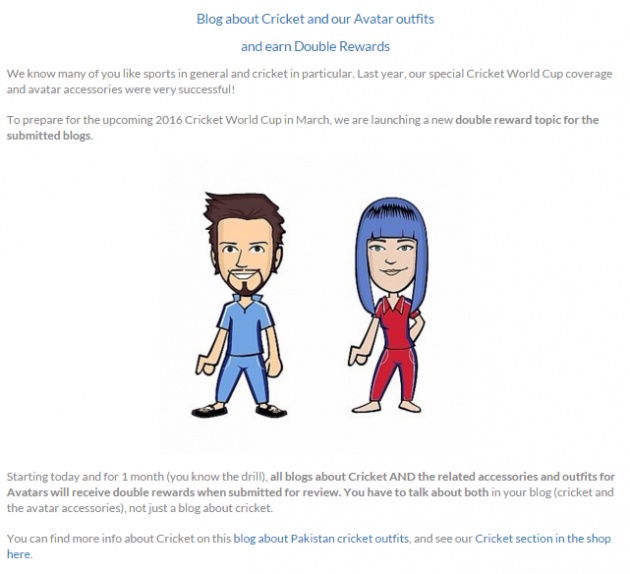 (source : screenshot)
Being a sportsman and above of all as cricket player it was huge excitement for me to have cricket outfit and accessories to make my avatar's look. The very first thing I did after knowing about outfit was change my avatar's look. Let me show you my avatar's look.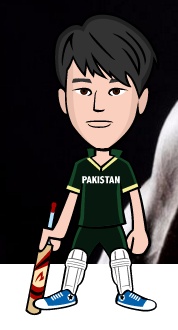 My avatar in Pakistan cricket team's outfit
(source : screenshot)
Now lets take a tour to the shop and show you where you can buy these outfits and give your avatar a sportsman look. Click here to go to the shop sports section to buy outfits. Buying these items from the shop does not just help you to create new look but also you are rewarded +1 buzz for three days which helps you to increase your buzz score and earnings as well.
Here is a video tour of bitlanders shop sports section shared below

.

(source : recorded with screen recorder)

This is a brilliant idea and great work by the bitlanders to create something like this and make this platform more and more interesting. Hats off to the developing team for such an amazing work. They did not just create outfits but they also kept in m mind the protection guards which are used while playing cricket. For the players safety there are few must protective wears and some are voluntary, all are following.

These are must wears every batsman must have these when he goes to bat.
Batting Pads (leg protective guards) and gloves
Helmet
Abdomen protector
Thigh pads
Then there are few others protective wear which some players use and some don't, are following:
Arm guard
Chest pad
Elbow protector
Inner gloves
Bitlanders teams had done a fabulous job and they have given us the must wear gears for the cricket. All this is for the excitement of the upcoming cricket's event which ICC World Twenty20 2016 . This event will be hosted by India which will start on 8th of March and will end on 3rd of April.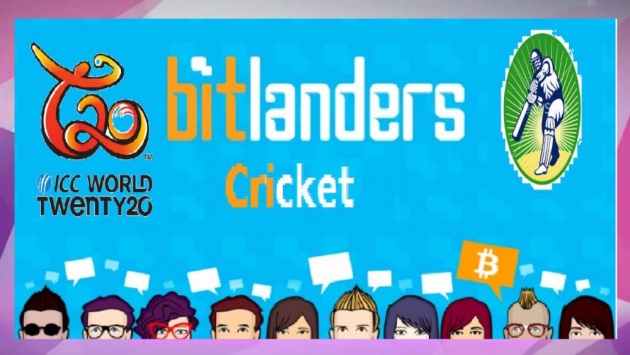 (source : google.es edit by myself)
Now I will share some pictures to show you outfits for the upcoming cricket event ICC world T20 champions. And also I will be showing you other bitlanders users avatars. Let's go...
Here is a screenshot of last year's avatar outfit options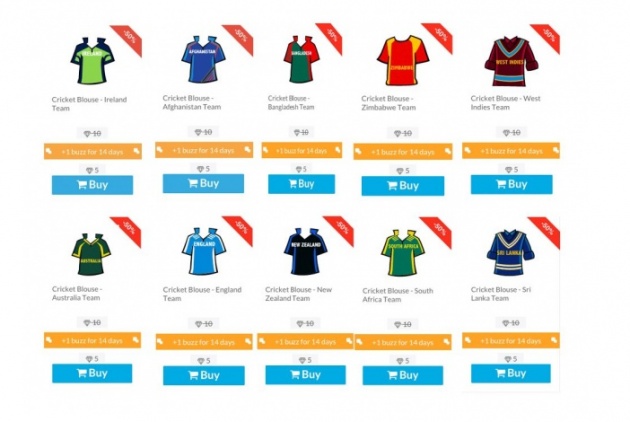 (source : bitlander screenshot)
Now check out for the this year's avatar options for female users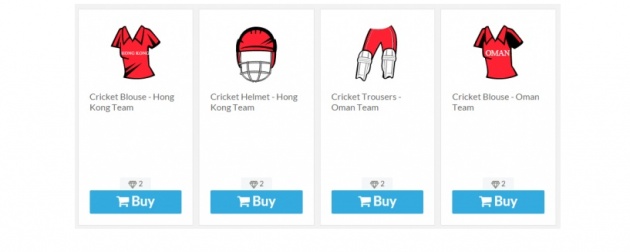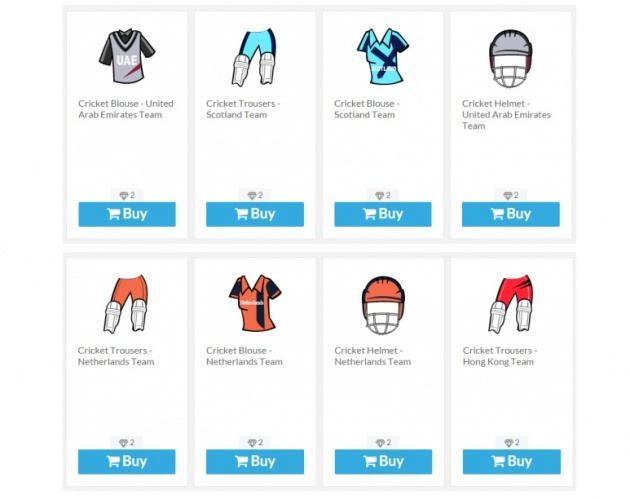 (source : bitlanders screenshot)
Here are some of the outfits for the male users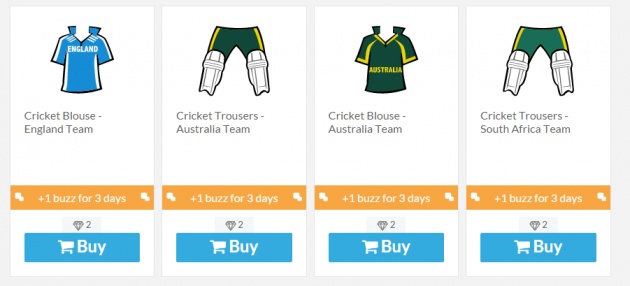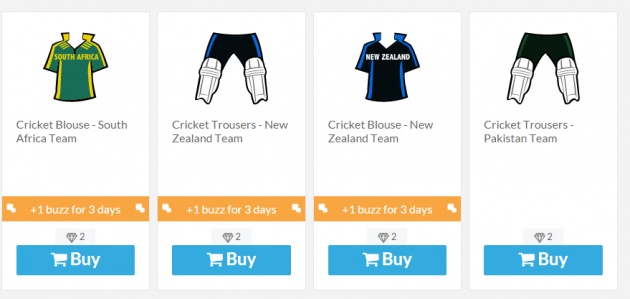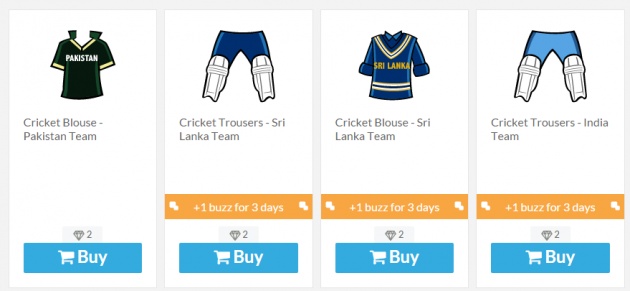 (source : bitlanders screenshot)
As you can see in pictures and in the video shared above as well that but each item from the shop you get +1 buzz for three days. And this year outfits are a lot cheaper than the last year. So go to shop, buy the outfit of the team to support and get bonus buzz and and enjoy.
Here is a screenshot from the shop showing a very important item for the cricket players: Helmet.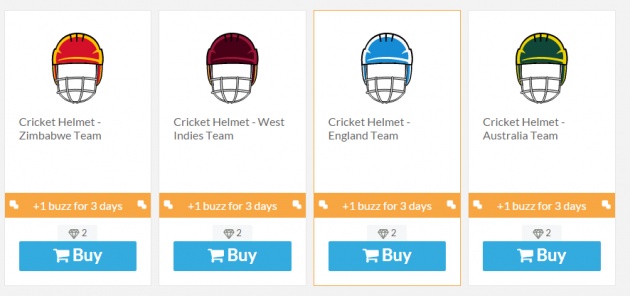 (source : screenshot)
Here are some other users avatar's look with new outfits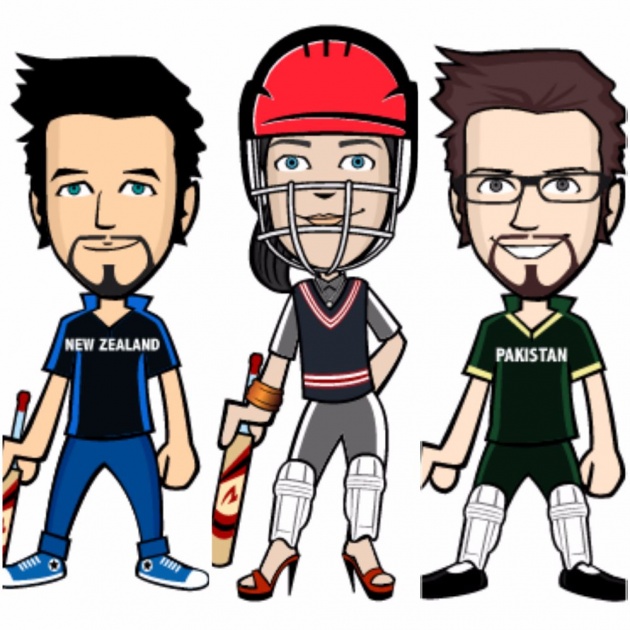 LookUp - Jean-beltran - Own-Muhammad
(source : screenshort & edited)
These all were outfits for international event i.e. upcoming ICC word T20, But there are also outfits for Pakistan's club teams which are following Karachi, Quetta, Peshawar, Multan and Lahore etc. Few of them are shown in the photos shared below.
Club level out fits for Pakistan's cities club cricket.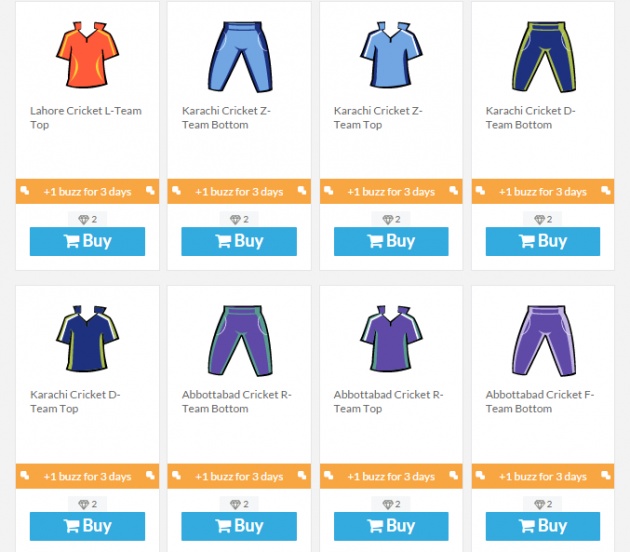 (source : bitlander screenshot)
Bitlanders does not just support cricket but also other sports i.e Soccer, Judo, Tennis, Skating and Boxing etc. Here is a screenshot form the shop showing outfits and accessories related to all these sports mentioned above.
Outfits and accessories for the other suports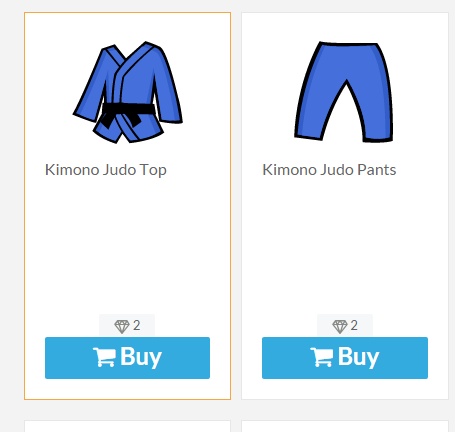 (source : screenshot)
Now without wasting any time I will talk little bit about cricket, I will not go into deep details but I will be explaining so you can understand what cricket really is. Although cricket is a very simple game but still there are people who do not know about it. It is similar to baseball in case if you know about baseball, but if you do not about then you don't have to worry about that either because cricket and baseball are almost same, obviously not exactly same but they have resemblance, for example both are bat and ball games. Well lets not complicate thing and just learn about cricket.
What is cricket and where it came from ?
Cricket is a bat and ball sport, in which two teams of eleven players face each others. It is played on a grass field, roughly oval (elliptical), which should not be less than that of a football. In midfield there is a rectangular area known as pitch. Originated in its organized form in England, cricket is popular mainly in the countries of the Commonwealth of Nations. In countries of the Indian Subcontinent, it is the massive sport.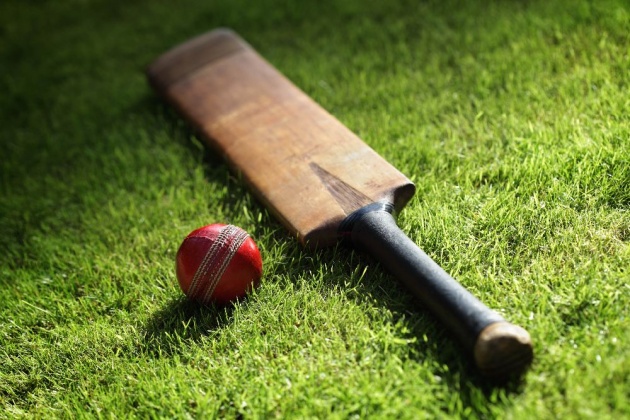 (source : google.es)
Cricket Ground
Cricket is played on an oval field with a rectangular center space, which is known as pitch and that's where the action is generated, something like the mound and the bases in baseball.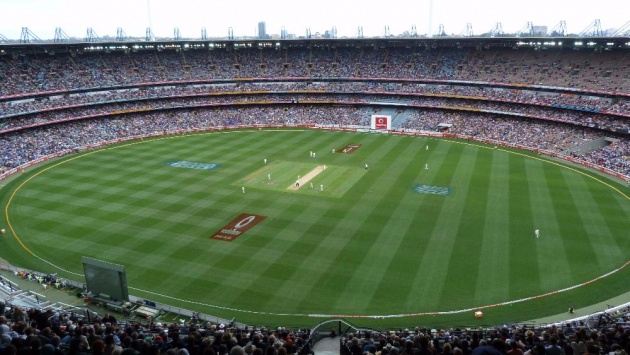 (source : googl.es)
Pitch
Pitch is that rectangular shape area in the middle of the cricket ground where the action happens. Basically the pitch is divided by four field lines: the line of attack or batting, known as "popping crease"; two lines of -RETURN return crease- that are parallel along the floor and -bowling crease- throwing line, which divides the area into two rectangular sections. Let me show you pictures that may help you to understand it better.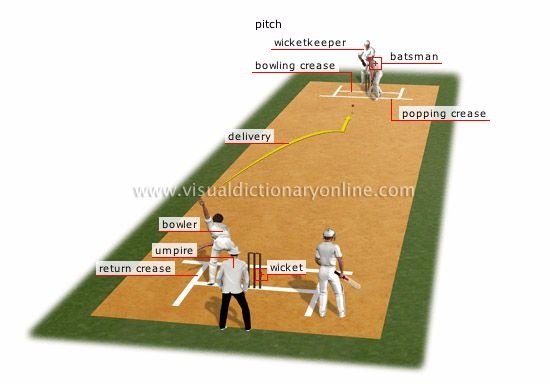 (source : google.es)
Fielding Positions in cricket
What fielding position refers to is the placing players in ground to collect the ball while the match is being played. It is very important and plays a good role in victory if all fielders are placed in right position according to your bowling plan. Here all possible fielding positons shown in the picture shared below.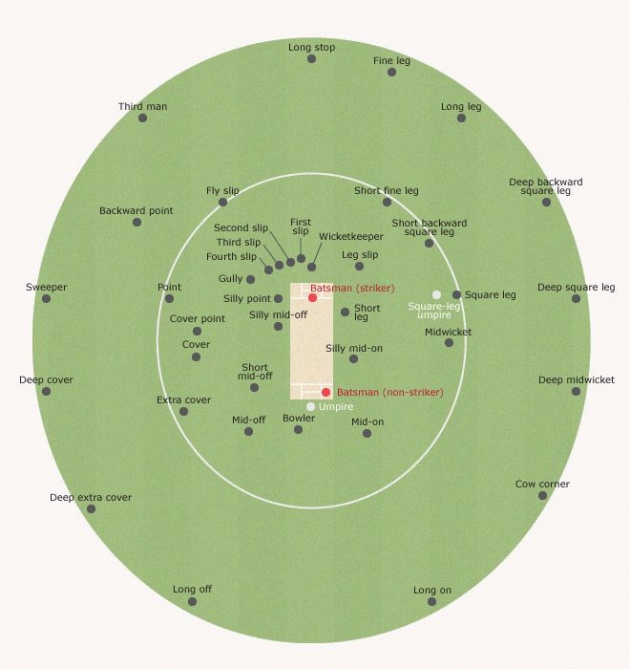 (source : google.es)
How its played

Cricket is a sport that seems complicated to understand, but it is easier than it looks,to learn to play a bit of concentration and patience is required.
Its played by 11 players per each two of the teams.It is decide by tossing a coin in the air that which team will bat first. Batting means to make points or score runs (points are called runs in cricket's language). The batting team two player to bat who are called batsman. Batters are always in pairs, one at one end of the cricket pitch from where it is hit (striker end) and the other from where the ball (non-striker end) is launched. The batter who is at the striker end must hit the ball as far as possible to give time to both batters themselves to run to the other end, before the ball is returned to either end. The act of reaching both batsmen at the other end, produced a one run or score or point in other sports language. If the ball is hit far enough, you can score more runs back and forth to the other end until the ball back. The batter ending at the striker's end which faces the next ball.
The team throwing try not only restrict the number of runs, but also eliminate the opposing team's hitters. Eliminating is called out. The ball is thrown from the non-striker end by the bowler, who will try to hit the stumps or eliminate the batsman anyway he can, defended by the batter, consisting of three vertical poles (the stumps) on which two cross sticks (the bails) are placed. Whether the batter to give the ball or not, the ball is picked up by a defense (fielder) and returned to the pitcher. A set of six legal balls or deliveries constitutes an over. Once a bowler finishes an over, another bowler takes the ball and launches another over from the other end of the pitch; hitters remain on the side they were. Each time a batter is out, a new hitter joins partner with the batter who has not been eliminated.
The inning ends when its not possible to make another pair of hitters; normally when ten of the eleven batsmen are eliminated. One of the batsmen is not removed (not out). Once the inning is over, the roles are reversed and the other team come to bat who was bowling and tries to reach the target they have been given by the other team. If they successfully reach their target with out getting out and in the limited overs they win, if they get all their batsman out or don't reach the target in limited overs they lose the match.
There are 11 ways to make out which are following.
Ways to make out
Knocking the ball either of the two crossbars (the bails) placed on the sticks (the stumps) located in turn behind the batter. Usually sufficient to hit the sticks to fall studs
Taking the ball before it hits the ground once it has been batted by the batter.
Knocking the ball bats, and therefore the crossbars, when the batter is on the run and the ball was picked up by a field player. This mode is called run out.
If the bat has not kept at least one foot at its base (crease) and fail hit the opposing player usually located behind the batter (wicket-keeper), picks up the ball and shoot down the sticks. This mode is called stumped.
If the batter puts his body between the ball and the clubs, preventing them from being knocked over by it. This is called "leg before wicket" (lbw).
If the batter loses his balance and bumps into his wicket (hit wicket).
If the batsman uses his hands to touch the ball on purpose without permission of the opposition (handling the ball).
If the new batsman takes longer than two minutes to be ready to receive its first release, counting from the time the previous batter was removed (timed out).
If the batter obstructs the path of the ball to avoid being left out. ("Obstructing the field").
If the batter hits the ball twice to get runs. (Hit the ball twice).
By making the wicket run out (hit wicket) and traversing its two main balls with his wicket he makes an out (Monhawk).
Video of 11 ways of out or dismissals in cricket
(source : youtube.com)
There are different formats of cricket and also it is played national and internationally. Main three formats of cricket are the following.
One day Internationals
T20 Internationals
Test
One day Internationals (ODIs)
One day internationals (ODIs) are considered limited overs match. This form of cricket is played between to teams obviously and consists on 50 overs each Inning. Looking at its time period it may take up to 3 hours for each inning and 6 hours total for one match if nothing goes wrong. Usually it is played in day light, but sometime according to the weather of the country and situation it is also played day-night. To play Odis every country's team or even at club level teams must wear a color uniform. Here are some of the teams picture in color uniforms shared below.
Here are some photos of Men's odis cricket teams in their colour unifrom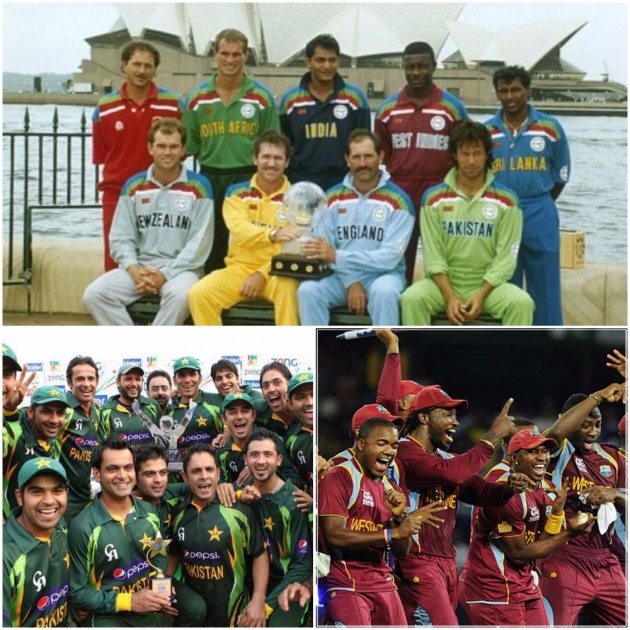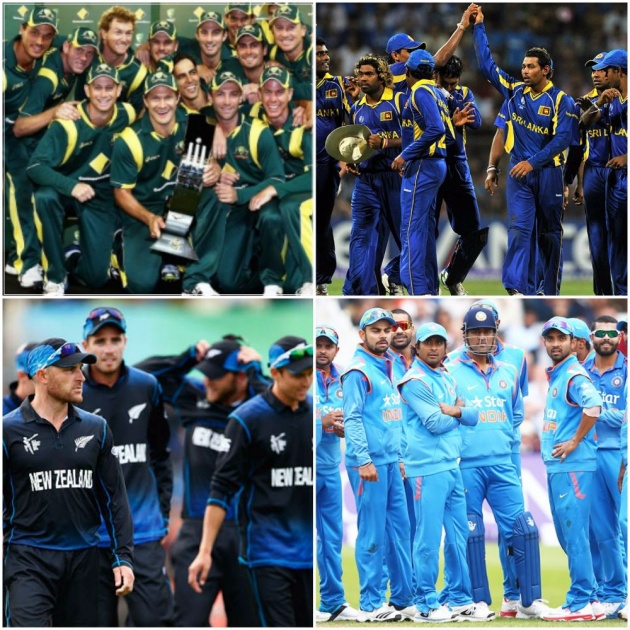 (source : created with photo collage maker)
1992 world cup all captions- Pakistan-West Indies-Australia-Sri lanka- New zealand-India
Here is a video showing highlights of semifinal match between India and Australia of ICC world Cup 2015
(source : youtube.com)
Women odis cricket teams in their colour unifrom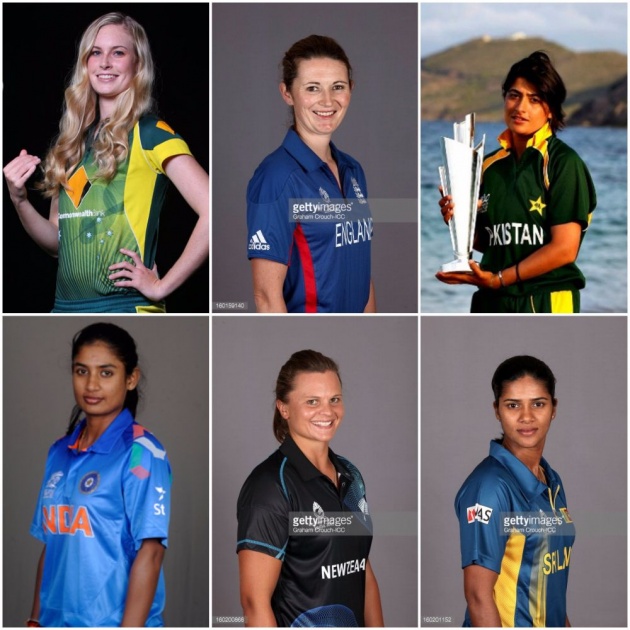 (source : google.es & edited)
Women cricket ODIs match highlights played between England and Australia.
(source : youtube.com)
T20 Internationals
Twenty20, sometimes written Twenty-20 and abbreviated to T20 is the short form of cricket originally introduced by England & Wales Cricket Board in 2013. What T20 means is that its the game of maximum 20 overs and a single inning for two teams are playing against each other. This form of the cricket is most entertaining and most interesting to play and to watch as well.
ICC World T20 2016 India

(source : google.es)
ICC World T20 2016 is the upcoming event of the cricket, which will be hosted by India. Five tournaments have been played so far and no team has won twice yet. The first ICC World T20 was played in 2007 and the final of the inaugural event was played between India and Pakistan. It was very excited and yet stressful game to watch with a thrilling ending where India won by only 5 runs. The next one in 2009 won Pakistan against Sri Lanka, Then Enlgand, West Indies and Sri Lanka have respectively. All this excitement and outfits are created to celebrate this upcoming event.
For ICC World T20 2016 India 8 teams have already qualified and 2 will qualify after the qualifying round. Here are the 8 qualified and the contenders for last 2 spots.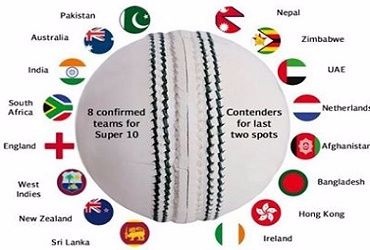 (source : google.es)
A T20 match recently played between India and Australia - Highlights
(source : youtube.com)
Test Cricket
Test cricket is considered its highest standard and is the longest form of the game. Test matches are played between national representative teams with "Test status", as determined by the International Cricket Council (ICC). In this form of cricket 2 teams of eleven players play a four-innings match, 2 innings by each team and it may last for 5 days. It is considered the most genuine and complete skill testing form of the cricket. It is played in white uniform. This really tests player's strength, abilities, skills and patience. All teams required a test status form ICC to participate in this form and to be able to play against other test status holder teams. There are only these following teams who have test status, Australia, Pakistan, Sri Lanka, England, India, West Indies, South Africa New Zealand and Bangladesh and Zimbabwe.
Here is video of the test match played between Sri Lanka and Pakistan in 2014 which is record, Fastest Chase in the history of Test Cricket.
(source : youtube.com)
History of cricket
Who invented Cricket?
No one knows when and where cricket was invented and by who but there is a body of evidence, circumstantial, that tells that cricket was devised by children in communities located between Kent and Sussex in the Middle Ages.
Another frequent claim was the Flemish influence. Paul Campbell, professor of English and Theater at the Australian National University in Canberra, discovered a poem dating from 1533, attributed to John Skelton, a renowned poet and playwright of the time, which is the earliest known reference to the game of cricket . In it, Skelton refers to the Flemish as the kings of the Crekettes, curved sticks used by shepherds and weavers used to hit a ball. Also there source that word "cricket" is derived from the Middle Dutch krick(-e), meaning a stick.
Originally this form of cricket we know today was firstly played in England but now it is known to all over the world and is played in many countries. Top best teams are Australia, Pakistan, England, India, West Indies, South Africa, Sri Lanka, New Zealand and Bangladesh and Zimbabwe. And that includes my blog post, I hope it is informative and helps you to understand cricket and support from bitlanders for sports. Thanks for reading, you can also read my other blog posts here. Take care and goodbye!!!
-Toshi