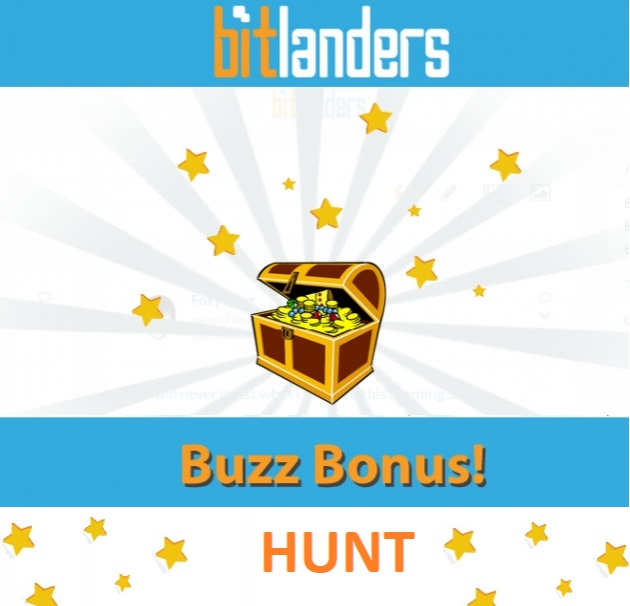 Throughout my stay here in bitLanders, I had also learned ways on earning buzzes. I am sure most of you are already aware of but let me share it to the new ones who had just joined this wonderful site. And again, let me just clear out that these things on the list may be available or not available anymore because the site has been changing through the years. I have been here for quite some time and these are some of the ways how I earn buzzes direct ups.
Let's start with the basics but please be aware, these can only add buzzes to your direct power ups, the base buzz is solely for your own activities like posting, influence and sharing. While these direct power ups are for buzzes given to you at a specific time frame.
DAILY LOGIN


If you get to log in always, in a daily basis, you'll be receiving additional buzzes up to 7, nothing beats getting simple buzzes through log ins so don't ever miss a day without checking your bitlanders account! The additional buzz will start by +1 when you login the first time, then the second day, it'll become +2, and so on and so forth until day 7 where in you'll get a maximum number of seven (7) buzzes. It won't get any bigger than that though.
This specific option started on 2014 and has been continuing until this date. However, there also has been cases where in the buzzes are reset so even though you have been logging in every single day, there will still be certain bugs or issues with the site which causes the additional logins to start again from one.
It's so cute that this is being presented as a gift, a box, some refer it as chestbox but I personally refer it to a treasure box. It's like a pirate box which pops on screen covering your entire window but it feels good to see it because it also comes with the daily earnings you are getting.
These days, the treasure box comes along at a certain time in the Philippines. I am not sure what time it arrives in other countries but it comes around 8-9 in the evening. It requires a bit of a push though, I would receive it when I am collecting satoshi from a specific homepage promoted post.
Try it and you'll definitely love it!
REFERRALS

When I was starting here in bitLanders, they had this additional buzz when someone subscribes to you. But aside from getting buzzes from subscribers, referals as well gives you five additional buzzes each but then it has a limitation of ten buzzes for the next five days. So let's say you referred A, you get five buzzes by the time A transforms to bitLanders then another user named B signs up under your referral, that's another five buzzes but since they had registered on the same day, if another user let's say C adds you, there will be no more additional buzz to be given and this is for the next five days. So if you are wise enough, you should only refer two people at a time every five days! (*wink)
But that case was how it worked before, I mean months or year ago. Today as of this writing which is dated January 2016, the additional buzz scores are only +3 and this runs for three days only as well. However, there's nothing to worry about it. It's better than getting nothing.
QUESTS
It is just fun to be doing certain easy jobs and get rewarded just like how we receive buzzes after doing certain stuffs on bitLanders like watching movies and viewing blog posts.
At this day, the quests include :
Read 5 Blogposts
Quests are really easy to follow specially when you are simply moving around and checking on your bit-friends' profile pages. I am actually not able to really notice that I have already read five blogposts while checking on certain person's profiles. I love to read their blogs because I can learn something from those blogs.
Watch 5 Videos
Videos may seem to load a bit slow here but if the video is really interesting enough, you'll definitely wait for it to load and play. I love watching videos about cooking shared by Saori-Sam and even Life hacks posted by Lucky-Star. These two are the profiles where I checked videos and complete the quests.
Bring a Friend on bitLanders
So this is one quest which I am unable to complete every single day. It would be completed when someone registers under your referral link and since I am not really good into inviting my friends, I am not able to do this. But it is really a good way to increase the buzz score.
SHOPPING
You may take some assets down from your account or your backpack but then the return of that investment is definitely more than what you had invested. There are a lot of items in the shop to look out for. What's so good about bitLanders is the fact that they don't settle for few items, they add and add items depending on the occasion happening like the cricket costumes where it was inspired by the 2015 cricket competition and they had it on sale as well as giving the user additional buzz for the next 14 days. Amazing right?
You'll have options either to buy those which are up for some amount of bitcoins like the items below:
Check out how I purchased them:
While there are also items which are available for some number of gems like these cool items below: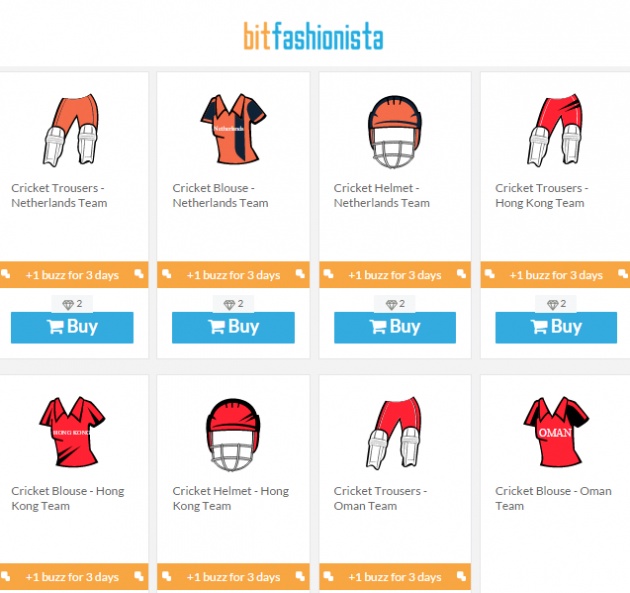 Gems on the other hand will also give you additional buzz when you purchase some sets. Gems are really helpful and I would really encourage everyone to invest on gems first specially when you are still starting here in bitLanders.
Other than that, there are more option you can do from the bitshop, there are costumes, accessories and lot of other items which will definitely be useful to you and to your buzz score specially to your earnings!
For that, let me share on how to purchase these items and do shopping on the bitfashionista:
REVIEW CONTENTS
This is Hillary and she is the main person responsible for reviewing contents.
Content review is by far the best way to earn direct power up buzzes. Although the results would only stay for a specific number of days, it will definitely help you with your earnings.
If you are not familiar yet with this option, then I believe you are still a newbie here in this site because everyone here has been sending their blogs, videos and galleries for content review. But then for the sake of those who are new to the site, let me share what bitLanders' FAQ explains about this specific function. These information below comes from the bitLanders FAQ section.
What is the "Content Review"?
"Content Review" is a feature which allows users to submit their contents to our editorial team. Once reviewed, submitted contents may receive additional Buzz bonuses depending on their quality. Higher quality contents will receive higher scores and higher bonuses.
Currently, only Blog Posts, movies and galleries may be submitted for review.
What are the requirements for the submission?
The requirements needs to be only English submissions, in well formed and formatted blogpost, original and it should be tagged accurately.
For movies, only English submissions will be accepted, submitted movies must be original and submitted movies must be tagged accurately
For galleries, submitted galleries should follow a theme, submitted galleries must contain more than 5 images, submitted galleries must be tagged accurately

How do I achieve high scores?
For Blog posts:
- Write original content (Submitted posts must be exclusive and can not be present anywhere else on the web)
- Write in proper, well formed and well formatted English
- Make your posts visually appealing by adding related images and embedding related videos
- Do not plagiarize content from the web or other bitLanders users
- Make sure you use accurate and related tags
For more information please check the section "How to write a blog?".
For movies:
- Upload meaningful content
- Upload high quality movies(picture and sound)

- Present your movie well by writing an exhaustive synopsis and choosing a related image as a poster
- Do not plagiarize content from the web or other bitLanders users
- Make sure you use accurate and related tags
For galleries:
- Make sure your images are related and suitable for the theme of the gallery
- Upload high quality images
- Each gallery must contain more than 5 images
- Make sure you use accurate and related tags
What is the cost?
The cost varies depending on promotions, the amount of your latest submissions, avatar gear and avatar skills. Please read the submission page carefully before you submit.
Submitting your content for review does not automatically grant a bonus. Your content must respect the requirements stated above and be accepted by the editorial team. Submissions which are not accepted or do not follow the requirements will not be refunded.
Why should I submit my content for review?
Creating high quality content and submitting it for review is the best way to achieve a significant boost to your Buzz Score. One well written post is worth more than ten thousand spammy comments.
So that should it and if you submit one, expect the review after a couple of days. You'll definitely feel the difference in terms of your earning.
DONATION
The more you give the more you receive. That is the same concept here in bitLanders as well. It's a win-win situation since you'll be sharing your earnings to the bitCharities which are all available from the bitShop and by donating to a specific charity, you'll get additional buzzes.
The amount of buzzes will also depend on the specific donation amount. Let's say you'll donate 0.00070000, that's additional +1 buzz for one day, 0.00500000 +1 buzz will run for a week or seven days and the 0.05000000 will give you additional +3 buzz points for seven good day.
You can also donate thru paypal by the way. Now I bet this will make you love donating from now on.
This time, here are the lists of ways which has been phased out from bitLanders, unfortunately:
TREASURE BUZZES

This can be challenging to find but it is definitely worth to receive additional free buzz for hunting treasure buzzes. It can usually be found in the bitLanders' VIP accounts.
I didn't know when was the last time that this option was available in the site. I just learned from constantly using the site that it hunting is not anymore available but I believe the site had a good reason as to why they had taken it out.
But I am also hopeful that treasure buzzes will be included back to bitLanders because it was a fun activity. Why? Because it is definitely fun checking on the reviewed contents or blogs and read through and then you'll get surprised because something popped up in the screen and shows that you had found one treasure box!
Well, I did feel like I was a treasure box hunter at that time.
SUBCRIBERS
Before, whenever someone adds you or subscribes you rather, you'll get one buzz score each but this is only limited to ten buzzes but this is daily so you get ten new subscribers daily means ten additional buzzes daily as well. However if it goes more than 10 subscribers, it won't count anymore. So better subscribe 10 persons daily, but don't bother since this option is not anymore available. You can then add as many users as you can.
FB INVITE
One of the many other ways to earn additional buzz points before was the Facebook Invite. That was included in the Activity Quests which gives +1 direct up buzz point when you invite someone directly from Facebook. And when that specific Facebook friend approves and signs up into bitLanders, it will let you gain +5 buzz points!
Make sure to check the homepage daily as bitLanders gathers some of your Facebook friends' information and sends a request to transform the user to become a bitLanders. Sending the invitation will also give you additional buzz, this happens once daily.
That was before and unfortunately, at this point, bitLanders had already taken that out and even taken the option to share a video to Facebook.
REDEMPTIONS
Nothing is sweeter in any site than being able to receive a payment but with bitLanders, aside from getting paid, you are also going to receive additional buzzes for redemption which is totally amazing!
But then after some time when everyone else were getting their payments and buzzes were increasing, this was also taken out. I wonder if they'll somehow return it.
FB VIDEO SHARE
Sharing of videos from bitLanders to Facebook was one of the quests available to be done and will let a user earn a buzz point which is of direct ups. It runs for one day only since it will reset and another quest will be available on the next day but unfortunately, this one was also been taken out for some reasons.
Well, actually I know the reason! At this point, bitLanders is focusing on bitMiles and since they had been having issues with Facebook linking to bitLanders before, they had eventually decided to put that down. However, we can still get to share information to Facebook, only that we won't be able to get additional points for it anymore.