Source: Self Created
My hobby is writing on different topics and I get excited whenever Micky announces the topics of Double Reward for writing. Through this I can avail the chance to get better reward with help of my hobby. So this time I am again participating in this task of writing and trying my best to write a good blog on announced double reward topic "bitLanders Survey Chat".
bitLanders Survey Chat is a new initiative of bitLandars in a Private Chat where Hillary Summers starts asking questions to all of us where we have to answer about a variety of topics and can earn 10 bitMiles Loyalty Points for each answer.
Global & Private Chats:
We all got familiar about Global & Private Chats of bitLanders. But let me clear these both interfaces for the new comers in bitLanders family. So, Global Chat is an interface where we all colleagues including Micky can see the chat and can participate to share views together. On other hand, Private Chat is an interface to chat personally with any colleague including Micky.
Example of Private Chat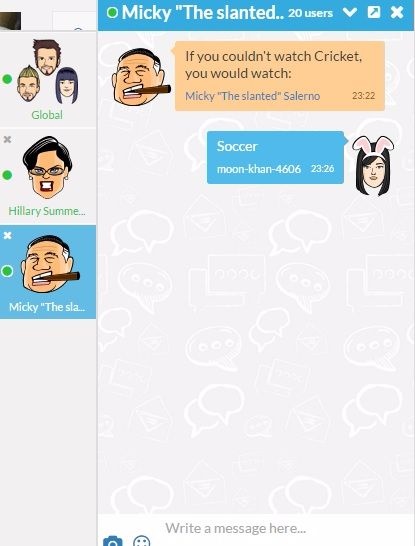 Personally, I found Global Chat is a good interface where not only we can share our ideas with each other but also can participate in a healthy discussion. BitLanders' team from previous few days are working on Global & Private Chat for making it more advance and easy for us. I appreciate bitLanders' team on making good changes in it and I am enjoying this chat interface now more than before.
Example of Global Chat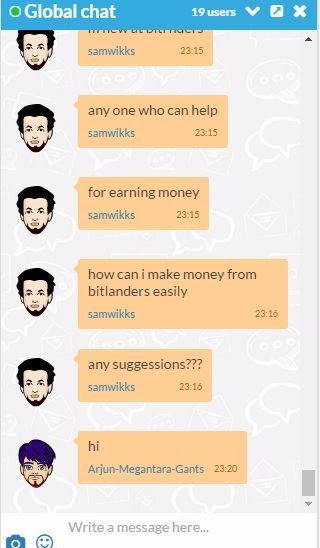 My Experience about bitLanders Survey Chat:
In previous week same like other days, one day when I signed up my account on bitLanders and opened my chat room suddenly Miss Hillary Summers joined (The well known personality of bitLanders) me in my private chat. Through this I became so much excited because it was my first experience that she came to my personal chat herself. So after that when I read Miss Hillary Summers's chat to me then I got little bit confuse but then I found that she was asking me questions on variety of topics for which I have to answer the asked questions. At my 1st survey, I did not know the answers of some questions but I tried my best to give the answer of each next coming question from Miss Hillary. During this chat I also noticed a new change in private chat which is typing indicator.
You Can See The Typing Indicator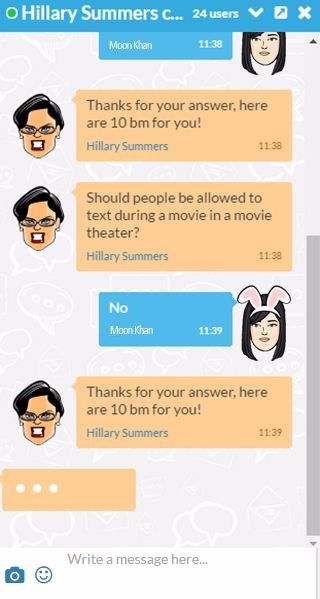 My 1st survey was maybe not a perfect one in giving answers but I really enjoyed this initiative of asking such a brilliant questionnaire. More this survey chat is not only for one day, as when next day I again sign up my bitLanders account Miss Hillary Summers once again joined me in my private chat and started asking me the questions. So in my next surveys, I enjoyed in giving answers to the most of asked questions because now I get use to. It was nice experience for me personally because I found increase in my bitMiles loyalty points through participating in daily surveys.
Fun with Earning:
Now I will tell you the main good thing about participating in this survey is that giving answers of each to ask questions from Miss Hillary will give you 10 BitMiles Loyalty points (as a reward). My interest for this survey increased when I availed the same reward.
According to bitLanders' team "Your bitMiles points will be added within a few minutes, or at the next Buzz calculation (within 24 hours). You'll be able to see them in the 'Details section' of your Rewards page as "bitMiles applications and games."
BitMiles Loyalty points is not only given to you in your participation for your survey one time but you all can also avail these bitMiles Loyalty points on daily basis through giving answers of ask questions of this survey in Private chat with Miss Hillary Summers.
So guys I am taking full advantage of this offer on daily basis by having fun now it is your turn to avail your bitMiles Loyalty points.
Example of Earning BitMiles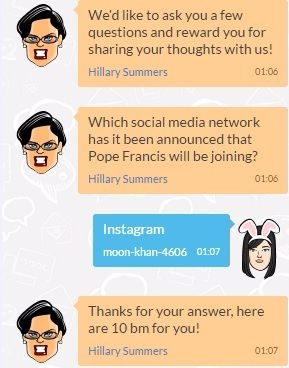 Types of Questions in this Survey:
In this survey Miss Hillary Summers asks questions related to variety of topics for our opinions. Most of them are related to new hot topics such as……….
Politics
Sports
Technology
Economy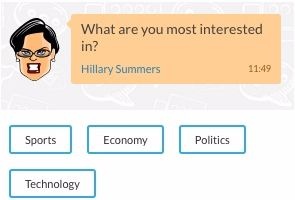 This survey chat is very informative so I will suggest you guys must participate in it because this type of survey is not only good for your knowledge but also you will get up to date with the latest news.
Easy Survey Format:
One more thing I noticed is that the format of this survey is very easy like for every asked question there are multiple choices given for picking the answer from them. So giving answers is not difficult at all.
BitLanders Survey Chat is different & interesting:
Before bitLanders Survey Chat, I have experienced many others surveys like in our school/college level and also on others social websites. But according to my experience I enjoyed this survey a lot because, this survey is not related to specific topic but it also covering major hot topics which are nowadays very popular around the world like Panama leaks, Zika Virus, Latest Twenty 20 world cup 2016, USA Presidential Elections 2016, MTV Award etc. So I will say that this type of survey must be continue in future.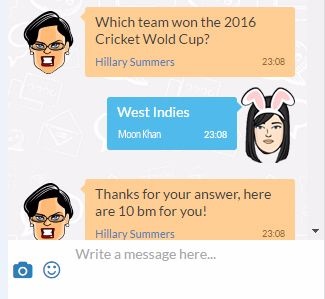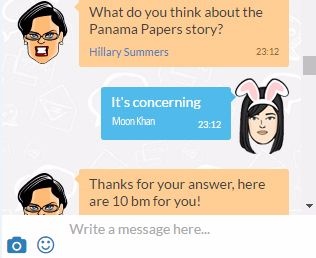 You can also suggest for this survey:
If you guys have suggestions related to these types of questions and answers and you like to see your suggested questions in the Survey Chat so you can email your question (are limited to 150 characters ) and its answer (are limited to answers to 15 characters) at info@bitlanders.com
According to Micky you can also create your own survey campaign at bit-miles.com.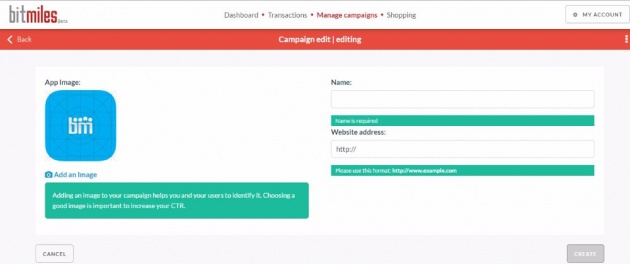 In last I will say that you all should participate in this Survey Chat for making your IQ level good. Through this you guys can not only increase your knowledge regarding most of the hot topics but also get the opportunity for earning. And I will also suggest you write a blog on this topic & avail the best opportunity of getting double reward, so guys don't miss this chance.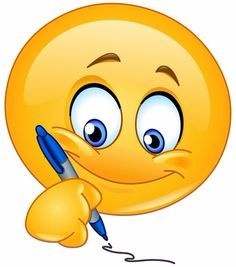 Source: Google
This is the End of my Blog. Hope you people enjoyed alot... I spend my hard working here in writing this and want your comments below in comment section.
Thanks for sparing time in reading My 15th attempt for my virtual home "Bit Landers".... Stay Connected for more articles.. :)