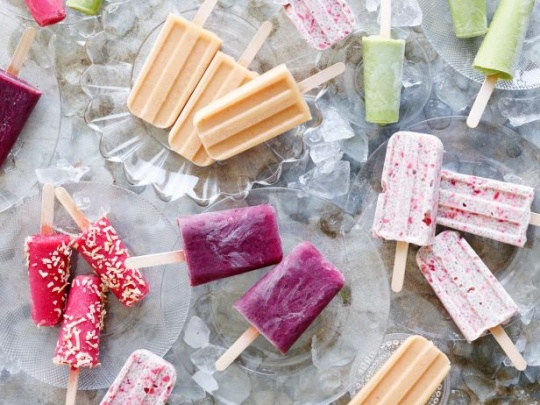 In this swampy midsummer heat, my favorite breakfast (oatmeal) becomes entirely unappealing. Even a smoothie blended to go becomes lukewarm in minutes. So why not enjoy frozen treats at every meal, including breakfast? Food Network Kitchen came up with genius ice pop recipes for on-the-go morning meals that'll cool you off and fuel you up for the day. Plus, swap a frosty pop for your green juice, favorite cocktail or after-dinner treat.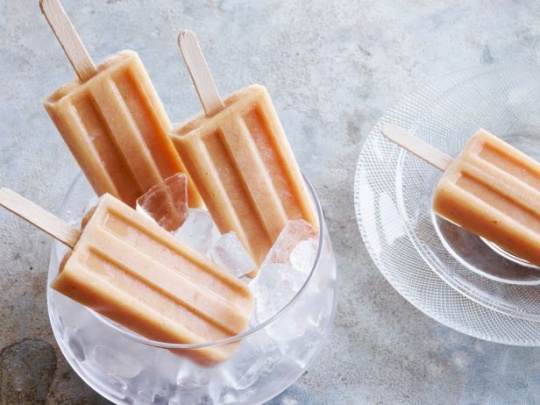 Peach-Oat Breakfast Pops
These peach pops taste just like a frozen smoothie — only better, thanks to nutty-tasting oats, which also make them a more filling way to start the day.
RELATED: Summer Breakfast Pops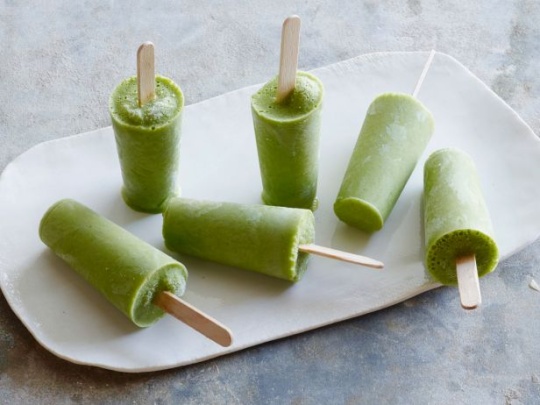 Kale-Banana Pops
Here's a great way to get veggies into your frozen snack or breakfast. Replace your green juice with this kale-smoothie-inspired pop.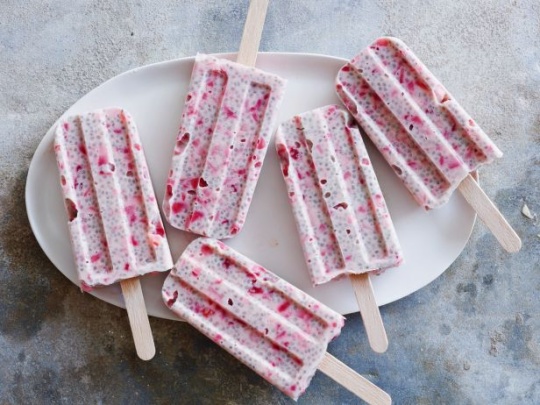 Strawberry-Chia Breakfast Pops
Chia seeds make these polka-dot pops fun to eat. And with 2 grams of fiber per serving, the pops are a tasty way to add more fiber to your morning routine.
RELATED: Choppedsicles: 5 Outside-the-Basket Pops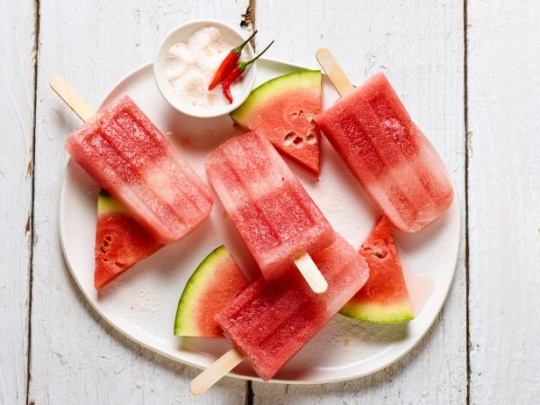 Watermelon, Chili and Basil Ice Pops
These refreshingly fruity ice pops give you an array of tastes: sweet, tangy, salty and spicy. If you cannot find Thai basil, which is milder than regular basil and has a slight licorice flavor, regular basil will be fine in this recipe. Sprinkle any leftover chili salt on sweet summer fruits like mangoes, pineapples or peaches for a spicy-sweet snack.
Ingredients
1/3 cup sugar
1 large bunch Thai basil, stems and leaves roughly chopped (about 1 cup)
1 red Thai bird chile
2 tablespoons kosher salt
3 cups 1-inch cubes watermelon
2 tablespoons fresh lime juice
Directions
Special equipment: four 4-ounce ice-pop molds or six 3-ounce molds, 4 or 6 ice-pop sticks
Bring the sugar and ¼ cup water to a simmer in a small saucepan. Cook over medium heat, stirring occasionally, until the sugar is completely melted, about 5 minutes. Turn off the heat, add the basil and stir until completely wilted. Let cool completely at room temperature, at least 30 minutes.
Meanwhile, finely mince the chile (seeded for less heat, if desired). Add the salt to the minced chile, and run your knife through the mixture several times until the salt starts to turn light pink; set aside.
Put the watermelon and lime juice in a blender. Strain the basil syrup into the blender, pressing the basil in the strainer with the back of a spoon to extract as much flavor as possible; discard the basil. Puree the watermelon mixture until completely smooth, scraping down the sides of the blender partway through if needed. Transfer the mixture to a large liquid measuring cup with a pouring spout.
Pour the mixture into the ice-pop molds, leaving ¼ inch of space at the top (the mixture will expand). Insert the sticks. Freeze until solid, 5 hours to overnight. Unmold, and sprinkle 1 or both sides of the pops with the chili salt, depending on how spicy you want your pops. Serve immediately with any remaining chili salt on the side.
From Food Network Kitchen


Strawberry Margarita Pops
Frozen margaritas won't stay slushy for long, especially if you're blending them up for a crowd. Make Tyler Florence's pops instead, then freeze them and forget them until cocktail hour.

Sangria Pops
Bobby Flay lets his red sangria steep overnight so it infuses with all of the fresh fruit. Then he strains it and freezes it in ice pop molds for a super-fun, extra-refreshing take on the Spanish party punch.
RELATED: 11 Cool New Uses for Ice Cube Trays


Creamy Pistachio Pops
These rich, tea-infused pops are an easy frozen treat inspired by pistachio kulfi, India's answer to ice cream. Serve them for dessert after a spicy Indian feast, or any summer meal.


Chocolate Sundae Ice Pops
Melissa d'Arabian's chocolatey pops have a secret ingredient: avocado. Frozen treats are an excellent place to include healthier ingredients, since almost anything in the form of an ice pop brings back the wide-eyed joy of childhood (and it takes a while to consume even just a few ounces!). These make a cool, creamy and guilt-free way to end a summer day.