Video Credits: Shady Records via YouTube
Eminem is a professional rapper, lyricist, performing artist, record maker, producer, actor. His real name is Marshall Bruce Mathers 3 and was born in St. Joseph, Missouri on 17th Oct 1972. His father abandoned his family when he was a small kid. He later had a brother "Nathan". During his early years, Marshall and his mother used to travel in and out of the town settling at one place not more than a year or two.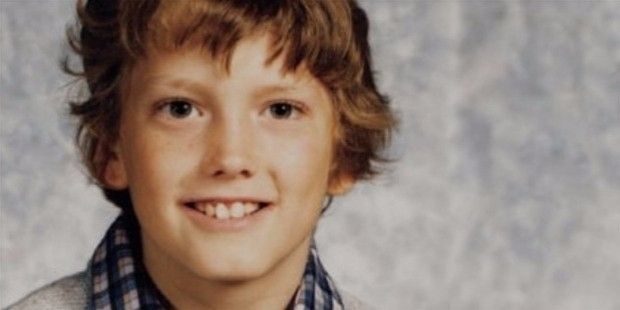 Image credits: https://successstory.com


Eminem was remembered as a happy kid by his family, yet he was not good with his early life as he was frequently bullied in school. Eminem has also mentioned about his past life in his rap songs. The violence got so often that his mother had to file a lawsuit against the school. He even had to change his schools often. Since he was the one amongst the very few white people in the black neighbourhood, Eminem was often bullied and beaten by the blacks. Eminem always wanted to become a comic-book artist in his early days before switching the things to Hip Hop. His favourite superhero was Spiderman. The first hip-hop song he ever listened to was of Ice-T's.
His uncle was the reason he started listening to Hip-hop songs as he gifted him record player with the hip-hop music collection. Marshall started to listen to artists like Ice T, Treach etc. His uncle was one of the people he was close to, who committed suicide which left Marshall in tears and eternal pain.
He did not even have a good relationship with his mother which he has mentioned already in a lot of his songs. He dropped out of his High School at the age of 17 after putting in 3 years in ninth grade.


Video credits: Eminem50Cent.ru via Youtube
Initially, when he started he named himself as "M&M" and used to do rap with his childhood friend DeShaun Dupree Holton AKA Proof. They use to attend rap battles. The scene from the movie 8 mile where he chokes was said to be a real-life experience where he actually choked and came back another day to prove himself. However, he was not respected back then since he was white and was doing something which was usually done by the black community.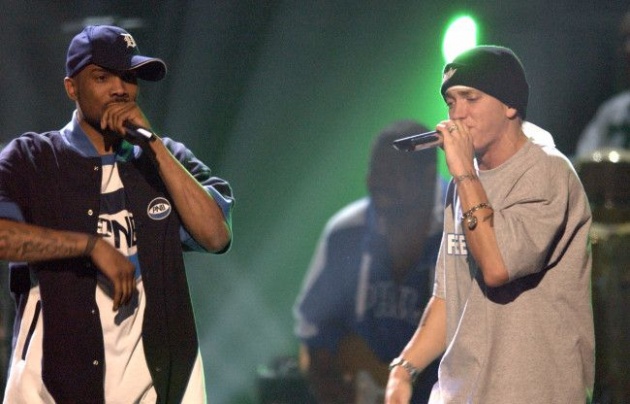 Image credits: uproxx.com


Eminem is considered as the best music performing artist of his era throughout the world and even now he is considered as the best. He has already sold an estimated 47 million albums and around 40 million tracks according to a survey. Eminem even owns the title of best Hip Hop celebrity of all time. Eminem has done a total of 170 million record sales. He was featured in Rolling stones 100 best music artists of all time in which he made it to 83rd position. He is considered as the God of Hip Hop and is often referred as the "Rap God". Eminem has created a breathtaking legacy. He has made it in the 1st position of billboard 200, 10 times and 5 times in Billboard's top 100.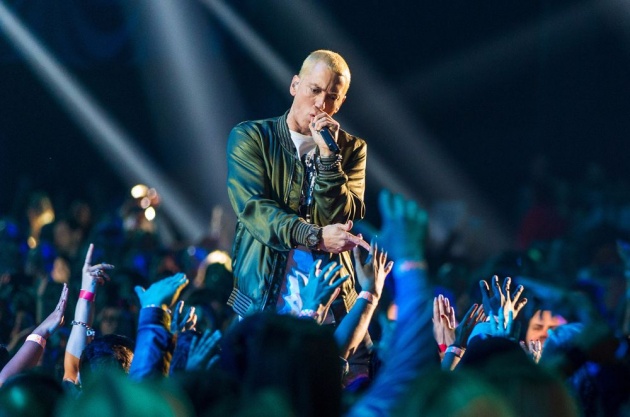 Image credits: www.billboard.com


Infinite was his debut album which was released in (1996) and the Slim Shady EP, his second work; released the following year. Eminem got signed to Aftermath Records, Dr Dre's record label company. He then worked on his third album and released Slim Shady LP which Instantly got hit and earned him his first Grammy Award for Best Rap Album. His next two releases were The Marshall Mathers LP (2000) and The Eminem Show which got released in 2002. Even these two albums became the absolute success. Both the albums went diamond, (in terms of sales) and went to become the Grammy Award-winning albums of their years, making Eminem the first ever artist to win 3 Grammy Awards back to back. Later on, he came out with Encore,( released in 2004), by this time Eminem made a knack for making nothing but huge hits.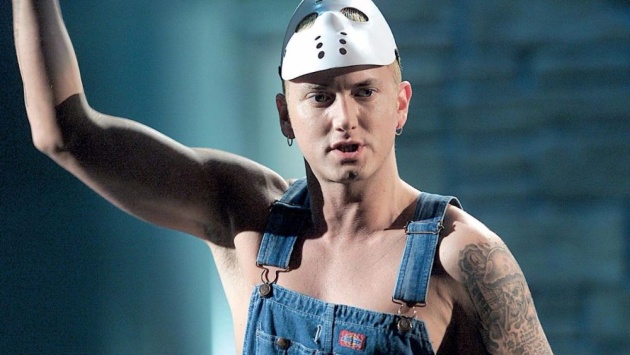 Image credits: https://www.biography.com


Unfortunately, Eminem went on a huge break after this. He was said to be deadly indulged with drug abuse and almost losing his life. However, he made himself clear of the fact that he is one of the best artists of all time and came back again in 2009 with Relapse, another one of his huge success. Then came Recovery in 2010. Both albums again won Grammy Awards. After the Eminem Show, this was the second time he had the Best album of the year. Eminem's eighth studio album, The Marshall Mathers LP 2 released in 2013, won two Grammy Awards with one being Best Rap Album. This made him the owner of 15 Grammy Awards in total.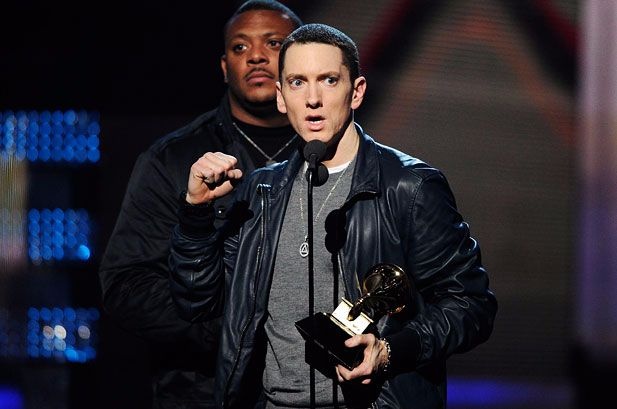 Image credits: http://www.southpawer.com
Apart from his solo career, Eminem is also an active part of a Hip Hop crew named D-12 which is short for Dirty Dozen. This crew consists of 12 rap members. Proof, Bizarre, Eminem, Swifty are some its members. He is also known to have a duo with Royce da 5'9". Their duo is called "Bad Meets Evil". They actively take part in music releases and Live tours. Eminem also own a radio station company named Shade 45, which airs on Sirius XM Radio. This has given away a lot of opportunities for new faces in the industry to grow their way to fame.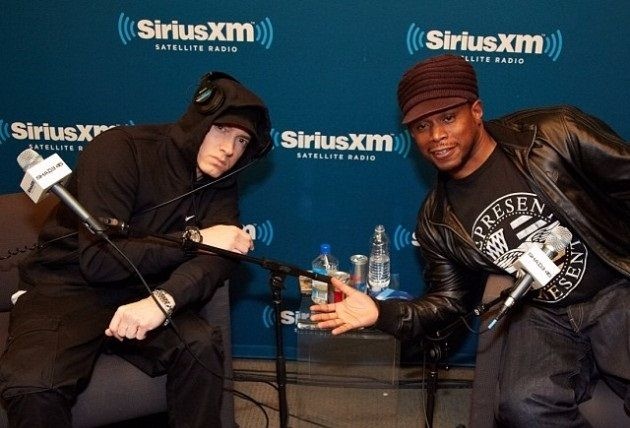 Image credits: http://www.southpawer.com


In November 2002, he was seen in big screens. 8 Mile was said to be based on his true life events. This movie's title track "Lose Yourself" won the Academy Award for Best Original Song. Eminem also started his own record company named Shady Aftermath which gave a huge comeback platform for artists like 50 Cent, Snoop Dogg etc.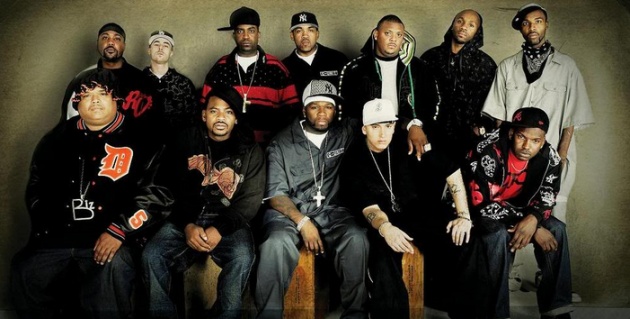 Image credits: http://news.hiphopearly.com

After the Marshall Mathers LP 2, Eminem was about to retire from the rap game. However, he was seen featuring in a couple of tracks with artists like Big Sean, Pink and 2 chains etc. He is also set to release his next album which is reportedly named as Revival which will be releasing in November 2017. This has created a great buzz amongst his fan following and they are eagerly waiting for this release including me. His recent BET cypher's free verse got him again inside the big picture since he went directly against Donald trump clearly mentioning that he does not like him at all. Eminem has a "not so very pleasant" kind of attitude towards a lot of artists like Mariah Carey, Christina Aguilera, Britney Spears etc as he has targeted all of them in his Songs and this time its none other than the President himself.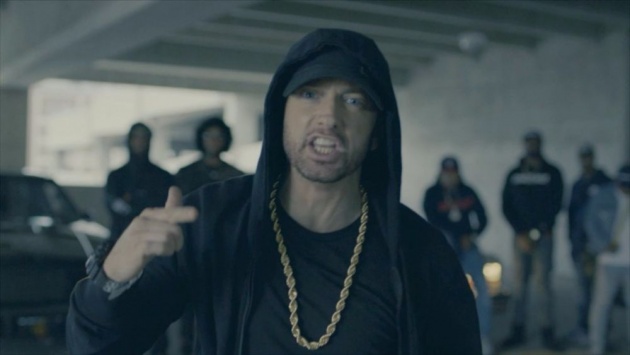 Image credits: https://genius.com


Apart from all of this, Eminem officially came out as the producer of 2017's movie "Bodied". This movie is based on battle rappers and this movie features real battle rappers from KOTD (King Of The Dot entertainment).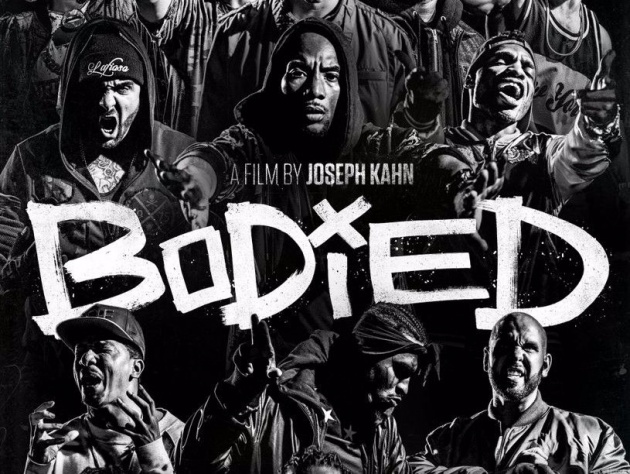 Image credits: hiphopdx.com


As a report of June 2017, Eminem is said to have a net worth of $190million. Eminem has clearly proved that no matter what, he is one of the greatest of all time. From where he came to what he has become, he is nothing but a huge inspiration to millions and millions of people and he will continue to be an inspiration for generations to come. His life story truly depicts that if you have the will to achieve something, you just need to believe in yourself and you will achieve it with time.