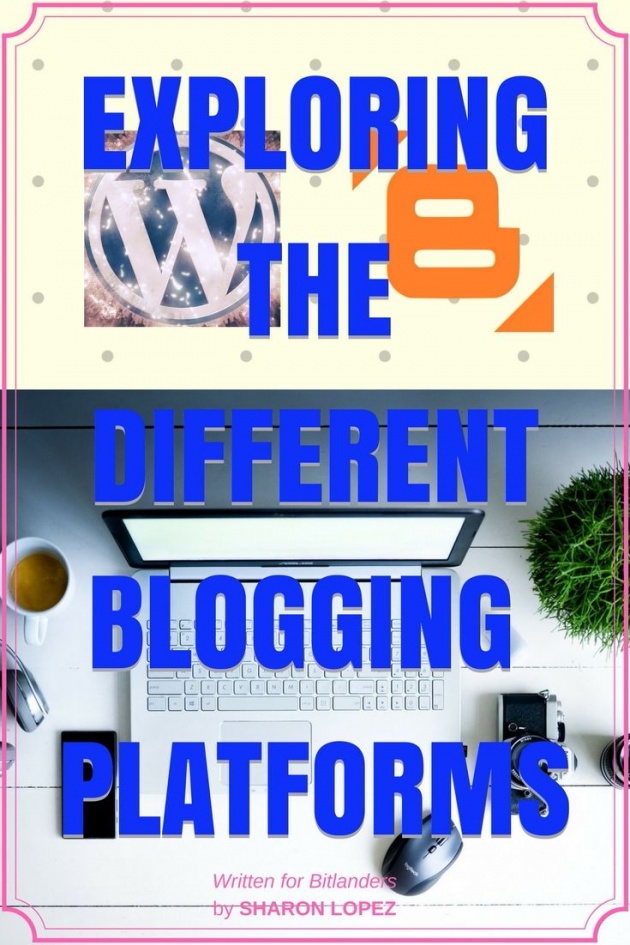 Image Credits: Sharon Lopez via Bitlanders
In my previous blog post, I have presented the 8 Types of Tools that Every Virtual Assistant Should be Using. Learning how to use these different tools is vital if we are aiming to be truly successful in the virtual assisting industry. On that blog post, the different online tools were presented based on their functions. I have listed 8 main types of online tools such as the blogging platforms, task organizing and scheduling, email marketing, invoicing system, collaboration and communication, storage, designs, and marketing.
The purpose of such presentation is to widen our knowledge of the different tools as we might meet clients who may be using these tools in the future. We are not here to make a comparison or to discuss which is the best. We are here to explore and learn the different features of each tool.
For our today's discussion, we will explore the different blogging platforms available online. As an online worker, it is necessary that we acquire sufficient knowledge on the different blogging platforms basically, to meet our clients' needs. We can also use the knowledge had we decided to enter into the blogging field.
The Different Blogging Platforms
Whether we pursue a blogging career or a virtual assisting work, it is crucial that we learn the different blogging platforms. Here are the different blogging platforms with the steps on how we can create one.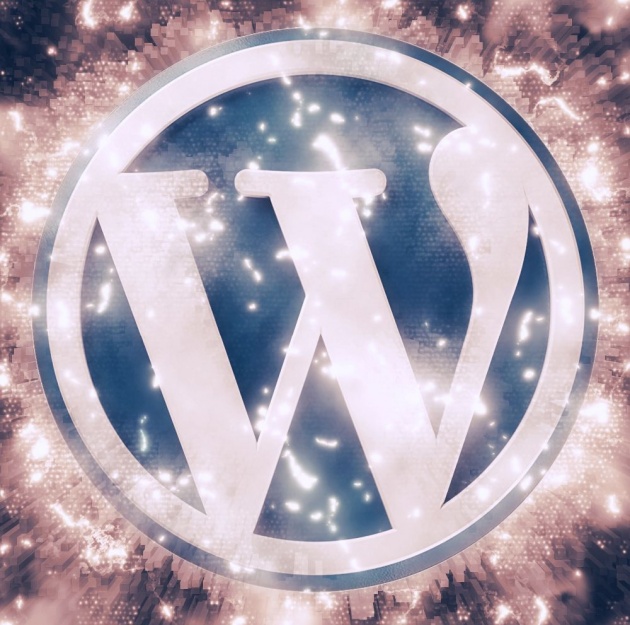 Image Credits: The Digital Artist via Pixabay
WordPress.Org is the most popular blogging platform in the world nowadays. According to W3tech.com, WordPress is used by 30.4% of all the websites, that is a content management system market share of 60.3%.
Additionally, WordPress Sites Make Up 14.7% of the Top 100 Websites in the World. Source: WordPress.Org
WordPress.Org - is a free and open-source blogging platform using content management system (CMS). When you use this blogging platform for your blog, you will need to purchase a web hosting package for your own blog or website. Web hosting is a type of web management service offered by hosting companies to make the website or blog accessible online.
Steps in setting up a WordPress.Org blog.
Create a Domain Name - This is the first thing you need to do when creating a blog. You should be ready with the desired name for your blog before you started setting up your blog. There are instances when your preferred name may not be available, so you have to prepare several options.
Purchase a web hosting - After choosing a name for your blog, you can now purchase a hosting package. Hosting sites may charge some amount which may range from $8.88 per year (Name Cheap) up to $118.08 (BlueHost) subject to the terms and conditions provided by the site. You can pay using credits card of your choice or through PayPal.
Install WordPress - You may immediately install WordPress after purchasing the hosting package.
Set up the theme - After the installation, you can set up the desired theme. You may avail of the different themes at a lower price or you may use the free themes available.
Here is a video tutorial that we can follow in order to set up our blog. The person in this video uses a Blue Host as hosting site. There are many hosting sites which we can choose from, such as HostGator, GoDaddy, and NameCheap.
Video Credits: Online Business Tech via YouTube
Here is how the WordPress.org editor. you have to log in as web admin and you will be on your dashboard. To add a new post, just click Add New. Hit publish as soon as you are done.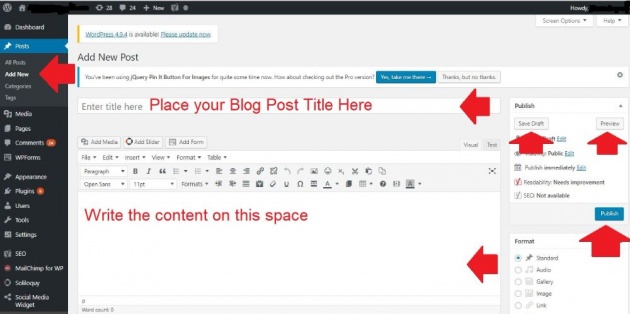 Image Credits: Sharon Lopez via Bitlanders
WordPress.com is a free blogging platform owned by a company named Automattic. The free blogging platform is only up to 3GB and it may show advertisements. You have to upgrade to a premium account if you want to remove those ads. Don't confuse it with WordPress.Org.
With WordPress.com, you don't need to set up in order to start blogging. You can start immediately.
Here are the different plans you can avail with Wordpress.com: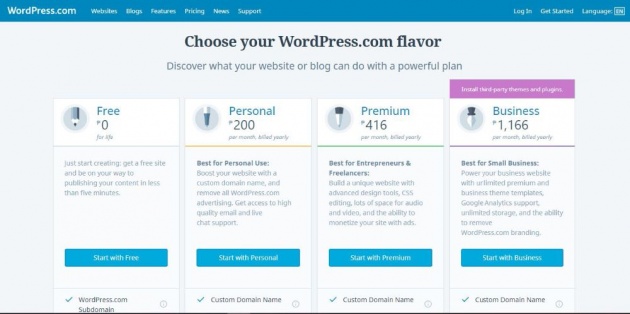 Image Credit: Sharon Lopez via Bitlanders
Image Credits: Joshborup via Pixabay
Blogger.com is another popular blogging platform owned by Google. The site is easy to use and you can use it for free. But you can also get your own domain name get hosting services from other companies. One of the good things I like about the site is that you can start as free and then you can purchase your own domain and hosting package at a later time.
With Blogger, you can create a new blog by logging into your account. Different themes are available for free which you could use as soon as you start. You can start immediately. So for newcomers in the blogging industry, Blogger is a good place as it does not require much knowledge in HTML or coding although it would be an advantage for those who have.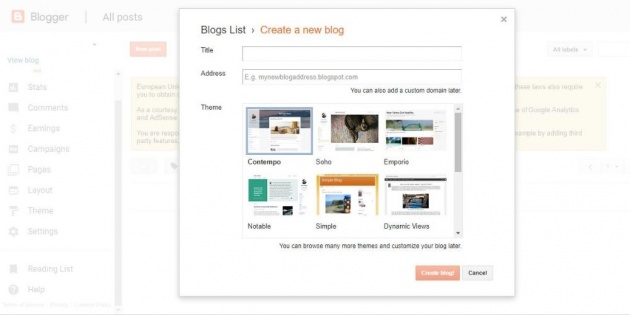 Image Credits: Sharon Lopez via Bitlanders
Wix is a drag and drop type of blogging platform. You can create your account by signing in through your Facebook or Google and you can start immediately. It does not require a coding skill in order to start blogging.
You can choose from the different templates which are available for free.
Here is a video showing how to create a blog with Wix:
Video Credits: BiggerPockets via YouTube
Image Credits: websitetooltester.com
Weebly is another blogging platform that offers a drag and drop website building feature. You can create your own site even if you don't have knowledge of HTML.
Image Credits: wikihow.com
Tumblr is a combination of a blogging platform and a social media. So just like social media, we can post our own blog posts and photos, like, and follow others as well.
Image Credits: websitesetup.org
Joomla is almost similar to WordPress.org which is an open-source content management system. You need to find a hosting provider before you could start your own blog.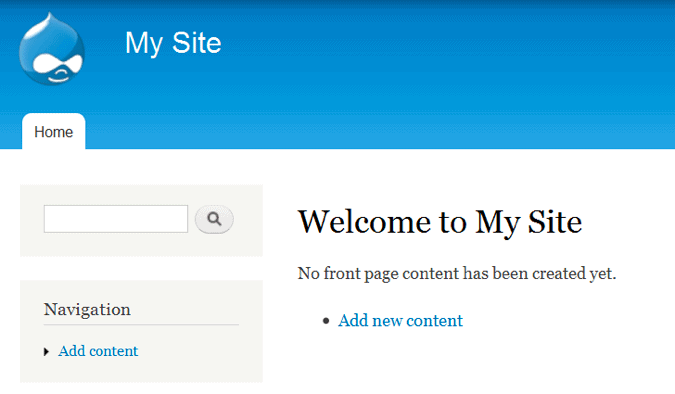 Image Credits: websitesetup.com
Drupal is a powerful website builder which is an open-source content management platform. Similar to WordPress.org and Joomla, we need to find a domain name and a hosting provider before we could set up our own site. However, building a website using Drupal is somewhat complicated and it is vital to have a basic knowledge of HTML before trying to build a site using this platform.
On the final thought...
It might be a lot of hard work learning the different blogging platforms. But if you would notice, some sites are almost similar to others, so learning the basic will be a great help.
I hope this post has helped you in learning the basics of the different blogging platforms that are available online. Stay tuned for more blog posts! You may drop your comments, suggestions, or questions on the section below. Thank you for dropping by. Have a great day!
Meanwhile, please find time to answer the Querlo Chat Survey.
___oOo___oOo___oOo___
Written for Bitlanders
by: Sharon Lopez
Thank you for reading.
Please visit my BLOGS more quality blog posts.
Sharon Lopez is the owner of Online Working Solution.
You may visit me on
Facebook, Twitter, Pinterest and LinkedIn
///////////////////////////////////////////////////////////////////////////////////////////////////////////////////////////
Would you like to earn from sharing your ideas, videos, and photos? Join us in Bitlanders!
///////////////////////////////////////////////////////////////////////////////////////////////////////////////////////////
DISCLAIMER: The views and opinions expressed in this blog post are that of the author and does not in any way represent the agency or department she currently belongs.
ADDITIONAL NOTE: The sites mentioned in this post are for information purposes only and links are provided for easy access. The author does not receive any remuneration from the said companies or sites.