Video Credits: Bitsonline via Youtube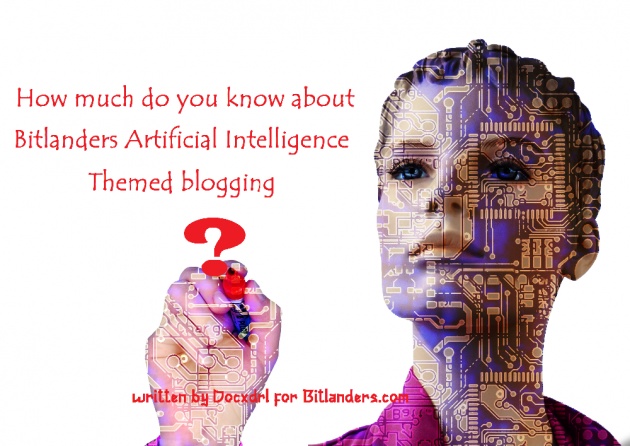 How much do you know about Bitlanders Artificial Intelligence Themed blogging?: image edited by Docxdrl via Bitlanders
You have to consciously put effort and be optimistic to become Successful
Ever since I joined Bitlanders, my horizon of learning has been increasing. And with the introduction of Artificial Intelligence (AI) Theme Blogging, I'm learning more every day!
Being a member of Bitlanders has its own benefits. As a social laboratory, I get to learn from the site, explore deep into topics about Artificial Intelligence (AI), Machine Learning (ML), Natural Language Processing (NLP) and Deep Learning (DP). I get to make friends from around the world, individuals of value. Personally, I believe, Bitlanders is a community of people of like minds and we are always ready to help one another achieve/realize our dreams.
In case you are wondering, Bitlanders is an AI social laboratory where you can get an AI education and earn money, but Bitlanders was not always so. In the past, it is a social media, a blogging platform (and it is still), a place you can share videos, pictures and with the international chat room, you can join in and make friends (for the most part, it still is).
Even though a lot has changed about Bitlanders, some notable features like blogging, earning and sharing of ideas still remain. Bitlanders has given so much to me (us), and I felt I should add to the community to the best of my knowledge. You may be a newbie, or on the verge of becoming a member. Maybe you have spent some time with bitlanders already? How much do you know about Bitlanders Artificial Intelligence Themed blogging?
But first;
Why did you join Bitlanders?
Maybe you got enticed by the $1.00 signing bonus, maybe a friend invited you, or maybe you saw payment proof and decided to join! Whatsoever your reason(s) are, I for one, I'm glad you did!
Because here at Bitlanders, as a community, we learn and we earn, this much I know to be TRUE! So, here is the eye-opener!

image credits: Docxdrl via canva
Don't panic, I got you covered…
Remember, I made mention of Artificial Intelligence Themed blogging?
Okay!
After the successful launch of 'The bitlanders C-blogging', conversational AI blogging by Querlo powered by IBM Watson and Microsoft Azure. Bitlanders continues to support its joints ventures querlo. We believe in our mission to promote our future-Artificial Intelligence (AI)- and build AI conversations via blogging, here we are to introduce 'bitlanders AI-themed blogging!'
Credited: Micky-The-Slanted-Salerno
Artificial intelligence is the future, and Bitlanders want to be a part of it. Therefore, starting from April 15, 2019, Bitlanders became a full-fledge AI-themed social laboratory where all its members get AI-education, build intelligent Chatbots, create and share content powered by AI and finally, have the chance of becoming a skillful AI specialist.
If you have been wondering what about Bitlanders, this is it!
What is Bitlanders AI-themed Blogging?
Bitlanders is committed to its mission of promoting Artificial Intelligence (AI), as such, all blogs from the above-mentioned date (April 15, 2019) that are not AI-related, or about AI topics submitted are rejected and not reviewed.
Now that you are a member of Bitlanders, here is what you should do to earn real cash;
Bitlanders, a site solely about Artificial Intelligence or AI-Themed related topics
In the not so distant past when I became a member of this wonderful community, we blog based on our choice of topic and interest. Now, we strictly blog only about AI or Artificial Intelligence-related topics. Blogging about a single theme may be somewhat difficult, frustrating or you may find it boring. If that is the case with you, check out this blog post; How to pick a subject for AI-Themed Blog Post!
If you are finding it difficult to navigating the site, please refer to this blog post by my mentor Sharon-Lopez titled; How to use Bitlanders Effectively, you will find the best navigational tips of Bitlanders in it!
Bitlanders adoption of AI-themed blogging is a testament of how Artificial intelligence has found use-case in almost all fields of life.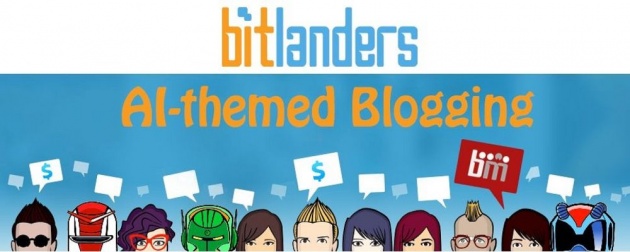 image credits: Micky-the-slanted-salerno
Blogs are important to the Bitlanders community, they form the basis for increasing our buzz score and high earnings!
Here is the kicker, so you can understand;
If you have been with Bitlanders for a time now, you may already know that I'm yet to impress Miss Hillary Summers with my blog presentations. As such I'm yet to achieve 4 or 5 stars
Why?
I have several blog posts written covering topics about AI, movies, what is of interest to me (that was before AI-themed blogging). In all these, I must confess, I'm no expert, nor a good writer.
But…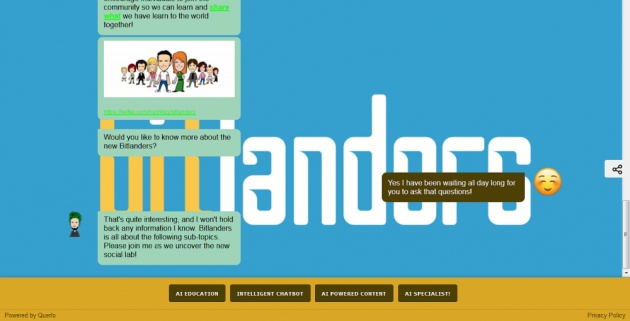 Image credits Docxdrl via Querlochat
I am so happy that some of my posts have been awarded three stars and some two. It brings me the satisfaction to confess to you, that I'm learning and earning. There's no greater joy than that!
Here is what you should do about Bitlanders AI-themed blogging
As members of Bitlanders, it is but necessary that we do our best in order for the site to grow. And we should encourage others to join. I am aware that Bitlanders' members cut across different countries, with different beliefs, skills, understanding, motivation, and interest. The easiest way to enjoy AI-Themed blogging is by making a resolution.
Because I know this for a fact!
For some reason, we tend to break simple rules and expect to get good results. If you must earn and get more stars, follow the simple instructions. Here is the how;
Blog only as instructed.
Don't be in a hurry to want to submit many blog posts or blog outside AI-theme as stipulated by the site. If you do, success will come swift and followed by failure and poor leadership board ranking. As a way of understanding how blogs are been reviewed and rated, so you can enjoy blogging in bitlanders, make this blog post Bitlanders 'Content Review': How are blogs rated? your ally
Do you visit and interact every day with Bitlanders?
It is a stipulated requirement for us to visit the site every day and interact with members because success is linked with consistency. As mandated by Bitlanders, everyday login can help us maximize the benefits of the site. By constant login, reading and expanding your knowledge, you can also write a better blog post. We are also expected to talk about artificial intelligence and research about it.
Make no excuse to fail!
We as individuals can create tons of excuses for not doing what we are supposed to be doing (I know I had in the past).
Here is the kicker for you!
You have to consciously make a decision; a resolution if you please to make AI-Themed blogging a part of you!
By making your resolutions realistic, there is a greater chance that you will keep them throughout the year
Credited: APA.org
I for one know nothing about Artificial Intelligence and was never interested in improving on what I know. So I created and excuses for myself;
I'm sure Bitlanders AI-Themed blogging is temporary. I hope it's temporary
But it is not!
The internet is a place where tons of articles, blogs post, and reviews are made available and free. Make sure you read these materials, improve & grow your skills, use available tools in whatsoever way you find them possible to learn.
Because this how I have been doing, and I'm seeing improvement gradually!
Finally…
Don't be afraid to reach out for help!
I'm proud to say All I know about artificial intelligence and blogging is because I became a member of Bitlanders!
It is not a bad thing you don't anything about everything! That's why you don't need to be afraid to reach out for help in Bitlanders community. There are individuals that are always ready to help you to learn-I know because Sharon-Lopez still helps me with things I don't understand despite her tight and immense responsibilities both online and offline.
Don't be afraid to reach out for help from any person!
Image credits: FilmAnnexProductions via Youtube
Share your blog post
Don't be afraid to share what you have written on social media to create awareness, for people to join the site and to top it all, you get to earn 20 per cent of what your downline is earning.
On A Final Note
If your aim is to be successful and to help Bitlanders achieve Artificial Intelligence Themed blogging while you learn and earn in the process?. You have come to the right place!
Bitlanders may seem complicated at first, trust me, you will get the best of it in time! Explore Bitlanders, interact with members, and discuss things you don't understand. In so doing you CAN EFFECTIVELY KNOW HOW TO USE BITLANDERS IN THE ERA OF ARTIFICIAL INTELLIGENCE TO THE BEST OF YOUR ABILITY
By helping one another, by interacting, and sharing ideas, we can all become successful!
You are welcome to JOIN US @BITLANDERS anytime!