Previously, I shared the first part of this review sequence for the Cebu Safari and Adventure Park which is the newest attraction in Cebu. This is definitely a perfect place for families and friends to have a chance of seeing Safari animals which are mostly found outside the country. Getting up close to them feels like you've been to the country where they came from such as Africa.
This blog is the second part of the review and experience. Read on and experience this while I share you the story, videos, and pictures during our visit at Cebu Safari and Adventure Park.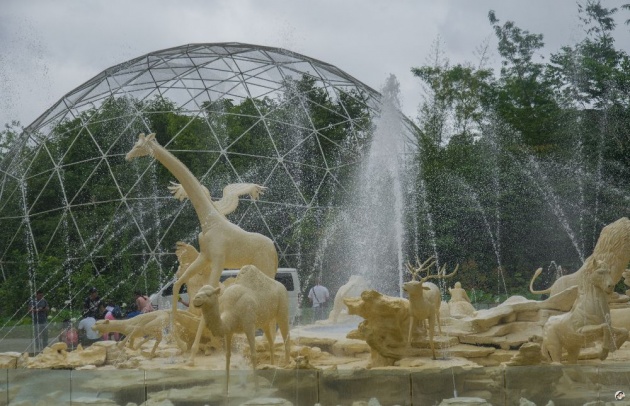 Image credits: Jean Beltran via bitLanders
We walked again up to the Orangutown, the name they call this route as it is a home to the Orangutan family.
Another route and another pavilion with the tables and as well as the food containers ready for the lunch buffet which normally starts at 11 in the morning until two in the afternoon. At the comfort room, I realized I left our water bottle at the Tiger's turf and I was again thirsty from all the walking.
But before reaching the Orangutans, we found these cute Lemurs in front of the pavilion. They were just under the bush and we wouldn't know that there are animals in there if the staff didn't inform us. Note, they were not inside a cage, they were just in a spot with some fences.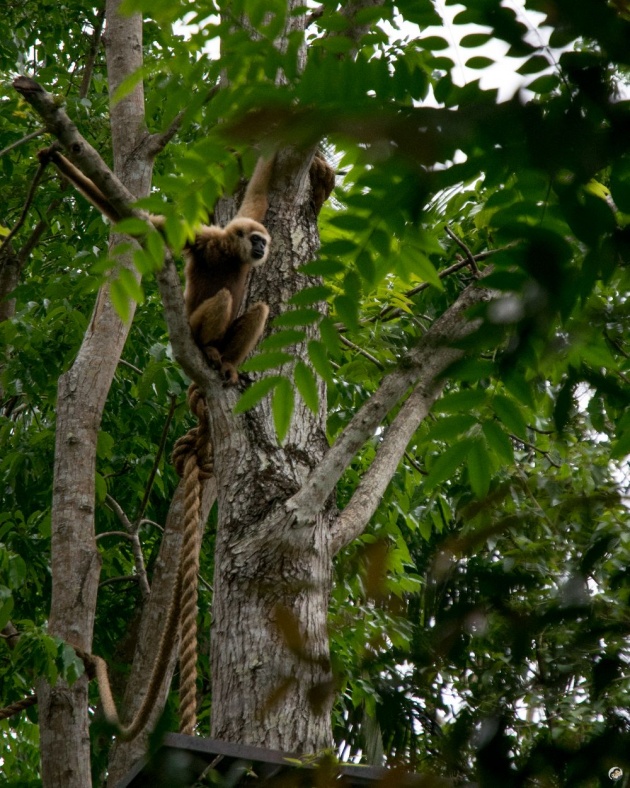 Image credits: Jean Beltran via bitLanders
Beside the pavilion is another area for the noisy Gibbons. They were named Nerissa and Marney! I don't know why they are noisy or perhaps that's their nature. These Gibbons love to hang and in a high tree. According to the staff attending, these monkeys feel like there are predators in the land like crocodiles or tigers so they would not go down at all. They love to eat fruits too just like their relative Celebes Macaque!
The Celebes Macaques are located at a distance from the pavilion. There were numerous of them living there. They have little ones too! All of us watching them were entertained by this little monkey which was trying his way into the ropes, hanging himself but would end up on the ground. They were eating some vegetables too! As per the attendant, they eat fresh fruits delivered to the Cebu Safari Park every day. They love apples and bananas of course.
Video credits: Jean Beltran via bitLanders
Then we reached the Orangutan family where Edu the father was very shy, he was at the back covering himself with a box while the baby and the mother were entertaining the visitors with the glass wall. The baby orangutan was posing and loving the vanity!
Lunch time came and it was just timely because we were next to the Safari Outpost pavilion. We found the cute Meerkats! There were many of them scraping and digging the soil! But they'd look up every now and then, trying to feel if they are safe with all these people around.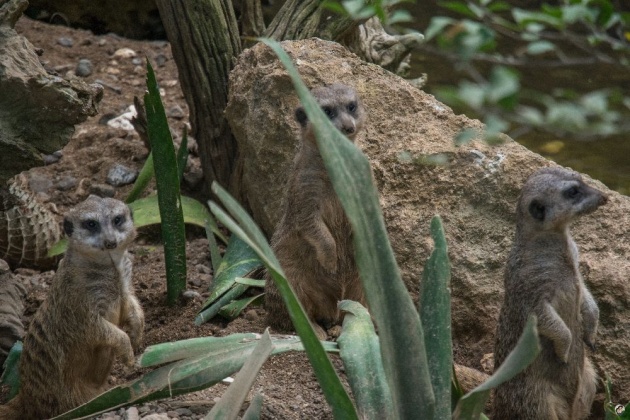 Image credits: Jean Beltran via bitLanders
The guests around the pavilion were increasing, so we headed to the food area and ate. There were five viand options, a seaweed locally called guso, banana heart in coconut milk which was a favorite of mine, then Bam-e, a type of noodle, there are Tortang Talong or eggplant, fried chicken, and pork humba. For dessert, they served Cream Caramel which for me was a hard version of Leche Flan, they also have one round of drinks included in the buffet.
Due to the numerous guests around, there's a huge tendency of running out of tables and chairs. We were lucky we were part of the first batches so dining was not an issue, I learned that one of my friends who came here a week before wasn't very happy with the buffet as they were not able to sit down the entire time due to lack of seats even after going to the different pavilions.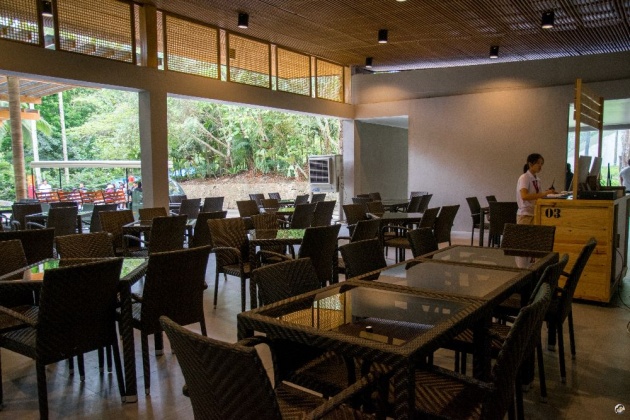 Image credits: Jean Beltran via bitLanders
Before moving on, we enjoyed the view of the black swans, ducks, pelicans, geese and the giraffes around the restaurant. The giraffes were in a holding area because they are still young, there were two of them and they were also having lunch! I noticed their spots were colored brown while in Calauit, they had orange, perhaps they belong to a different family of giraffes.
Burning the calories we just brought into our bodies was really required so we decided to just walk to the next routes.
A bored Hyena was lying at their little cabin, its companion was nowhere to be found and I guess it is still full which was why it felt really tired. We moved on to find the Pink House or the Hacienda M. Lhuillier. I believe this was where Senyorito would stay when he comes over.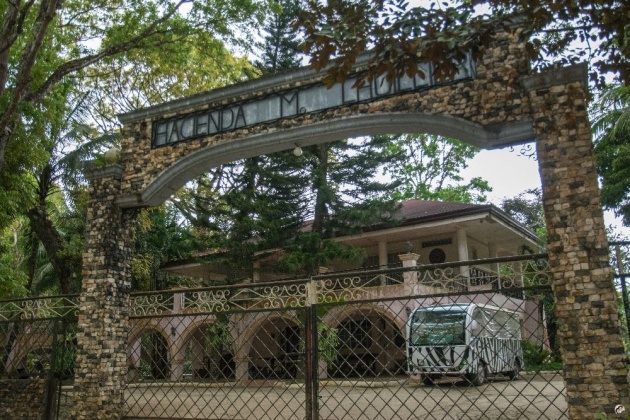 Image credits: Jean Beltran via bitLanders
Next in line after a few meters of walking was the poor Tortoise group. I always feel bad whenever I see these guys in any zoo because they are often placed in a specific corner with dry land. I don't know, I guess it's just me. But just right next to this section is the Cheetah so I headed right away.
Cheetahs look really scarier than the Tigers in my own opinion. They have this killer look in them especially when they are walking.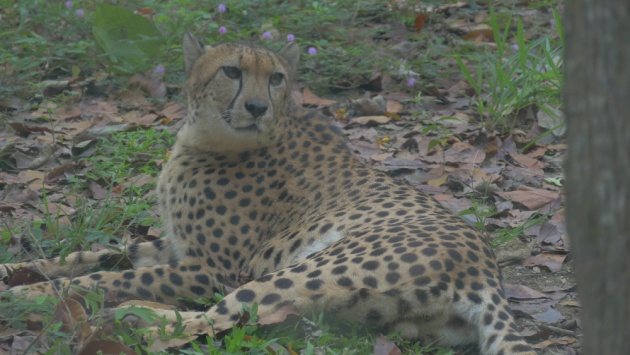 Image credits: Jean Beltran via bitLanders
Although sexy, I am imagining them walking in a hunt-mode in the Africa land with a target in sight. I feel like I was in there at that moment while the Cheetah runs after its victim, a deer or an elephant perhaps. But it was my first time to see one and I was really mesmerized by it right in front of me, walking sexy and adorable with its orange-brown fur spots! Its eyes also show it is not yet used to seeing humans around every now and then looking at them from behind the glass wall.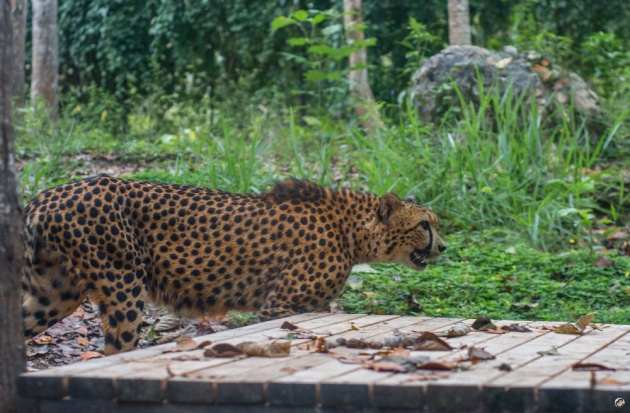 Image credits: Jean Beltran via bitLanders
I guess I stayed there for a good thirty minutes just adoring the two of them as they lie down, look at us the audience then look away, stand up and walk like a model around its small area. It was consciously made that way so they can't jump off, Cheetahs can jump up to 13 ft high so they have to be in a small area so they can't jump that high enough.
Finally, we reached the end of the trail at the African Savanna and this section here is part of the Adventure Park. It is free to ride the Savanna truck at this point but soon, once the Adventure Park opens up to the public, they will be paid separately. So, it is very nice to come over while it is still under the soft opening. I don't have an idea as to what's the ticket ride price once they open up.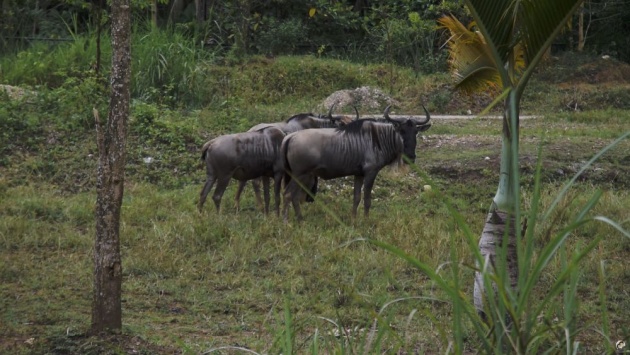 Image credits: Jean Beltran via bitLanders
But they operate until two in the afternoon, we went in, waited for our turn, got ready inside the Savanna truck and headed inside. This felt like a real adventure as we were inside a real Savannah truck. There's a tour guide in front speaking some information about the Safari animals inside. There's a Wildebeest, that which killed Lion King by stepping over him in the movie Lion King, there were also Zebras and even Waterbucks as well as some Helmeted Guinea Fowls just dining in with the grasses.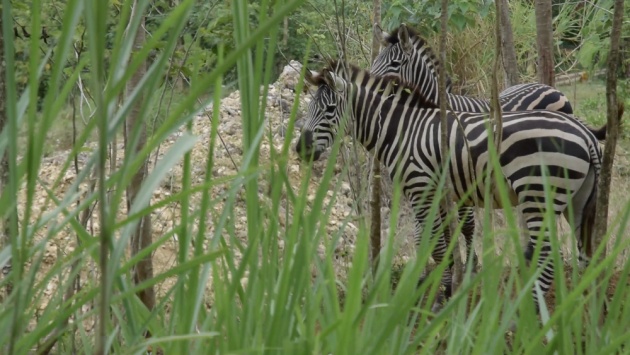 Image credits: Jean Beltran via bitLanders
It was a quick ride and I believe it was intended that way because it was just a free one. But since I couldn't get a proper video of the ride, James decided to take a second ride! It was okay again as it didn't come with a maximum number of rides at all!
We took the tram again to go to some routes which we skipped earlier, one of them was the Canopy Trail where a path which looked really nice, it allows guests to watch for Cassowaries underneath.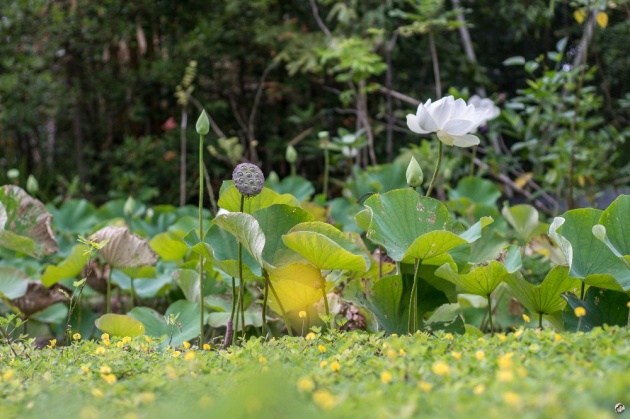 Image credits: Jean Beltran via bitLanders
After which we headed to the Rotonda where the Safari Fountain with a tableau of the Cebu Safari and Adventure Park's wildlife statues. But what really caught my attention were the presence of Lotus! There were pretty white flowers but I was really drawn over to its pods which looked really something which made me feel bad! I later figure out I was having the Trypophobia symptoms! It is really a bit disgusting to see it but beautiful in a different way.
Then we get to the beautiful Aviary Dome which was our last route. This is a home to different and colorful birds! I was amazed to see a Lories and Parrots!
After taking lots of photos, we took another tram ride back to the base camp and finally headed back home at two in the afternoon.
Video credits: Jean Beltran via bitLanders
It was an eight to two adventure! I was able to fill my SD card to its full and I didn't regret a thing at all!
Cebu Safari and Adventure Park is a must-go place here in Cebu and I am very thankful for the opportunity. I will surely come back in the next months or years to come!
---- o ----
Read also related blogs:
Up Close with Safari Animals at Cebu Safari and Adventure Park
Why You Have to Come to Cebu Safari and Adventure Park ASAP
Calauit Safari Park Animals
Tour at Calauit Wildlife Safari Park, Busuanga
Coron Day 3: Calauit Safari Wildlife Park
Blog entry written and published by Jean Beltran-Figues, A Pinas traveler and photography hobbyist, find more travel blogs in my blog section, click here.