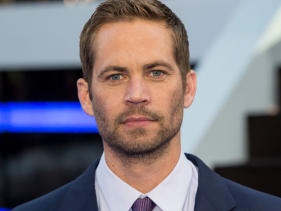 The production engines behind "Fast & Furious 7" will be roaring once again come April, according to a new report from the Hollywood Reporter. Studio execs have long insisted that the project will come back from its sudden hiatus after the death of star Paul Walker, but this is the first word with any specifics attached about when that might be.
Production on the blockbuster action franchise skidded to a halt immediately following Walker's November 30 death in a car accident.
Unnamed sources said that cameras would roll on or around April 1 in Atlanta and continue for six to eight weeks until filming is finished. At the time of Walker's death, sources said that filming was at least halfway done on the film, which has an April 15 release date.
Walker's character, federal agent turned drag racer Brian O'Conner, reps at Universal have said, will not die in the movie, but will instead be "retired." The script was reworked and additional scenes written to allow for the change in plot.
"Fast & Furious 7," directed by James Wan, is due in theaters April 15, 2015.
Source: MTV
Annex News - Movies