Film Annex is proud to be sponsoring The New York Open Judo Team Tournament, with teams from France, Germany, Japan, Canada, Poland and the US (Men).
This year, the tournament becomes also an international Women's Judo event with Team USA vs. Japan, the two powerhouses of the Olympic Women's Judo. Film Annex's sponsoring of this event follows its involvement in philantropic initiatives with the Women's Annex Foundation.
The event will be held on Sunday, March 2, 2014, in NYC at the New York Athletic Club. The teams in the Judo tournament include some of the strongest players in the world, featuring World Champions and Olympians.
Team Judo is the most exciting Judo competition in the world to watch, with fans rooting for their players, and a live commentator and a DJ contributing to the entertainment.
The judo tournament will be held at the New York Athletic Club, located at 180 Central Park South on the 6th floor, and will begin at 10 am, semi-finals at 2 pm and finals at 4 pm. All spectators are welcome, and tickets can be purchased for $25 for general seating, and $85 for VIP seating.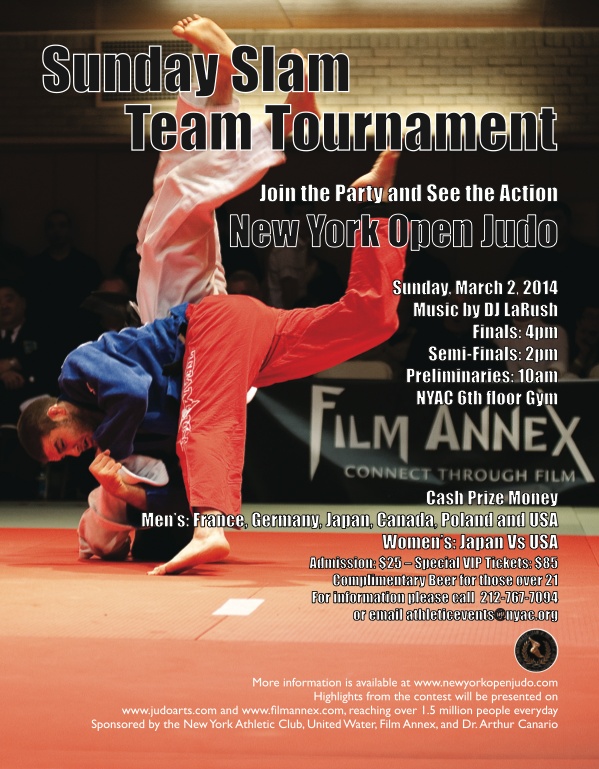 For more information about the New York Open Team Judo Championship, visit http://www.newyorkopenjudo.com.