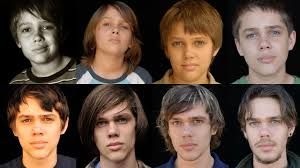 I don't know whether BOYHOOD, the twelve-year labour of love from writer-director Richard Linklater and his dedicated, patient cast is a masterpiece in comparison with other highly-acclaimed pieces of cinema, but it is certainly his most fully achieved and resonant film. The film portrays in barely delineated passages the maturation of Mason Jr (Ellar Coltrane) from six year-old kid staring at the clouds to eighteen year-old college student staring at the mountains. Funded by IFC Films and relying on act of faith from his cast, which includes Patricia Arquette as Mason's mom and Ethan Hawke as Mason Sr, the estranged musician dad who fathered Mason during 'break up sex' (well, that's how Mason Jr's uncle tells it) it portrays a dysfunctional Texas family – and America – during the Bush and Obama years, with politics underscoring the ordinariness of much of what we see. During its 166 minute running time, I only glanced at my watch once, on account of fears about catching the last train home.
Each year, from 2002 to 2013, Linklater assembled his cast to film moments of Mason Jr's life, the tipping points – realizing that his parents weren't going to get back together, Mom's decision to move house in order to study, Mom meeting her second and third husbands, an extreme haircut, an experience of bullying at a new school, a bonding camping trip with Dad, the decision to leave Mom's alcoholic second husband and, in the funniest passage (I won't spoil it), Mason's fifteenth birthday. Linklater doesn't contrive dramatic sequences out of American history to make a point, although a veteran of the American intervention in Afghanistan, who subsequently becomes a Corrections Officer, extending that occupation (in a subtle way) to Mason Jr, does appear. Video games and popular (movie) culture play just as important role in Mason Jr's life. 'I talked to a girl about the three best films of 2008, 'The Dark Knight Rises', 'Tropic Thunder' and 'Pineapple Express' and she wasn't interested in any of them,' he complains. Weddings and funerals are notable for their absence; for a kid changing school is much more character-forming.
If the film has a message it is that education is transformative. Mason Jr's mother becomes a college professor and improves the livelihood of herself and her family. She makes the tough choices, being talked back to by her daughter, Samantha (Lorelei Linklater, the director's daughter) when she announces in an early scene that they have to move. The family also meet a matured Mexican-American whom, as a boy fixing the pipes to her house Mom advised to go back to school; he listened to her and now he's a restaurant manager. But there is education and Education. In later years, Mason Jr develops an interest in photography; his teacher berates him for spending too long in the dark room when he should be completing his assignments – and throughout the film Mason Jr never quite finishes his homework. He says he's working hard, and we believe it, trying to find out if he has any talent, experimenting in his own looks (wearing blue nail varnish and piercing his ears) and in looking, evidenced by the photographs he takes of the off-field action in a football game.
If you could criticise Linklater it is that he never portrays Mason Jr being an asshole. He doesn't let people down or cheat on girls. The worst thing he does – quite apart from not finishing his homework – is come home late after photographing the football game. The reason for this is simple: Linklater wants to show us a kid who has to negotiate various challenges that are out of his control, to make us think, how would we cope? Also, he wants us to tap into our memories of these formative moments. He does not want to complicate our response by showing a boy losing our sympathy or being a victim of his fractured environment. Partly the film is about protecting oneself from corrosive influence, by not reacting.
You won't find a case for environmental determinism in BOYHOOD – a child adopting the sins of the father. Instead, Linklater stresses successful human interaction is about growth. Can people in love remain on the same speed and share the same joys over a long period? Or is family an obligation that gnaws away at the soul? There is no question that Mason Jr's mother is a loving, good responsible parent who, in her own estimation, makes bad life choices. You can see why she finds the men in her life attractive: they are charming, funny or strong and principled. Her third husband gives the impression that he listens. 'The unit that came after us in Afghanistan undid all our good work. They didn't engage with the locals.'
If the film has another fault, it is that Linklater can't stay with an incident and explore its ramifications for an extended period of time. Mason Jr likes his new family (Mom living with husband number two) but when they have to leave, we never find out if the kids stay in touch. We never bond too closely with the peripheral characters. The film offers an almost backward-looking view, rather than maintaining the illusion of cinema of projecting the present – we experience each moment as it happens and want to know what happens next.
Editing the film must have been a nightmare – what to leave out? We see Mason Jr and his second family go to the book launch of 'Harry Potter and the Half Blood Prince' and later Mason Jr discussing with his dad the absence of magic ('there are no owls'). I wasn't sure that this was an equivalent formative moment, or even that Mason Jr would have a conversation in this manner – it is the only time there is an extended metaphor. It does give Ethan Hawke a great speech about whales, making them seem other-worldly, living at the bottom of the ocean 'with arteries you can crawl through'. If I was editing the film, I'd have a hard time cutting it. BOYHOOD engages with you at the most fundamental level – compare your experiences with those of Mason Jr – and has one emotional cathartic moment, when Mason Jr leaves the nest, Mom complaining that all she has to look forward to is an empty nest. You want Mason Jr to hold her hand. I found myself virtually reaching into the screen – and crying - at this point.
Reviewed at Cineworld West India Quay (Screen 3), London, Saturday 19 July 2014, 20:20 showing, seat A12 (I'm not a fan of allocated seats in cinemas)