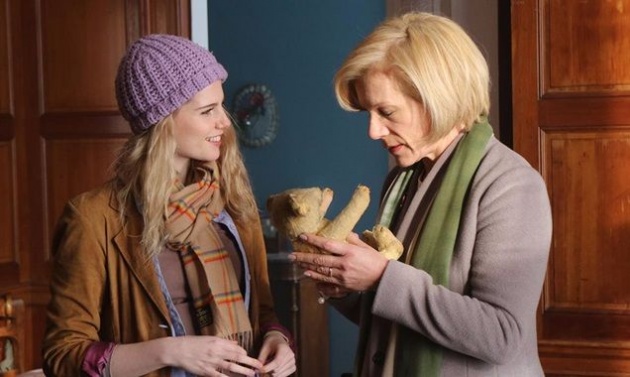 Photo: Helga (Juliet Stevenson) is reunited with her childhood teddy bear, accompanied by her granddaughter Emily (Lucy Toynton) in 'Let Me Go', a film written and directed by Polly Steele. Still courtesy of In Trust Films
The drama, Let Me Go, written and directed by Polly Steele, is loosely based on the true story of Helga Schneider, who, in the film at least, was reunited with her mother in 2000 after a separation lasting almost sixty years. For most families this might be cause for celebration. In Helga's case it is the opposite. Her mother worked as a guard in a Nazi death camp during World War Two. She took part in the systematic execution of Jews at the gas chambers at Auschwitz-Birkenau. She is a convicted war criminal but late in life is entitled to medical care, not separated - at least according to the film - from other old folk.
Let Me Go is partly about putting one's parents on trial, a genre that has included Costa Gavras's 1989 film Music Box starring Jessica Lange and Armin Mueller-Stahl and written by Joe Eszterhas in his prime. It is about the difficulty of mothering when one has had an appalling role model. It is also about future generations healing wounds, not that the wounds of the Holocaust can entirely be healed.
Although the film stars Juliet Stevenson, Jodhi May and Lucy Toynton as three generations of the same family, it is Karin Bertling as Great Grandmother Traudi who gives the most compelling performance. She is the villain of the piece. Not only is she unrepentant but she is proud of her daughter, Helga (Stevenson) for meeting Hitler as a young girl. Bertling has a weight absent from her English supporting cast. Stevenson isn't helped by her mittel-German accent and precise turns of the face for emphasis; the normally impressive actress is atonal here.
The Holocaust is a subject for which words cannot do justice. It is entirely right that the early part of the film is without dialogue. Helga is at work in her London boutique when the post is delivered. There is a pink envelope. Helga swallows an alcoholic drink before opening it. There is a neat visual trick when Helga appears twice in the frame, reflected in the mirror and the camera moves to follow one version of her. The camera style has been thought through even if the 'come into the light' visual motif is over-worked. As 62 year old Helga opens the envelope, there is a flashback to young Helga looking back through a car window. She is leaving home.
On that particular afternoon, Helga is visited by both her daughter Beth (May) and granddaughter, Emily (Toynton). It is with Emily that Helga has an easier relationship. The young student invites Helga to set down. The nub of it is that Helga has been summoned to Vienna. Her mother is aged 90, undergoing care; affairs have to be settled. Emily wants to come too. There is an awkward exchange between the three women at an airport carpark about Emily's toiletries about to be taken away from her, but then you think, this is set in 2000, 9/11 hadn't taken place and you could still fly with liquids above 100ml. This is, you hope, a rare mistake of the filmmaker. Alas, not. In truth, Helga saw her mother after thirty years, not almost sixty as shown here. Helga also had a son, Renzo, not a daughter.
Steele is the sort of filmmaker who intercuts Helga using her sewing machine with Beth having casual sex in her office. Beth won't move in with her doctor lover; she has 'issues'. Most of these are related to Helga not giving her enough hugs as a child.
Expanding your portfolio
In Vienna, Emily catches the eye of French speaking bar 'patron' Serge (Stanley Weber). 'Well, don't you want to expand your portfolio?' asks Helga, wanting Emily to have a distraction whilst she deals with the mother lode. There is some smart dialogue, as when Helga remarks that the young have the pleasure of passing through places with no personal associations. Emily does indeed sample some Wiener Schnitzel whilst Helga greets her mother with white roses, only for Traudi to remark, 'you're my sister', then greets her daughter and then finally tosses the white roses on the floor. She's quite the roller-coaster.
As Emily develops a relationship with her erstwhile tour guide, so Helga comes to terms with the fact that Mutti isn't pleased to see her. Traudi's unapologetic justification of her past shocks Helga. So does her mother's accusation that Helga also embraced Nazism.
When Beth discovers her mother's collection of pink envelopes, the stage is set for a meeting of four generations of Helga's family and Traudi's unexpected fashion show. It certainly isn't a good idea for Emily to wear her great-Oma's jewellery.
Part-travelogue
The film is part travelogue, with two scenes at the Judenmuseum, and part negotiation of family history. The writing is under-developed. We don't know at what point Helga acknowledged her own complicity, if not with her mother's crimes, then her mother's hideous ideology. We don't quite believe that a traumatised Emily would share shots with a stranger, prompting Serge to intervene. The standoff between Traudi and her extended family doesn't have the ring of truth, though Beth certainly wakes up and gives her grandmother a piece of her mind.
The title refers to Helga's plea to her mother: 'let me go'. She doesn't want to be associated with Traudi's Nazi idolatry. It's a strange request. Before Helga turns up at the care home, Traudi knew nothing of her extended family – a friend, Eva (Eva Magyar) wrote the pink letters. 'Don't infect me with your sin' is closer to the mark.
I lost count of the number of scenes with lens flare or features obscured by direct sunlight on the camera, but it is a lot. The film doesn't pack an emotional punch, mainly because it doesn't put you in Helga's head. At the point at which Helga hugs the Jewish memorial - one book for each life lost - begging for forgiveness and disturbing the neighbours, Stevenson is lost for emotional truth. Steele doesn't give her an anchor from which she can explore her mixed emotions.
A caption sets out the terms of relative forgiveness but outlines that it is for the survivors to determine how to treat their persecutors. It is a strong sentiment. I have no idea if Schneider's family approve of the movie, but it feels like a missed opportunity, if a comparatively rare exploration of the role women played in the Final Solution.
Reviewed at Edinburgh International Film Festival, Saturday 1 July 2017, 11:00am Press and Delegate screening. No trailer available