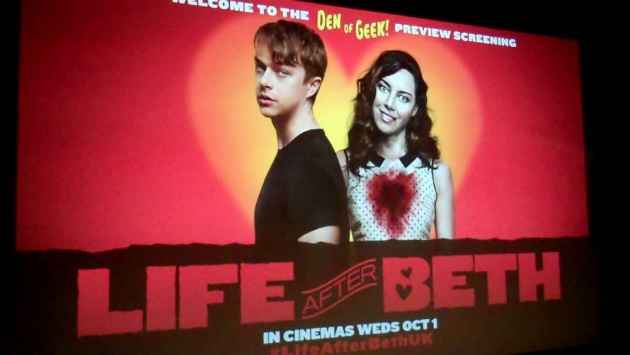 In LIFE AFTER BETH, Aubrey Plaza comes back from the dead. Literally! After all, no one saw THE TO DO LIST, Plaza's first film as a female lead. At the American box office, her new hip black comedy was unfairly buried by the likes of GUARDIANS OF THE GALAXY, LUCY and, yes, poor distribution. Hopefully, the advertising with encourage British – and other – audiences to disinter it.
It begins with a walk in the woods. Beth Slocum (Plaza) likes hiking, but she's got Aron Ralston's bad luck. Not that she gets stuck under a rock or anything but there is a snake or something that goes for her leg. Next thing she knows, it's her funeral.
Her ex-boyfriend, Zach (Dane DeHaan from THE AMAZING SPIDERMAN 2) is distraught. He wants black napkins. He stands in a supermarket, transfixed, unable to comprehend the lack of choice. Maybe, as the sales assistant tells him, he should have gone to a Hallowe'en store. He turns up at the Slocum household with beige serviettes. He feels like he's let the family down. Beth's father and mother (John C. Reilly, Molly Shannon) seem more loving to him, more understanding than his own. He spends time there and is given a memento, Beth's multi-coloured scarf. Leaving the house at three in the morning, he doesn't notice a young man running in terror. He is locked in his grief, drawn back to the Slocum house the next day, where, he thinks he sees Beth.
Now it isn't a spoiler to say that Plaza isn't reduced to a one-scene cameo. Beth is alive and her parents are desperate to keep her in the house. She is studying for a test tomorrow, or so they tell her. Beth doesn't know that she was ever dead, but her grave sure looks like it has been interfered with. Apparently she was able to dig herself out and return home. 'It's a miracle,' her parents coo. They are determined not to let go of her. But Beth wants to hang with her boyfriend and go out. Zach starts to notice her strange habits – an addiction to soft jazz and turning her attic into a coffin complete with dirt. Beth is undead, but she only gets bad skin when faced with direct sunlight. Beth gets super jealous when Zach talks to Erica Wexler (a surprise cameo) whom he meets in a diner. Then he notices that Beth is not the only one to come back. Workers who return after a brief absence aren't quite the same.
Writer-director Jeff Baena is best known for co-writing I HEART HUCKABEES with David O. Russell, which is another way of saying he's not well known at all. His comedy is less one-liner, more behaviour-based, getting laughs from the accumulation of details and from Beth's failing memory. She becomes a super-possessive girl who cannot bear for Zach to be out of her sight, as in one scene at a beach. She is also ultra-critical when he attempts to sing her a song without his band (he broke up with them as well as her). 'This is bad,' she snaps, like he had promised her a restaurant and pulled out a Happy Meal. It is almost as if she even had the toy already. That's how violently super-mad she is.
LIFE AFTER BETH gets very dark and flips into THE RETURNED territory. These zombies don't shuffle. They return to the last place they remember – and complain. Towards the end, Baena goes too far, but there is a thoroughly memorable sequence involving an electric cooker.
The film has a big name cast from TV-land, multiple Emmy Nominees who clearly share the same sabbatical from their respective series. Not only is there Cheryl Hines from CURB YOUR ENTHUSIASM but Paul Reiser from MAD ABOUT YOU (when was that cancelled?) and Matthew Gray Gubler from CRIMINAL MINDS. I am assured Mr Gubler has a sizable fan club and I wouldn't want to offend them. I can say that as Zach's older brother who works as security he possesses comedy chops.
The other surprise cameo is from Garry Marshall, who may have retired from directing but has a great set of teeth. I think his character is dead, so I'm surprised they weren't removed.
LIFE AFTER BETH offers a steady series of chuckles. It is a comedy about letting go. You should let go of life, let go of your ex-girlfriend and let go of that suppressed laugh and guffaw.
With thanks to Koch Media and Simon from Den of Geek. Reviewed at De Lane Lea Preview Theatre, Dean Street, London, Thursday 25 September 2014, 18:30