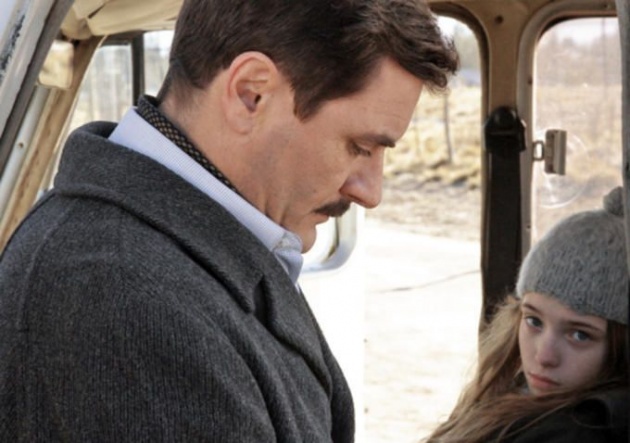 The first thing you notice about the Patagonian setting for WAKOLDA is how like Austria it is. The film is ostensibly set in a Bavarian style multi-tiered hotel, all pine and no carpets, with a breathtaking view of the tranquil Nahuel Huapi Lake and the snow-capped mountains beyond. Minus point: the hotel is way off the beaten track; you'll need a car to get there. It is, however, a perfect hiding place for a Nazi war criminal.
Set in 1960, WAKOLDA, adapted from her own novel and directed by Lucía Puenzo, is about Lilith (Florencia Bado), a twelve-year old girl who is surprisingly short for her age, and her relationship with fugitive Nazi scientist, Josef Mengele (Alex Brendemühl). Mengele, nicknamed the Angel of Death, conducted genetic experiments, ostensibly on captured Jews and their offspring, intent on creating the master race by artificial means. When the Nazis were on the verge of defeat, Mengele like other Nazis fled. Mossad, the Israeli secret service, dedicated itself to tracking him and others down. Argentina seemed a logical destination. There were established German schools there, a community into which war fugitives could easily integrate if there were few questions asked.
This is a terrific subject. It pains me to report that WAKOLDA is not a satisfying film. It disappoints on every level, except for the setting. It is neither a film about the charm of a stranger from the young girl's point of view – it is mostly that, but missing a few pieces. Nor is it a probing account of the German community in Argentina. There is the suggestion that some of the children of Germans in exile were fascinated with their country's (recent) Nazi past but hid their (verboten) books away in the forest. This is a much more interesting subject in terms of reconciling belief with humanity – I wanted the film to be about them. There are other tantalising issues of substance here – the parallel in turning a blind eye to bullying at the school, the loneliness of the long-distance Nazi hunter, the desire for a form of physical perfectionism that goes beyond Nazism, the loss of innocence through a childhood friendship cut short. Then there is the study of Mengele himself, masquerading as a man who left his wife behind in Germany (no one ever asks when she is coming) and his relationship with Lilith.
The opening is undeniably creepy, because we don't entirely understand the nature of Mengele's gaze. He is parked outside a general store on a remote country road. He watches the girl as she drops her doll and reaches for something in the back seat. Mengele focuses on her legs. He picks up her doll and gives it to her. It is a bespoke one, made by her father, with a little hatch for the heart – the subtext, every human being has compassion, no matter what they've done, is conveyed quickly. They strike up a conversation. How old is she? Mengele guesses incorrectly. Then the family re-appears from the store, first Lilith's older brother, then mother, Eva (Natalia Oreiro) and father Enzo (Diego Peretti).
The family allows Mengele, masquerading as 'Helmut Gregor' to follow them. There is a fierce rain storm. The family takes shelter in a barn. The owner, armed with a rifle, expects the worst but invites them in, sharing what little they have. Here, Mengele discovers Eva speaks German. She was educated at a German school in the region that they are moving to, where they intend to take over the running of a hotel. Enzo doesn't speak German but understands a little. He naturally eyes Mengele with suspicion.
Puenzo doesn't do any of the obvious things to make Mengele appealing to Lilith as, say, an alternative father figure, one less grumpy and more interested in her welfare. It is clear that Dad is a good guy. Nor does Mengele look any more cultured or dapper. The inference here is that Lilith responds to a man her father's age because she expects him to be like him. He does however have an intriguing notebook full of drawings. There is a structural 'leap forward' as Lilith describes them in retrospect.
You don't really feel that you are completely sharing Lilith's point of view as you watch the film. This limits audience involvement. You do however look at Mengele non-judgementally. He is a handsome man – Brendemühl is a ringer for Omar Sharif, with his neatly trimmed moustache – and we never perceive his intentions as evil, even when in the final scenes, they might be.
Mengele moves into the family hotel as its first paying customer and sets up some form of practice in town. Not that he needs to as he seems to have a lot of cash and regularly receives packages from elsewhere. He slowly ingratiates himself with the family, firstly securing Eva's agreement to inject Lilith with hormones to stimulate her growth – 'I can make her grow two centimetres' – then encouraging Enzo to start up a doll-making business. Lilith enrols at the German school and makes a friend, the only boy who doesn't call her a dwarf or attempt to rate her body when she goes swimming. This friendship is short-lived after he discovers the secret stash of Nazi propaganda hidden in the forest.
Then there is Lilith's relationship with the school's archivist who helps her understand what the curious phrase 'Sonnenmenschen' might mean. Meanwhile the photographer, Nora (Elena Roger) recognises Mengele instantly.
The drama comes to a head as Enzo discovers that Mengele is treating his daughter – we see this as benign – and the net closes on the Nazi fugitive. Mengele reveals his menacing persona only once when he confronts Nora during the middle of a tea dance. However, he is also helping Eva. His motives here might be suspect.
You want to understand what Mengele thinks he is doing in the village, that is, whether his experiments are a by-product of helping people or an obsession. The film doesn't help you. You want to hate him, and there is the suggestion that he does something really bad, for reasons that you don't understand, but the limited point of view is frustrating. The film doesn't ask any difficult questions – how do we judge evil, how do we let bad behaviour go undetected? The material begs for this sort of engagement. Puenzo seems afraid – because of what Mengele represents – in going too deep. WAKOLDA, named after Lilith's doll, the archetype for the perfect girl mass-produced in the factory (there's a metaphor for you) is a film about surfaces, offering more questions than answers.
Reviewed at Greenwich Picturehouse Screen 3, Sunday 3 August 2014, 11:00am, talker screening