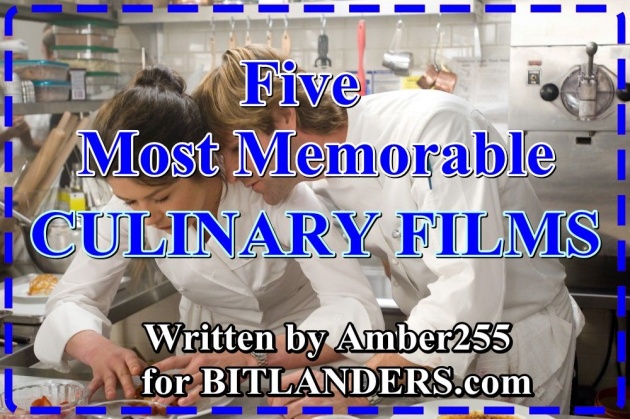 Five Most Memorable Culinary Films While Waiting For The New Culinary Movie LITTLE ITALY
Photo credit: twitter.com - Edition by Amber255 via Bitlanders.com
Hello, my dear readers. Last my blogs were related to some serious stuff. So today, I want to talk about entertainment. On 17 the of August, we should get a new romantic culinary film LITTLE ITALY. Sometimes the world gets at once with some kind of mania. Everyone is suddenly interested in that trendy trend and becomes if not experts then professionals at least for five minutes. Just like a global epidemic would have hit those people. This kind of renaissance is currently culinary.
Donald Petrie, the director of such memorable movies as How to Lose a Guy in 10 Days, Grumpy Old Men, or Miss Congeniality, created a new light, comic, very romantic and extremely delicious comedy Little Italy. According to a press release, the story of the new director, D. Petrie, revolves around two popular restaurants based on the quarter of Little Italy. Both restaurants, like their owners, compete with each other in the best possible way, proving that they are the best.
However, as long as the parents fight, a romantic bond between the main characters of the film, Leo (Hayden Christensen) and Nikki (Emma Roberts), was born. Young people decide to resist everything and simply to cherish their feelings, passion, and love, which unexpectedly visited them.
I will go to this movie tomorrow, but until I am waiting for the premiere, I want to offer you five most memorable culinary films. Of course, Chocolat (2000) is the best, but I think everyone already saw this film, so I decided to present other culinary movies to you.
Little Italy Official Trailer (2018) | Emma Roberts, Hayden Christensen
Video credit: youtube.com via Youtube.com
Eat, Drink, Man, Woman, 1994
Coming directly from Taiwan, Ang Lee's band, nominated for Oscars in the category of best foreign film, tells the story of one from the first glance decent family life.
Paradoxically, in the immediate vicinity of the fast-paced world, fast-food snacks and microwave-cooled semi-finished products, slow and long preparing food, long dinners with friends, seasonal diets, gourmet meals, and exotic ingredients find their niche.
The old generation in the film is represented by widower Chu - the chief chef of an expensive Taiwanese restaurant. The new generation is his three daughters. One works as a teacher, a second assistant to the director in the airline, the third - in the eatery.
The film's story revolves around the Chu (Sihung Lung), who favors all the traditions of his ancestors because his cooking is a kind of ritual giving joy. But husband's daughters have quite different opinions and promote the culture of fast food.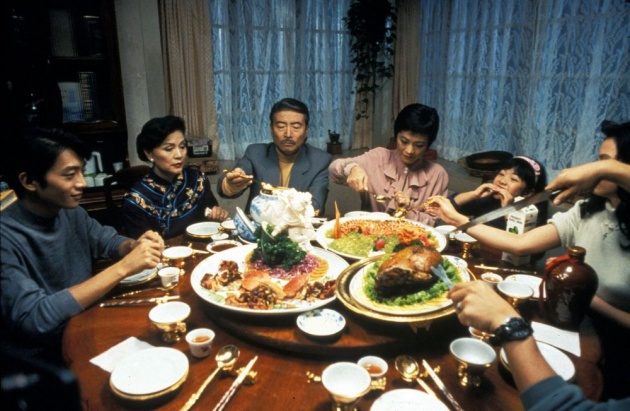 Eat, Drink, Man, Woman, 1994 - Photo credit: cinemadejunkie.blogspot.com
They all have different ways of eating. For the Chu, this is a wonderful slow ritual, close to art. For girls - it is fast food, eat and run on, the food in a hurry.
One day, they all gather for a festive dinner, in which all the differences that are related not only to the views of two generations of people to the food but also the attitude towards food determines their views on men, children, family, life in general.
Chef, 2014
In 2014, director Jon Favreau of such movies as Elf and Iron Man introduced a dramatic low budget comic drama Chef in which he himself played a key role.
The movie of the director, who often created the Blockcasters, tells the story of the hotheaded chief of the great Los Angeles Restaurant, Carl Casper (Jon Favreau), who said too much one day.
After a visit by the reviewer, a negative review criticizing the restaurant's food and lack of chef Carl's imagination started to spread through the Internet at the light speed. Thanks to the son's help with the possibilities offered by information technology, Carl presents a kind of challenge to a reviewer on Twitter. But the conservative restaurant owner Riva (Dustin Hoffman) does not want to change the criticized menu, so there is a conflict. Carl accepts an ultimatum and goes out of work, causing another scene of an internet sensation.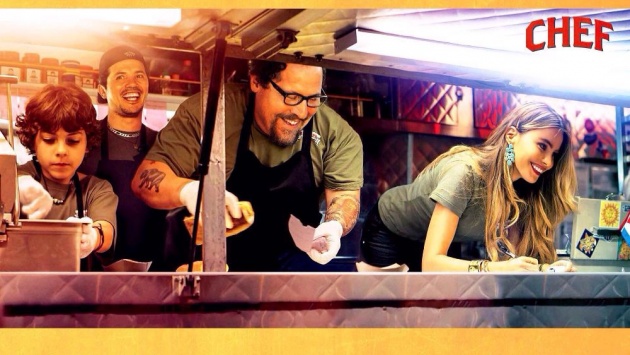 Chef, 2014 - Photo credit: wallpapermemory.com
Although Carl is a top-notch chef, job offers are not as good as he hoped. Carl with ex-wife goes to Miami. And in Miami, the idea for a mobile snack bar became alive. His son and former colleague Martin helped him, and Carl refreshes the minibus and again stands at the stove and cutting table.
It's a simple and cozy story about communication and cognition. Two weeks is enough time to try to get back what's really important was lost during a quick and endless work and to understand what makes you happy. It's a warm film about father-son relationships, flavored with spicy cuisine and surrounded by expressive rhythms.
The Chef is another culinary film, in which not only culinary is important. The cozy and warmth story, the great food culture and the rugged Cuban rhythms are a recipe that Jon Favreau used to produce a very good movie dish.
Carl Casper: "I get to touch people's lives with what I do and I love it and I want to share this with you."

Credit: ranker.com
No Reservations, 2007
Scott Hicks, nominee for the sixth Oscars for the 1996 film Shine, in 2007, presented a very funny, very warm and meaningful culinary film No Reservations on how food can bring together two completely different souls.
Professional cook Kate (Catherine Zeta-Jones) gets the custody of her niece after the sudden death of her sister. However, this is not the only change in her life. A new chef of her restaurant, Nick (Aaron Eckhart) appears on the horizon. He wants to introduce completely new rules. Kate has nothing more to do than declare war with her colleague. Meanwhile, the rookie cook reveals all his charm to bend Kate to his side.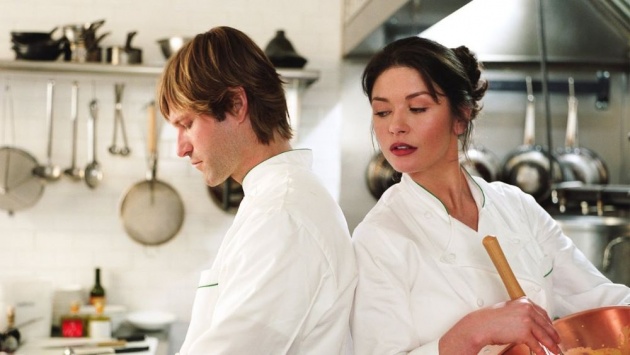 No Reservations, 2007 - Photo credit: youtube.com
The film No Reservations shows how important the role of the meal is - not only through the eyes of professional chefs but also ordinary people. Food can even serve as an expressive artistic communication tool.
The Hundred-Food Journey, 2014
When creation of a romantic film is taken by the genius virtuoso Lasse Hallstrom, who has created such bands as Dear John, Chocolat, and Casanova, one can expect something special and warm - The Hundred-Food Journey.
Hallström, who also directed Chocolat, follows the foodie-cinema aesthetic by filming the dishes in a gleaming sumptuousness designed to make you famished.

Credit: rottentomatoes.com
Secluded French Town. Life in it flows calmly and without any pranks. The only town celebrity is Michelin's one-star luxury restaurant, which the top executives of the country and stars of the world of entertainment do not hesitate to visit. The city's residents are absolutely proud of this dining facility. They all love the restaurant manager and owner Madame Mallory (Helen Mirren). After husband's death, the woman gives all her energy to the restaurant, sometimes even overly enthusiastic and annoying.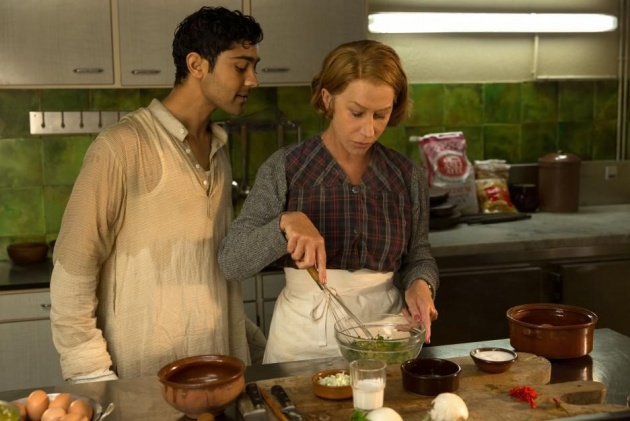 The Hundred-Food Journey, 2014 - Photo credit: mdb.com
The path to the culinary Olympics by a young Indian Hasan (Manish Dayal) began painfully and was not straight. Hasan's parents in Mumbai have a small restaurant, in which the Hasan and all his brothers and sisters are working. The food traditions in this family are very important, and the best teacher of culinary mysteries for the Hasan becomes mum. Unfortunately, the fire caused by the riot resulted in the death of the mother and the restaurant is permanently destroyed. Having lost almost everything he had the most precious, Hasan's father decides to gather all five children and travel to Europe for happiness and a better life.
One day, the quiet rush of the town (and Madame Malory) is disturbed when the Indian family settles in the immediate vicinity of the restaurant - just across the street. Moreover, in the purchased abandoned building, the newcomers come up with nothing else but a restaurant! Mrs. Malory does not like it. An ambitious and stubborn woman decides to teach new owners. The fun of the two competing restaurants is starting to emerge, which will eventually show that the opponents are not so different.
The Hundred-Food Journey is a fun, albeit unrealistic story about the road to go in order to make the dream a reality. The way you need to go to dissolve the ice of antipathy. The road you need to go to understand what makes you happy in life, and without what the life is just a tasteless routine.
The Hundred-Foot Journey, Official Trailer (2014) - Photo credit: Movieclips Trailers via Youtube.com
This simple and unpretentious and lightweight movie is worthy of praise for the visually appealing and impressive if not tastes and scents, then at least colors and sounds. The previous work of the director romantic comedy Chocolat, which is rather stylish and tastefully arranged, may be a greater movie, but this film also can be a good choice for a light and fun evening. Snacks and drinks, of course, are mandatory.
We get excellent performance, extraordinary music, lush humor, unexpected intrigue, mild sadness. Everything is great in this movie - like in a good layered cake. Or in a quality romantic drama, baked according to a verified recipe.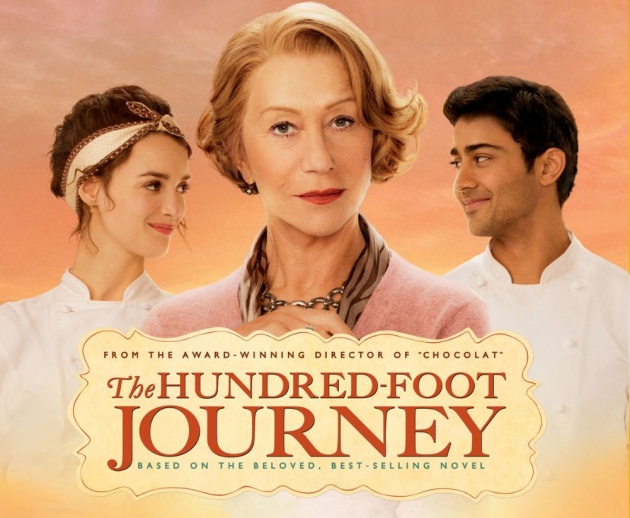 The Hundred-Food Journey, 2014 - Photo credit: arie90skid.blogspot.com
Love is born with sweet ice cream. Anger is evaporated with seasoned spaghetti. After all, not in vain the wise ancestors came up with the postulate that the straightest way to the heart is through the stomach. I recommend a warm and romantic movie that will not leave indifferent the female audience.
Julie & Julia
The film directed by Nora Ephron, nominated for Best Actor Oscar nominee, decided to tell a wonderful story of two different but very similar women and created one more great movie - Julie & Julia.
Julia Child - one of the most famous and popular American chefs, the first to bring French cuisine to the Americans in a 1961 book about the year spent in the Paris School of Gourmet Learning. Julie Powell, a contemporary American, also wrote memoirs - just a little different - about French cuisine and also received fame.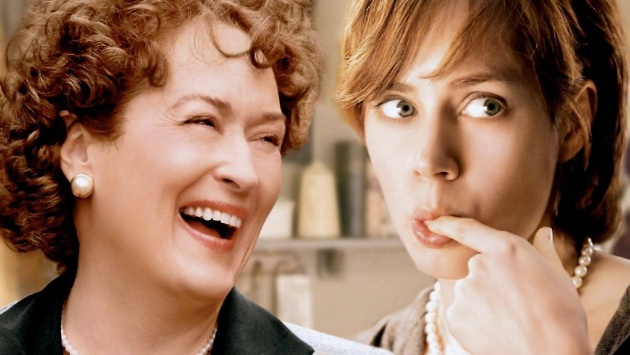 Julie & Julia - Photo credit:cbblogers.com
1948. Julia Child (Meryl Streep) is a strong woman whose personality surpasses her impressive height. This is a woman with a joyful outlook and feelings. She married the diplomat, and although they are over forty, they are a very romantic and passionate couple. They adore each other and do not hide it. Career path leads Paul to France to the American Embassy. Julia goes with him. In a new country and beautiful city, Julia soon discovers a new love - love for French culture: art, fashion, nightlife, and especially food. Perhaps, it's rare who would not estimate the delicate French cuisine and resist the tempting taste of it.
Paris is a very charming city, but such an energetic woman like Julia lacks activity. She likes to dine, likes to have a delicious meal and likes to make this delicious food. And she concludes - she will learn the secrets of French cuisine.
However, unwritten rules state that the highest culinary art is an art of male. First troubles came to Julia when she came to the culinary school: the eyes of the outraged future chefs - men, of course, hit her. However, Julia is not one of those women who easily gives up and is quickly scared.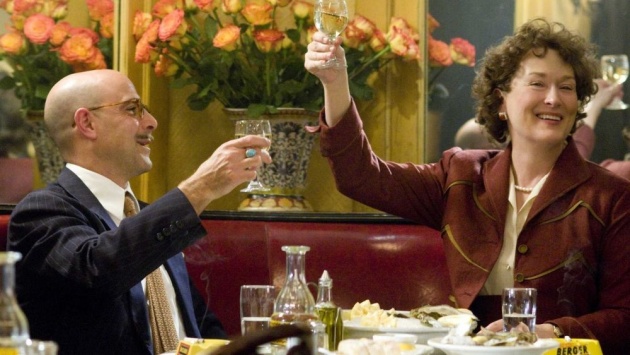 Julie & Julia - Photo credit: dailymotion.com
2005. Julie Powell (Amy Adams) - the complete opposite of Julia. She is a small woman and gray like the mouse. She lives in a dilapidated apartment in Kwyns with her husband and dislikes her colorless life. All her friends have a successful business, live in luxurious apartments and spend their exciting leisure time.
And she's just a public servant helping victims of September 11 handle insurance documents. Julie feels that her life is meaningless and it kills her. The success of her friends reminds her that she has not succeeded.
Ebullient, witty, and wonderfully warm-hearted Julie & Julia is a celebration of how to live life to the full.

Credit: rottentomatoes.com
The last drop in Julie's patience cup was her friend's blog that gained extraordinary popularity. That's too much: she's successfully climbing her career ladder and still finds the time to write a blog that turns out to be so interesting that thousands of people are being read ?! So Julie also decides to write a blog. But she needs to find a worthy topic.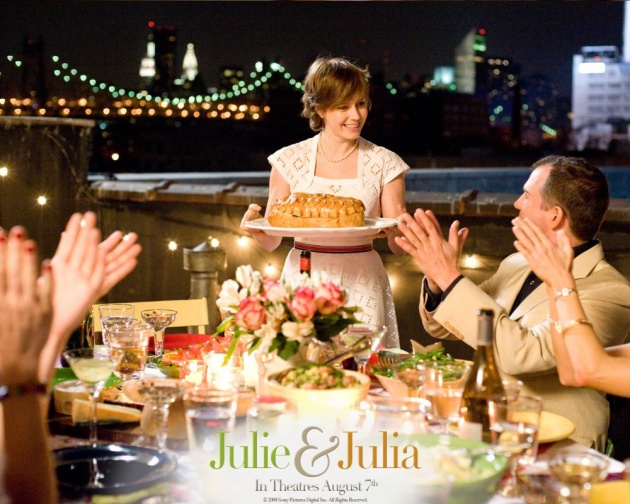 Julie & Julia - Photo credit: wallpapers-cinema.com
The salvation for Julie Powell becomes a Julia Child Book of French Cuisine, written 50 years ago. She puts herself the task of testing all recipes from the Julia book in one year. Julie describes every successful or failed dish on the blog.
Julia Child and Julie Powel - two women who write memoirs whose lives are unexpectedly interlacing. They both find themselves in the dead end of life, but despite the fact that they are separated by distance and time, women find the same way, based on passion, courage, and abundantly greased by butter.
While reading my blog about culinary movies, please check the QUERLO CHAT
On the Final Note
We can find a variety of culinary courses, blogging blogs and electronic magazines, book publishers count the profits earned on culinary books, and celebrities suddenly remember how they like and always liked to produce, though it's probably could not separate carrots from the parsnips. Therefore, it is probably nothing strange that the culinary is gaining an increasingly strong position in the cinema.
Have you ever had such evenings when you are sitting at home, all the works have been done, the children are sleeping already, the delicious dinner is eaten, but there is a lack of a good movie to complete happiness. Such a movie that would not force you to think a lot but excite good thoughts, that would be beautiful aesthetically but not a banal, that would be easy to watch - as easily as a slice of the preserved peach slides in your mouth.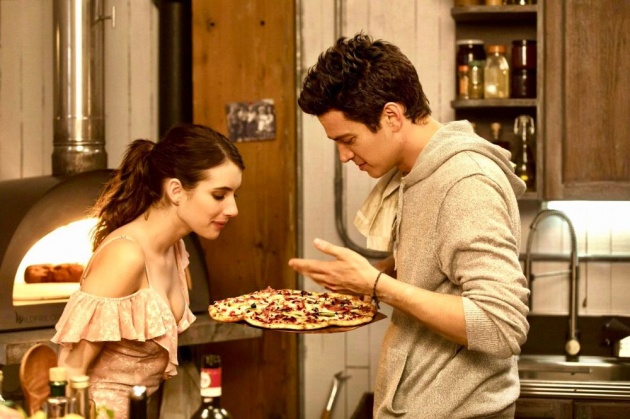 The culinary movie Little Italy - Photo credit: feedram.club
I have had and often. And I have found for myself that the food-related movies the best quench the thirst for cozy domestic movies. It goes without saying that food provides good emotions, so films about food are delicious. Well, the side effect of such culinary films is the desire to get into the refrigerator.
Anyway, choose any of the described movies by me and enjoy. All of them are delicious. Or wait for the new culinary movie LITTLE ITALY.
Have a fun watching!!!
***************************************************************************************************
Thank you for stopping by and reading my blog.
2018, All Rights Reserved.
You are very welcome to join Bitlanders and share your valuable knowledge and opinion.
***************************************************************************************************
You can check my other blogs with movie review:
1. Movie ESCAPE PLAN 2: HADES Review: a bad parody of the predecessor
2. Movie SICARIO: DAY OF THE SOLDADO Review: brutal and cruel continuation
3. Movie A QUIET PLACE review: the terrifying silence works on your nerves
Come back to find more...
***************************************************************************************************