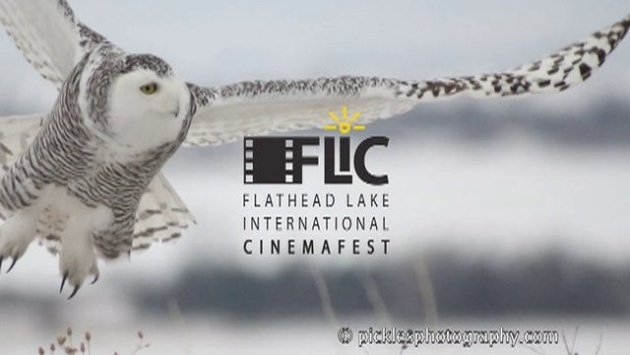 Recently, I was asked by Daniel Smith, executive director, of the Flathead Lake International Cinemafest (FLIC) to program a selection of current international family friendly short animated films to accompany an animation workshop that I would be presenting at this year's festival. The film festival runs from January 24th to 26th and showcases a variety of short and feature length films from around the world. Now in it's 2nd year, FLIC is based in the beautiful little town of Polson, Montana. I attended last year's inaugural event where I screened a retrospective of my work on their opening night and had a great time. Very warm hospitality and friendly audiences.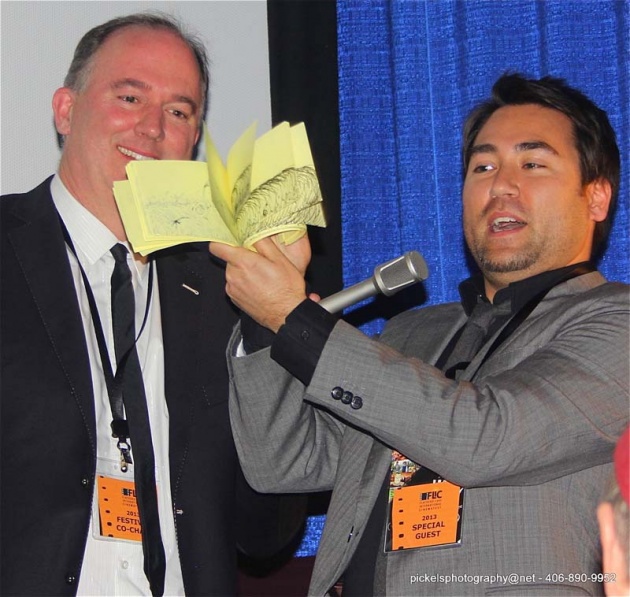 (Daniel Smith and I at the opening night of the 2013 FLIC)
As a perfect example of why it is important to network at film festivals, Daniel Smith and I met in at the 2005 Maui Film Festival. Back then, he and his family were living in Maui and hosted filmmakers for the festival. While I was not one of the filmmakers that Daniel hosted, we had met at an event and Daniel volunteered to show me around Maui. Daniel toured me around the beaches and took me snorkelling and in turn I brought him along to some of the festival parties. We stayed in contact all these years after he moved back to mainland and I'm happy to see him start up his own film festival in his childhood home of Polson, Montana.
Following the FLIC Animation Film Program on Saturday, January 25th from 1:30pm to 3:30pm, I will be conducting a 45-minute animation workshop demonstrating fun and innovative ways to create animation without any special animation equipment. I will also demystify the process of animation, one of the world's most misunderstood art forms, by demonstrating the principles of animation used to create the illusion of life in my animated films. Animation tricks of the trade and how to create animation using a variety of techniques will be explored and explained.
If you're in Montana or know someone who is, please let them know about FLIC and the animation program and workshop!
I can't wait to make the trip down to Montana from Vancouver to take in this year's expanded festival. Here's the line-up of films I've programmed for the animation program. I rarely get to program other people's films so it was a great pleasure to put together this eclectic mix of animations created using a variety of techniques from classical, stop motion, mixed-media to computer animation! I'm a huge fan of all the animators in this program and can't wait to show other's their amazing work!
FLIC Animated Film Program
Curated by Jeff Chiba Stearns
---
Wind and Tree
Konstantin Steshenko, Canada, 2013, 6 min, Stop Motion/Classical, (Winner Best Canadian Student Short at Ottawa Animation Festival 2013)
Two forces of nature face the consequences of their impossible love. My graduation film at Emily Carr University of Art + Design is a stop-motion and 2D animation crafted from felt, cotton, carpet and wire.
Requiem for Romance
Jonathan Ng, Canada, 2012, 8 min, Classical, (Oscar Short List 2014 for Best Animated Short)
In this "crouching love, hidden breakup" story, inspired by 50's Shanghai water ink animation & kung fu films, themes of distance, tradition,
art and longing dominate a telephonic conversation as a martial arts tango provides
the visual backdrop.
Crossing Victoria
Steven Woloshen, Canada, 2013, 4 min, Scratch on Film, (Winner Best Canadian Short at Ottawa Animation Festival 2013)
An experimental animation that recalls a treacherious, winter journey across a Montréal landmark.
Yellow Sticky Notes | Canadian Anijam
Jeff Chiba Stearns, Canada, 2013, 8 min, Classical, (Winner Gold Remi at WorldFest Houston 2013)
For the first time in Canadian history, 15 of Canada's most celebrated independent animators have come together to create a collaborative animated film using only 4×6 inch yellow sticky notes, a black pen and animation meditation.
Sleepy & Maniac
Yen-Chieh Wu, Taiwan, 2013, 2 min, Stop Motion
Stressed-out insomniac Maniac is jealous of his friend for being able to sleep. When he sees Sleepy Bear dozing off, he wants to wake him, but nothing can stop Sleepy Bear from taking a nap.
Quirk
Jennifer Kiakas, Canada, 2013, 2 min, Classical
A child's disability doesn't deny them the right to be treated like a human being. Children with disabilities still laugh and play and they are different, yes, but unlike everyone else, they don't see their disability. They embrace it as the way their life is.
Sumo Roll
Jay Kim, USA, 2013, 4 min, Stop Motion
A sushi chef does his best to satisfy an unappreciative customer.
I want my Hat Back
Galen Fott, USA, 2013, 9 min, Digital Cut-out
A bear almost gives up his search for his missing hat until he remembers something important.
Sidewalk
Celia Bullwinkel, USA, 2013, 4 min, Classical
A woman walks through life, but the real journey is deeper within as she confronts her changing body and learns to love herself.
Hedgehogs and the City
Evalds Lacis, Latvia, 2013, 10 min, Classical
One spring morning animals wake-up from winter sleep and discovers that forest has been turned into the city. Hedgehog has a briliant idea how they all could survive in the big city. By helping people they could earn money! But what does it take? Hedgehogs decide to get back to the forest and their real home.
Cats
Jeff Chiba Stearns, Canada, 2014, 1 min, iPad, (World Premiere)
A whimsical little cat animation created by drawing directly on an iPad.
A Dog is Ignoring You from the Passenger Seat of a Parked Car
Anne-Renee Dumont, Canada, 2012, 2 min, Classical
A brief, melancholy encounter between a car-caged canine and someone who always wanted one.
My Strange Grandfather
Dina Velikovskaya, Russia, 2011, 9 min, Stop Motion
Creative people always seems to be strange, funny and a little bit crazy. Even their relatives often don't understand them. But sometimes it so happens that their work reveals the genuine beauty.
Home Sweet Home
Alejandro Diaz, Pierre Clenet, Romain Mazevet, and Stephane Paccolo, France, 10 min, CG
A house uproots herself and goes on an adventure.
Thanks for reading my blog and please subscribe for more updates on future posts and uploaded films!