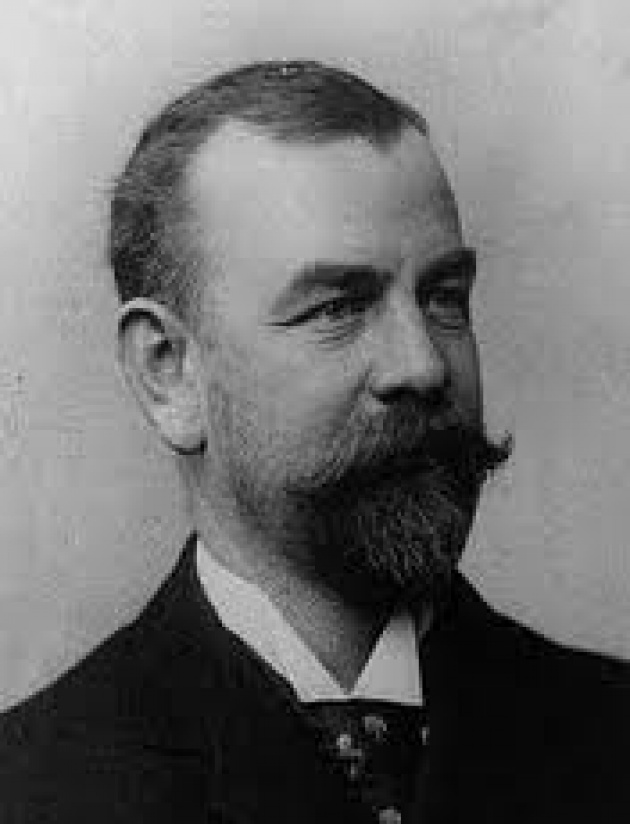 Re-discovering the Legacy of Frederick Bourne
Unlikely as it may seem now, there was a time not too long ago that the best place for a 19th Century young man to become successful was joining a church choir. One such man was Frederick Bourne, the ethical tycoon. Bourne got his start by singing under the vaulted nave a Gothic church called the Church of St. Mary the Virgin, aka Smoky Mary's.
Controversial from the start, the Church of St. Mary the Virgin was built on land donated (with strings attached) by John Jacob Astor, a shrewd speculator who understood the potential monetary and spiritual benefitsof a new Episcopal church located in the part of New York now known as Times Square.
As part of the deal with Astor and over the objections of the church's hierarchy, the primary mission of the Church of St. Mary the Virgin would be conducting elaborate religious rituals. Astor demanded the new church be awash in incense, hence its memorable nickname Smoky Mary's.
Even without the revenues that would normally flow from the then common practice of renting pews, Astor insisted that these pews be free forever. But the church's budget still provided for top-notch music, including a fancy organ and a well-versed organist, all the essentials for a gentlemen or lady's proper standing in the community and in keeping with the dictum, "One who sings well, prays twice."
This is where Frederick Bourne's story begins in earnest, at the crossroads of the world and at the dawn of the Gilded Age. Even the imagination of Horatio Alger would never have penned the story of Bourne, the humble choirboy who would later rise to the top of the world's first multinational conglomerate, rescue Wall Street during the Panic of 1907, and who ended his life surrounded by a loving family and an assortment of bishops, royals and robber barons. It is estimated that Bourne left a fortune of $50 million upon his death in 1919 at the age of 68, which was eventually left to his children, church and various charities.
But truth is often stranger than fiction and it was in the smoky nave of St. Mary's that the talented teen baritone Frederick Gilbert Bourne was "discovered," the end result of a lifetime of musical instruction by his father the Rev. George Washington Bourne and mother Harriette Gilbert Bourne.
Bourne's Early Years
George and Harriet Bourne were married in Portland, Maine and had two girls, Mary and Clara. The Bournes then moved to Boston, where Frederick and his brother were born. The Bournes moved to Brooklyn, NY during a smallpoxoutbreak in 1859, when Frederick was eight years old.
Too young for the Civil War, Bourne's first outdoor job in 1865 was to dive for the Atlantic Salvage and Wrecking Company. At the age of fourteen, Bourne took to the water like a fish, and he enjoyed probing the depths of the East River off floats at the Brooklyn Navy Yard. In those days, companies used boys to dive because small children could fit in the "Sea-Hunt" type divers suits. Air was pumped down to them from the Mother ship and these young divers would help to retrieve anything of value from the cold, murky depths below. It's amazing thatFrederick survived four years of this grueling labor, as many divers died during these treacherous projects. Frederick loved the water, and in his later years he became a noted yachtsman and all around sportsman. Bourne eventually became the Commodore of the New York Yacht Club, following in the footsteps of his friends Vanderbilt and JP Morgan.
The Lucky Choirboy
In New York, the only rung higher for a church singer was the elite Trinity Church on Wall Street – a bastion of high society with a waiting list for seating and a home for world-renowned music. Visiting Trinity Church and listening to choir music was de rigueur for the touring stars of Europe and the leading first families of New York.
Imagine the pride Bourne felt when Trinity Church invited Frederick and two other singers from Smoky Mary's to appear as a trio of angels singing "Lift Thine Eyes from Elijah," Mendelssohn's anthem to perseverance in the face of despair. Not only was the invitation a once in a lifetime honor, but also Frederick's appearance at Trinity would soon introduce him into high society.
A Fortuitous Meeting
Trinity Church had adopted the practice of dressing its choir in the formal outfits of present time. Why? Because the church didn't want its choir boys, in their words, to be "looking like street Arabs," especially with the impending visit of England's Prince of Wales. Imagine Frederick decked out in a long white surplice; his six-foot two inch frame accentuated by his straight posture, his head held high as he proudly sings for the greater glory of God.
Enter Trinity Church parishioner Alfred Corning Clark, who was once a tenor in the Trinity choir, but now a full-time patron of the arts, the prodigal son of a millionaire and an international dandy. Clark took notice of Bourne, and before long offered offered the talented singer a job.
Bourne's career would put him in the same league with Rockefeller, Morgan and Vanderbilt. Like those self-made titans, Frederick didn't inherit his wealth, but he did not amass his wealth on the backs of deadunion members. Frederick earned his fortune through hard work and good timing. Bourne was described as a man "combining fidelity and trust with a rare business ability"… with a "loveable personality [that] gained for him thegenuine affection of all with whom he came into close contact."
Frederick's singing talents got him a private audience with Clark, but it was his "good sense, mental alertness, good nature and general capability" that made him a keen prospect for the Clark's real estate and Singer Sewing businesses. Even though Frederick started out as an entry-level clerk, the boy soon became a welcome addition to his rich employer's nightly sessions of dinners, debates, readings and recitals. Bourne fit right in. But this was only the beginning...
FGB's story should really be titled "From Choir Boy To Singer", which encompasses most of his illustrious life.
To be continued…
By Jeffrey Sado and John Barrett
See Jeff at http://www.filmannex.com/webtv/historymavens/movie/jeff-sado-about-lady-liberty/30465. Jeff talks about his latest screenplay "Lady Liberty."