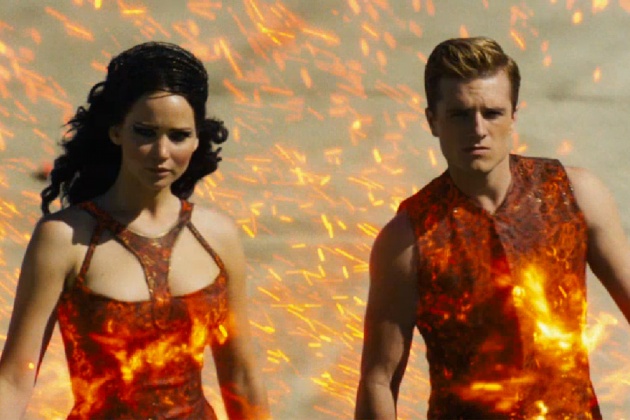 It was a battle between Katniss and the Snow Queen at the Thanksgiving box-office weekend, and in the end, the girl on fire has more heat and melted "Frozen." In its second weekend, "The Hunger Games: Catching Fire" earned $74.5 million to retain its No. 1 crown beating newcomer Disney's "Frozen" which debuted at No. 2 with $66.7 million. But both movies beat previous Thanksgiving record holder, "Harry Potter and the Sorcerer's Stone" which debuted with $57.5 million in 2001.
"Frozen" now holds the title of the biggest Thanksgiving debut ever!
But wait there's more!
Lionsgate's "Catching Fire" now holds the title for the highest domestic box office grosses for the three-day AND five-day Thanksgiving weekend.. (watch my movie review of "The Hunger Games: Catching Fire" below)
From Wednesday to Sunday, "Catching Fire" has sold $110.2 million worth of box-office tickets bringing its domestic total to $297 million. Meanwhile, "Frozen" melted our hearts and debuted with $93 million for five days beating Disney's "Toy Story 2" which earned $80.1 million in 1999.
Other new movies didn't do so well. "Homefront" starring Jason Statham and James Franco (see my interview with Jason Statham below) debuted at No. 5 with $7.0 million while "Black Nativity" opened at No. 8 with $3.9 million.
Here's the estimated Top 10 Box-Office Films for Thanksgiving Weekend 2013:

Top 10 at the Weekend Box Office
1. "The Hunger Games: Catching Fire" - $74.5 M
2. "Frozen (2013)" - $66.7 M
3. "Thor: The Dark World" - $15.5 M
4. "The Best Man Holiday" - $8.5 M
5. "Homefront" - $7.0 M
6. "Delivery Man" - $6.9 M
7. "The Book Thief" - $4.8 M
8. "Black Nativity" - $3.9 M
9. "Philomena" - $3.8 M
10. "Last Vegas" - $2.8 M
Here's my "The Hunger Games: Catching Fire" movie review:
Here's my interview with Jason Statham and Izabela Vidovic for "Homefront"
For more movie reviews and celebrity interviews, check out my Film Annex page right here.