"Telegram messages are heavily encrypted and can self-destruct." - telegram.org
Image credits: scienews
Hello bitLanders! It's nice to be back with an article related to Crypto because I am being a student these past few days, learning about crypto terms, the likes of escrow, moon, fork, Market Cap, ICO, altcoins, Bot Trading and more basic terms. I am still a newbie but I am trying hard to learn about this technology because as experts say, the blockchain and the cryptocurrencies are both the future of this world. So we have to understand how it works and be familiar with its fast-moving information.
So, with that intro, let me share a new app which I had started using this past two weeks because more crypto enthusiasts are into this platform and I want to share that with you guys so you can also try it out yourself and know if we feel the same way with this technology.
Introducing Telegram!
Telegram is a messaging app with a focus on speed and security, it's super-fast, simple and free. - telegram.org/faq
Video credits: App Demo Videos via YouTube
My introduction to this app was not very friendly. I started joining bounty hunts, of course, it comes with several campaigns like Facebook, Twitter, blogging, YouTube videos and Signatures too! But one of which I was not very familiar with is the telegram campaign.
So I sought out, Googled it (because Google is a friend) and found this messaging application which boasts in its fast and reliable messaging features! Plus what caught my attention is the line which states it is heavily encrypted that it can self-destruct! How powerful! I haven't heard or read anywhere on the world wide web of a messaging application that self-destructs! Sounds like some robot technology here but then, I had to create an account and start using it so I can join that campaign and so I did!
Creating a Telegram Account Was Fast An Easy!
Image credits: bbs.tecno-mobile
It doesn't matter if I don't really understand how the backend works, they state about MTProto protocol which is built upon time-tested algorithms to make the app compatible with the instant delivery and reliable transfer of data even on a weak connection. Plus the encryption happening at the back to secure the messages and information saved in this cross-platform app!
But creating an account is just like creating accounts in many other different messaging application. But while the app has been built to run on cross-platform, that means different operating systems like desktop, mobile iOS or Android, and even web, it requires that one creates the account through a mobile app as it needs your mobile number for account set up.
Image credits: techrasa
Once downloaded, it requires your basic information which given, then you can opt to keep your account private by not providing a username or you may do so from your profile settings. By providing a username, anyone all over the world can search for you using it and you'll be searchable so they can message you eventually!
Features I Deeply Love About Telegram
Image credits: bbs.tecno-mobile
I was contemplating on how did they do this and I couldn't quite comprehend how can the creators make such app which is very fast and light as well as free of ads at all! Well, I don't really need to learn about the back end, all I had to realize that it is helpful.
Here are some of the features which I like the most about the app so far:
1. I Can Save Messages
One frustrated I had with previous and current messaging apps is the unavailability of the option to save a specific message, like bookmarking it. Some may have this pin option but that would allow only one thread of message.
Image credits: telegram
With Telegram, there's an option to save the messages and they'll go straight to a separate folder named Saved Messages!
What's cool about it is that it has a go-to option button which will allow the user to be redirected to the original place where the chat message thread was posted!
2. Cloud Message Synchronization
Image credits: thedroidreview
Have you tried using Google Drive? Its data synchronization is on real-time where you open a document and tries to add something on it or even just simply selecting some cells if you are working on spreadsheets, the other user who is also accessing this will see the action.
The same case goes with Telegram. When I was using the mobile app and was typing in my message, I saw it also was typing on my desktop browser since I have a live session in it too!
This is cool.
3. Secret Chats
Image credits: engadget
While the thought of having secret chats sound like very infidelity-ish, I can vouch that this option is important because while the personal chats might already be encrypted with Telegram's own security measures, certain individuals would still want to discuss things in an intimately secured environment.
With Secret Chats, the messages are tied into the current login session instead of the cloud synchronization. When one sends a message on a device, the messages under secret chats can't be accessed or read on a different device and more importantly, it can be deleted or purged when the account is taken out of that device.
Image credits: thenextweb
Moreover, there's no option to forward the message, it disables all possible means of taking screenshots and screen video, I tried it and the screen was just black with a note that for security, this was not possible to do and it has a self-destruct property!
4. Many More
Image credits: apps.odoo
With its clean and easy interface, you'd first think it can only do messaging the simplest form but no. It's an impression I had to change as I used it day by day. There are stickers that can be added, editing and deleting messages comes really easy plus it allows updating the photos that have been sent before, even to the point of replacing comments and media even if the message has been sent days ago!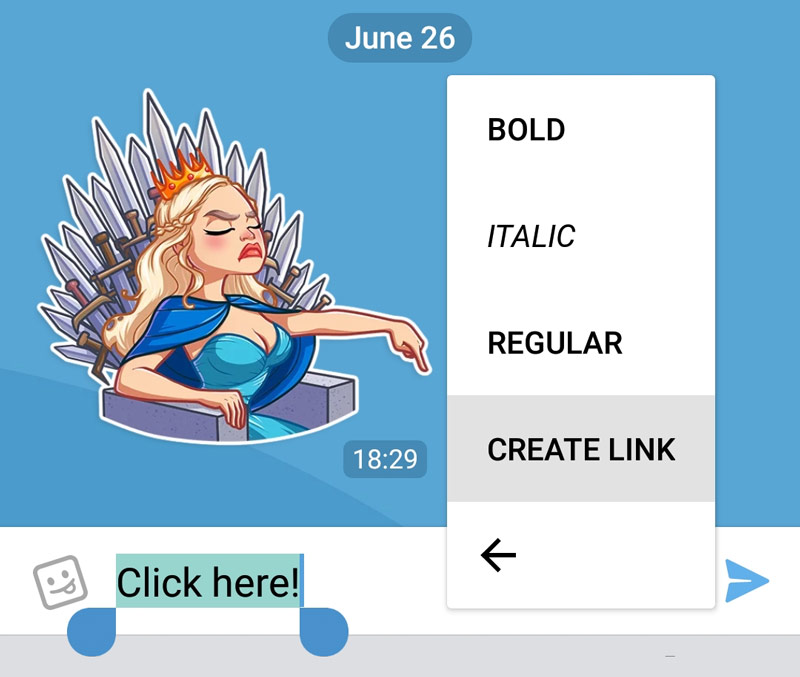 Image credits: telegram
Playing back voice and video messages as well becomes very fun by speeding it up to twice its original speed! An addition to that also is the option to add links to a message you are about to send, but this is only available for Android versions. One more thing, it allows viewing the latest chat messages by just hovering on the account, still, this is only available on Android! See the video below!
Video credits: Jean Beltran via bitLanders
I thought of it as, like the WhatsApp application, it is almost like WhatsApp except that it is open source, anyone can copy the source code and create something very similar to it. There are other messaging apps like Discord which has far more features but then, this is already insanely becoming popular. In fact, it has reached 200,000,000 users all over the world! Its user population can be compared to the 6th largest country in the entire world!
Well, two weeks of usage may sound a short time but I am quite sure I understood how the app works and that I can testify that it is pretty neat! Learn more about it by creating an account and using the Telegram application!
______________________________________________________________________________________________
This blog entry was written and published by Jean Beltran-Figues for bitlanders.com.
Join me, click here to sign up and claim your $1.
Let's talk about cryptocurries: altcoinstalks
Are you a traveler? Book your next hotel through Airbnb and claim your ₱1,600: jeanf3125