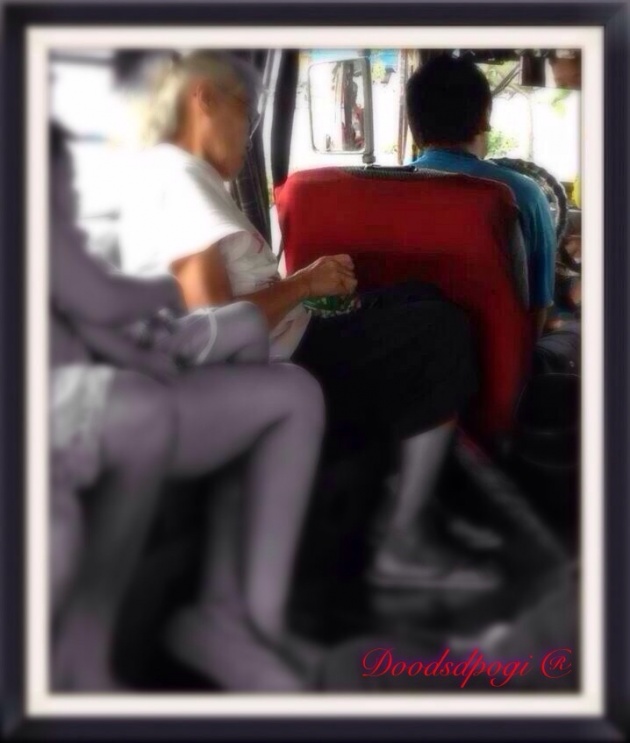 Good Hearted Driver
I overheard this conversation while riding in a jeepney on my way going to school today.
Lola (word for old lady / grandma)
Ho and opo (word used to express respect)
Kuya (name used to call older brother as respect)
Lola: "Bayad po" (my fare)
Jeepney driver: "Senior citizen ho ba kayo?" (Are you a senior citizen?)
Lola: "Oho" (yes)
Jeepney driver: *returned the money to the old lady and said "Wag na ho kayong magbayad". (You don't have to pay anymore)
Lola: "Ha? Bakit?" (Huh? But why?)
Jeepney driver: *smiled "Kung wala ho kayong kasama, kahit ilan pa kayong senior citizen dito sa jeep ko basta hindi kayo magkakilala, ililibre ko. Ang sarap kayang tumulong. Para pagtanda ko, meron ding tutulong sa akin.
(If you don't have companion, even how many of you senior citizens here in my jeepney and you don't know each other, i'll free. Feels good to help. So that when I get old, there will be someone who will help me too).
He was such a good samaritan, that's the reason I felt the need to share this to everyone. May he be blessed all his life. Saludo ako sayo kuya driver (I salute you kuya driver).
Excerpt and photo from the post on Facebook of Astig FM. Thanks for sharing.
Doing good to our fellow will always bear good fruits. His kind, generous heart and respectful personality is a role model to the society. It is not always how big the help that we extend but the love and sincerity of our intentions.
Plant good seeds and you will reap a good harvest. Good deeds with bear good results. This is so inspiring that thru this post a message of simple act from kind heart will be showered around the globe.
God sped everyone!