First of all Guys! I want to Wish You a Very Happy Diwali to all of you.
Diwali as you all know is the Festi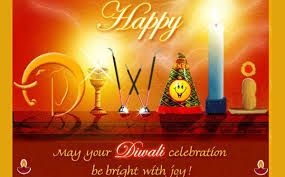 val Of Lights is celebrated in India every year in the month of mid october to the mid november .Diwali is the Festival of the Victory of Good over Evil,Light over the Darkness and Knowledge over the Ignorance.
Do you know Guys why Diwali is celebrated?What is the reason of Diwali is being celebrated in India?
You Know that there is a reason behind the Celebration of every Festival.So the reason behind the celebration of Diwali is that On this Day the Lord Rama reurned back to his Kingdom Ayodhya with his wife Sita and brother Laxman after a 14 years of exile ...Where he killed the Demon king Ravana and freed the world from the Conquer of the Ravana.So on his homecoming the people of the Ayodhya lighten up Diyas in the whole Kingdom and welcomed them with the Dance and the Flowers.So from that Day Diwali is celebrated in India.
Deepawali/Diwali is made up of two sanskrit words 'Deepa' and 'wali'..Where Deepa means Diyas(Lamps) and Wali means Rows so Deepawali means the Rowas of Diyas.
Diwali is the Indian Festival which is celebrated all over India.On this Year Diwali will be going to celebrate on 23rd of october 2014.
So Once Again Happy Diwali To all Of You..
You can also Visit at Festive Tym to get the Best Diwali HD Images & Wallpapers,Diwali Poems and much more.