Moving on is the hardest part to accomplish in life. Whether you will not think of it, it will just goes in your mind, having flashback even you don't really want. Last two years ago, I feel in love with someone that don't love me back. He just wanted my money. It is the hardest part of me that I am being possessive of someone that don't love me back. We got a baby girl together but unfortunately she's living with some other girl already. I gave birth without his presence but after 4 days, he showed up. I am so shocked like having saw a ghost in front of me. We've been okay for how many days, approximately 2 weeks but after that, all is broken.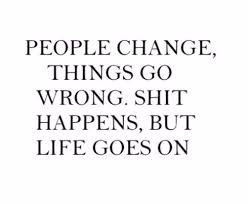 I beg him to stay not for me but for our baby. I beg him just to be a father even if she's with other girl she loved. But nothing happens. He leaves. He left us without anything even a little support, he hadn't give.
That's the biggest mistake I ever had but I am luckily to have a baby, a little princess, a pretty and cute daughter today. I don't even think for revenge because I know God will give what is right for us and for them, not even now but sooner or later. With God, nothing is impossible.
If He doesn't care to us, why we do care? When I will see him sooner, I will just give thanks to him and nothing more.