The picture above was the highest I got in my 3 months of existence here in Bitlanders. As you can see it was a +46 Buzz Bonus.
How did I gain such direct power ups? There lots of factors. First, is the Cricket Set and Red Heart Balloon that I bought last February 17, 2015 in which it gave my Buzz Score a boost (obviously). This was thanks to my friend Riza Gomez giving me the update.
The next day, when I was making my rounds (yeah rounds :3), I saw Yuukidha's and Saori Sam's Blog that they had bought a multiple sets of cricket outfit and had stack of Buzz Bonuses. At first, I was so skeptic if this is true. So, I went to Jean Beltran's Blog Posts to see if this is true (no offense to Saori and Yuuki) since she's the "Epitome of Filipino Bitlanders" and "Everyone's Baseline", I think. LOL. Well, anyway, after seeing that she also bought multiple outfit I still had my doubts because I was planning to use the gems (30 gems) for another review but I still bought 2 sets of cricket outfit (Second Boost) after thinking for 1 minute :3.It really gave me a headache but I think it was worth it though.
Third, was again because of Riza. She gave us links (yup! its plural) about the buzz treasures that she found recently and thanks to her I gained a +4 buzz bonus.
Fourth (obviously the last), was because of the Bit Quests. Honestly, I got the habit of having my buzz bonus to reach its maximum first before doing the quests but unfortunately, I forgot to do one quest (sharing video to Facebook) before the cut off time last February 19, 2015. The next day, I did that quest before the reset of quest, which is 12 noon here in the Philippines and also as I usually do, I did new quests that day at around 6 pm. So I got a total of +4 buzz bonus.
And the result? Tentenenen! Drum roll please!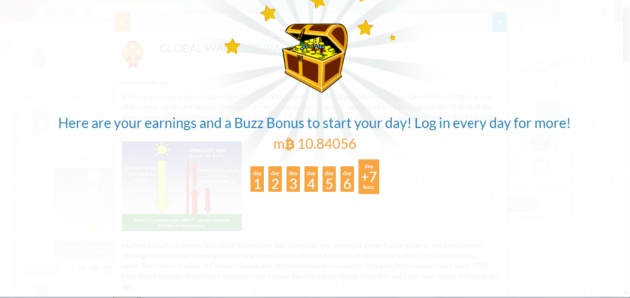 And Yup! I also got this Buzz Score too because of that. Well, I couldn't reach such revenue alone actually. It was all thanks to my friends here who gave me an all out support. Thanks guys! (teary eyed, waving).