History of American Pie
Video from youtube
American Pie is a 1999 teen comedy directed by Paul and Chris Weitz and written by Adam Herz. It is the first film directed by the Weitz brothers, and the first film in the American Pie series. The film is a box-office hit and spawned two direct sequels: American Pie 2 (2001) and American Wedding (2003).
The film concentrates on four boys who make a pact to lose their virginity before they graduate high school. The title of the film refers to a scene in a movie where the main character was caught masturbating with a pie after previously told that third base feels "like warm apple pie".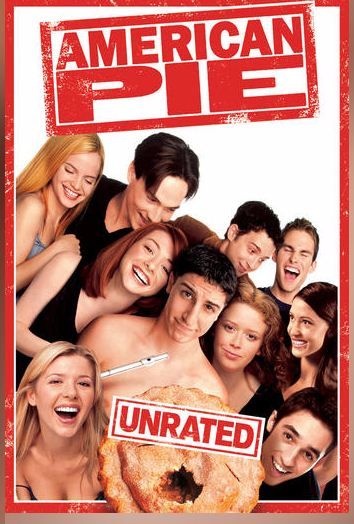 Film ranked 49th on Bravo's "100 Funniest Movies" list, and ranked 22 on Entertainment Weekly list of the 50 Best High School Movies. In 2000, readers of Total Film magazine pick-6 American Pie comedy film of all time and in 2006 the viewers of Channel 4 in the UK chose 7 in its list of 50 Greatest Comedy Films.
Due to the conclusion of the American Pie trilogy, featuring the courtship and marriage of character Jim Levenstein and Michelle Flaherty, American Pie name has gone on to be used as an entity similar to the National Lampoon film series. American Pie has spawned four direct to DVD movie spin-off of the title American Pie Presents: Band Camp (2005), The Naked Mile (2006), Beta House (2007) and Book of Love (December 2009)

Image from Google
American Pie 1, this movie tells the story of four high school teenagers, who make agreements in this film that they should already ga virgin / male again and here they use a variety of ways
American Pie 2, if in this film tells the story of 5 girls who are looking for love if not mistaken, this clear sign hit grossing comedy movie time its released haha on the cover of its course in writing more laughs than the original

Image from Google
American Pie 3, so in this movie jim same story michelle want to get married, well kept the stifler and his colleagues came up with brain mesumnya planning a wedding a festive gan. there is a scene where stifler and his friends dancing naked to enliven the event
American pie 4 also includes the most hilarious according gan, so the bad boy Stifler, always make trouble, so he transferred to the school band, had let the band jamming Stifler learn, eh ga taunya remain the bad boys bad boy.
nah this if, one day there is a race Running Bare naked, well when finished his race, stifler and friends can be a gift, of course, the boss knows his own reward what haha.

Review Movie - Image from Google
nah American Pie 6 Beta House news got news, is a film that makes us laugh, but many scenes of semi open-aperture, but still in the sensor, nah here earlier story Stifler and his friends go to college, this is the last and the the most memorable ...
so the story three people are often gathered together had the intention that all engga virgin, well in this movie, Stifler not so major role, but still so the role of bad boy in American Pie, three men were nemuin book in perpusnya, after it's a long story, they re-create the book, and they make the book guide for them get the girl.