video credits: Siemens Healthineers via Youtube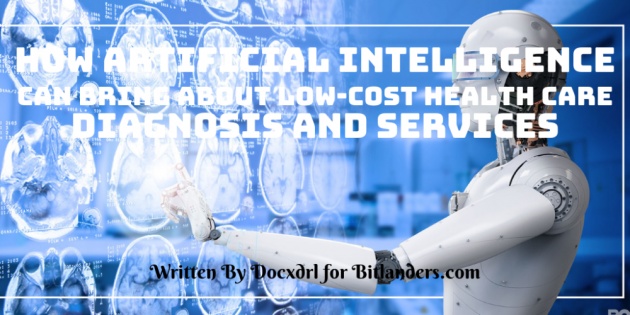 How Artificial Intelligence can bring about Low-cost Health Care Diagnosis and Services: Image edited by Docxdrl via Canva
The biggest problem of health care in Nigeria and most of the developing countries of the world is not the quality of the care. Rather it is the inequality in health care services and the high cost of services. There is also the hurdle of having access to health care when needed.
A number of factors have contributed to the problems faced in the health sector that deprived individuals of accessing quality health care services in any part of the world. But right now, the health industry is been revolutionize by technology. These technological revolution rangers from drug development to clinical research and the use of Artificial Intelligence (AI) to help improve patient outcomes at a very low cost.
Primary care is where the power, opportunity, and future of AI are most likely to be realized in the broadest and most ambitious scale. We propose how these AI-powered innovations must augment, not subvert, the patient-physician relationship for physicians and patients to accept them. AI implemented poorly risks pushing humanity to the margins; done wisely, AI can free up physicians' cognitive and emotional space for patients, and shift the focus away from transactional tasks to personalized care. The challenge will be for humans to have the wisdom and willingness to discern AI's optimal role in twenty-first century healthcare, and to determine when it strengthens and when it undermines human healing
Credited to: ncbi
For the reason of reducing medical care cost, both private and governments of nations are investing huge amount of money in the health care sector. It is already confirmed that Artificial intelligence in healthcare spending to hit 36 billion in the year 2020s.
Artificial Intelligence (AI) based tools should be used in clinical decision support systems, streamline workflow processes in hospitals to lower the cost for treatment, improve healthcare services delivery to every patient irrespective of status quo and encourage medical care for all
Therefore, when you see articles like The AI Doctors will see you now or Your future Doctors may not be human these are all in an attempt to provide medical care for both the rich and the poor, from the rural areas to urban centres.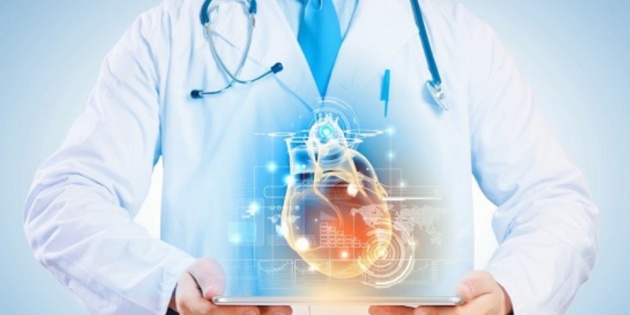 image credits: aitrends
In today's world, artificial intelligence (AI) and Machine Learning (ML) are employed in almost all field of life. And AI in healthcare is a hot topic likewise. Even though the general public may not agree with the automation of the medical industry using artificial intelligence, we can't deny the fact that it is a good achievement and a new front for humans to look into for better lifestyle.
Nevertheless, we can't neglect the primary purpose of artificial intelligence healthcare applications. AI purpose in healthcare is for such process like diagnosis processes, drug development, personalize medicine, patient monitoring and care, all these are for the purpose of decreasing patient boarding, reducing length of stay and also optimizing efficiency in healthcare systems.
For these purposes, the healthcare industry headed towards yet another high-tech makeover, with Mayo Clinic already using artificial intelligence to detect silent heart disease, Memorial Sloan Kettering AI model spotting cancer in pathology at 100 per cent accuracy, and the Massachusetts General Hospital artificial intelligence systems learn to diagnose and classify Intracranial Hemorrhage. Furthermore, big names like Google and IBM Watson Health have also developed algorithm for healthcare services for the benefits of lowering the cost for health care diagnosis.
How is Artificial Intelligence Used in Healthcare?
Artificial intelligence in the healthcare sector is still in its infancy. Like most relative new technology, AI use varies from industry to industry, and it is expanding and becoming sophisticated by the day!
Clearly the the use of AI in medicine has been expanding in the last few years. This is partly due to a desire by medical providers to expand their care offerings, and partly due to the maturing of artificial intelligence itself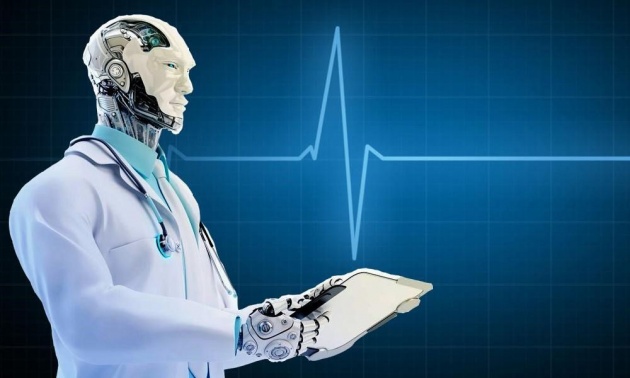 image credits: globalhealthnewswire
The medical technological sphere is expanding whether we like it or not, or we realize it or not. As technological usage has increased in all areas of life, so has our use of AI in healthcare services. Patients can now book medical appointment online, check for free online disease diagnosis or to get a clue about how they are feeling and what is the possible way forward.
The use of AI in healthcare is not just for freeing up time for medical professionals, but rather encouraging and increasing precession in medical treatment. Knowing this and understanding how to apply it, can be the best use of AI in medicine ever!
AI in Healthcare Services
Artificial intelligence technology in healthcare is the automation of medical processes in diagnosis, and treatment of patients. For AI to be fully effective and efficient in the healthcare services there is the need for;
Gathering of patient data via interviewing them and storing this information accordingly.
The above-mentioned data must be processed, analyzed, stored for posterity.
The data that to be used must be of good quality and from a reliable source in order to ensure accurate diagnosis.
After diagnosis, the system should be programmed to choose a specific and accurate treatment for the patient based on the diagnosis result.
During treatment, the patient should be put under observation for side effects, reaction to drugs or other symptoms that may arise from the treatment that is been administered by the AI Doctor.
The effort put in by artificial intelligence in healthcare services is for automating diagnosis to free up time for medical professionals to perform other duties like checking up on the patient, having time to converse with the patient before administering treatment, and also making research to update themselves about the latest development in the medical world.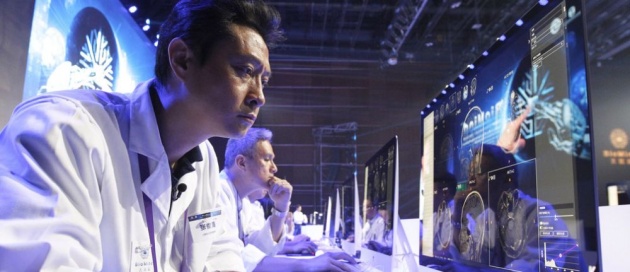 image credits: weforum
A common trend in Nigeria hospital is before you finish explaining how you are feeling, the doctor has already finished prescribing the medication
I strongly believe that the balance between AI and medicine is not excessively and intentionally over automating medical processes in order to free time and make the Doctors lazy. The goal is to balance the effective use of artificial intelligence to help reach more people that are in need of medical attention and can't afford it or the high cost of consultation.
What Does the Future Hold for Medical Practitioners?
The best opportunity for AI in healthcare and medicine in the next few years is the hybridization of clinical diagnosis, treatment planning, disease identification and precision medication for the sick.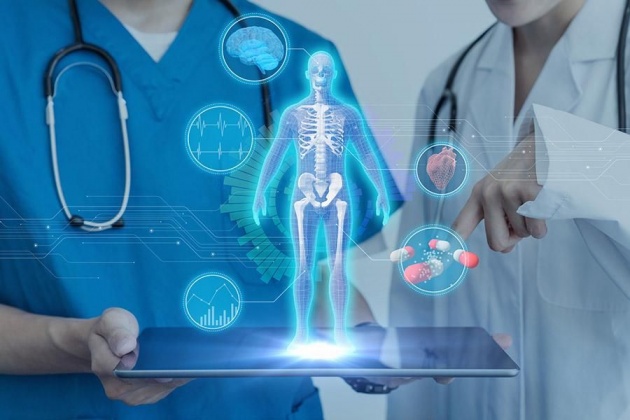 image credits: forbesindia
The general worry that will come with the advancement in technology is the need for human element of the Doctor's role in things artificial intelligence cannot provide for a patient; things like moral judgment, creativity, empathy, sympathy etc.
Try chatting with me to find out more about AI in Healthcare
Individuals like Piret Hirv of Health Community hold the view that;
It's quite clear that artificial intelligence will be used more and more in future of medicine, but it's not going to replace a doctor anytime soon. Rather, artificial intelligence in the future will provide us with quick and convenient answers based on our own health data
Despite the fact that individuals, religion and Luddites around the world hold mix feelings about the future of artificial intelligence, it is important that we move forward together with the thought of developing the healthcare and medicine sector to aid better health care for humanity using AI.
Instead of having mix feelings & thoughts about the future of doctors in the era of artificial intelligence, perhaps we should familiarize ourselves with the AI era and focus on using both human intelligence and artificial intelligence in providing healthcare services to the sick irrespective of their location
video credits: XPRIZE via Youtube
There is also another problem associated with AI; how should AI be regulated when fully automated in healthcare services in the future? Moreso; who should be held responsible when an AI makes a mistake? Who is to be blamed? And to what extent can a machine be used in diagnosis.
This finally boils down to; how artificial intelligence can be used in healthcare to provide services to patient that are sick and can't afford & reach a doctor?
On A Final Note
AI-powered solutions have made baby steps in addressing keys issues in growing rates of chronic diseases and the possible treatment from available data. Achieving a milestone in healthcare services and medicine geared towards the global impact on the industry is still coming from the horizon.
The wave of AI innovation could lead to the development of cutting-edge solutions capable of saving more patients' lives and lowering cost for consultancy. AI is bringing us closer towards a brighter future where healthcare services are efficient, effective, affordable and accessible for individuals around the world irrespective of status quo, and regardless of where the individual lives.
You are welcome to JOIN US, it is free!