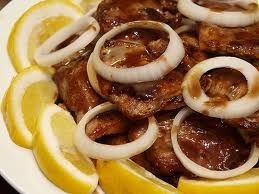 Ingredients
1 kilo Beef Tapa Cut
10 pcs Calamansi Juice or Lemon Juice
8 Tbsp Soy Sauce
3 Tbsp Sugar
4 tbsp Liquid Seasoning
1/2 cup Soy Sauce
1/2 cup Water
1/4 Olive Oil
1 cup Onions Red or White sliced into circles
Procedure:
1. Mix Calamansi or Lemon Juice, Soy Sauce into a bowl. Add beef and let it sit into refrigerator for 1 hour

2. Heat Pan. Add Olive oil. Lightly fry the onion rings. Remove from pan and drain on paper towels. Keep warm.
3.Pan fry the beef slices until they are brown, when all the beef has been cooked put it into a bowl and add onion on top of it. Serve Hot.