Baguio City is dubbed as the country's summer capital of the Philippines because of its obviously cold weather. Traveling to Baguio City from Cebu would take hours after flying on a plane from Mactan Cebu. It costs a lot for the airfare tickets as well as the bus travel. But I would still prefer coming back to Baguio to immerse myself again in the cold weather. So when I heard about this mini Baguio spot in Cebu, I would never want to miss it so finally last weekend, James and I went there.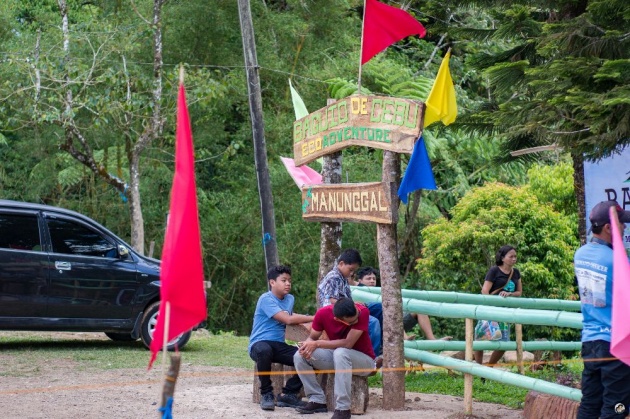 Image credits: Jean Beltran via bitLanders
From the main Balamban transcentral highway road, James and I reached a Y junction with some tarpaulin sign of the Baguio de Cebu Eco Adventure Park. It was easy to find and those who'd want to go here would definitely miss it because of the huge and multiple signs.
Their entrance fee of Php 80 per person has to be paid at the entrance gate 3.9 kilometers away from the main site. Another environmental fee of Php 5 has to be paid. A receipt will be provided and should be kept as it will be asked at the site as soon as the guests arrive. We were lucky that a local who was on his way to the spot offered to show the road to us. After the long rough road, we finally reached the grassy lawn of Baguio de Cebu Eco Adventure Park.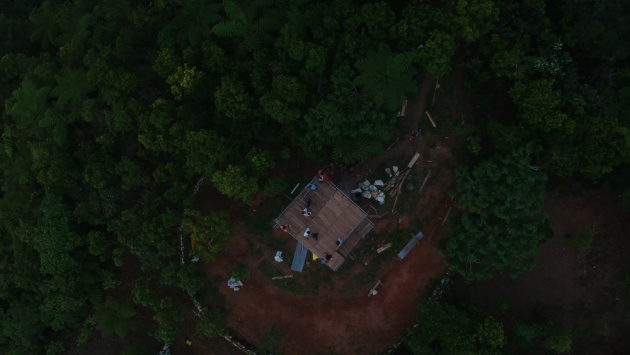 Image credits: Jean Beltran via bitLanders
How to Enjoy Baguio de Cebu Eco Adventure Park?
Obviously, the location's weather is much colder compared to the city. The pine trees and shrubs which cover the location made it extra which made me really think that we were in Baguio, although a bit smaller than that of Baguio, it is still comparable and there are similarities. Here is my own list of ways on how to enjoy this newly known spot.
Horse Back Riding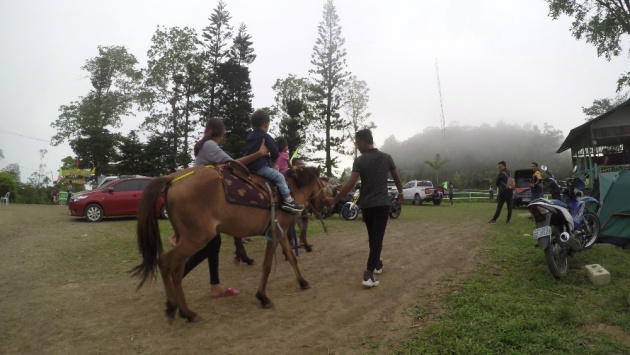 Image credits: Jean Beltran via bitLanders
Most of the guests brought their kids and are really welcome here because of horseback riding activity. Currently, there are two horses which are managed and taken cared of by the locals.
For Php 150, a guest can enjoy horseback riding for 15 minutes going from the green lawns of the park towards the campsite and returning back to their starting point. The horses as well have their own food stalls at the side where their food is placed so when they are not walking around, they'd be feeding on that side of the area.
I missed asking about the breed and the age of these horses but by their look, I can sense that they were young ones. I remember our own experience at the Mitra House, the horse was an import from another country and the caretaker said it was an expensive breed.
Sky Bike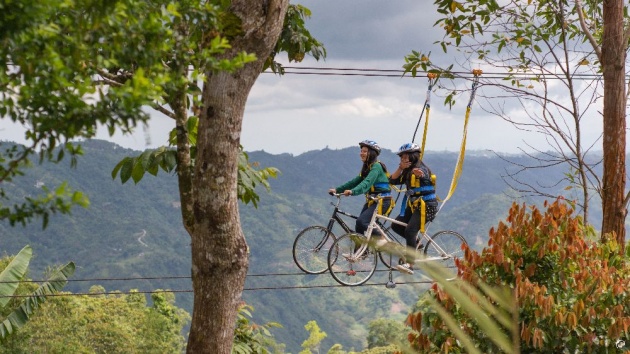 Image credits: Jean Beltran via bitLanders
This adventure activity is already making a name in the Philippines. I have seen a couple of tourist spots and destinations which offers this, namely CHAP in Carmen Bohol, there's one as well in Campuestohan Highland Resort in Talisay Negros Occidental and finally in Balamban as well specifically in the Baguio de Cebu Eco Adventure Park!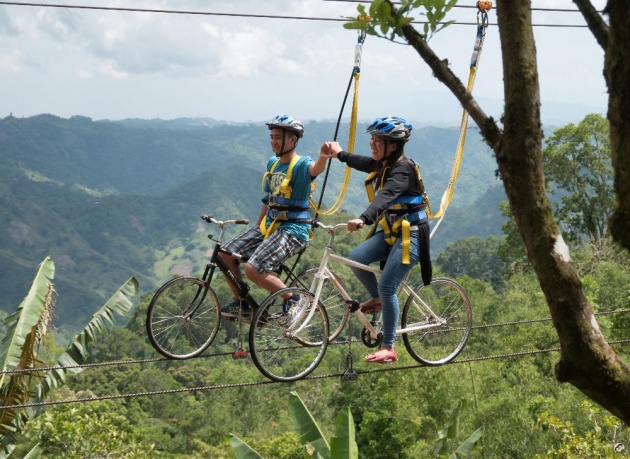 Image credits: Jean Beltran via bitLanders
This activity will cost Php 150 for the roundtrip pedaling in a cable with the bike stably attached to another hanging cable above thus makes it possible for the rider to not go over and fall from the cable. Each rider will be wearing their safety harness too!
The view is great as the rider pedals her way to the other end of the cable. This activity is good for all ages, even the old folks will enjoy!
Video credits: Jean Beltran via bitLanders
Camping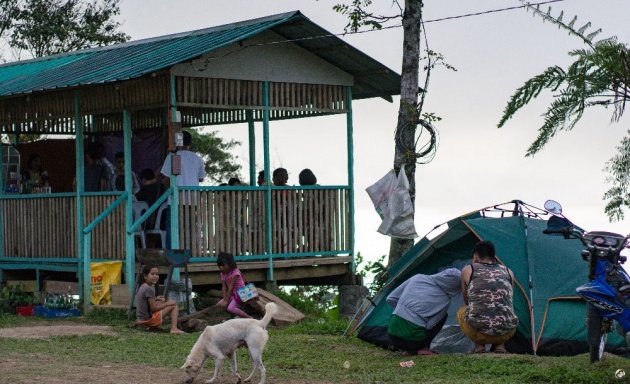 Image credits: Jean Beltran via bitLanders
Any camper can come and experience how cold this location would be in the evening by camping here! For just Php 50, anyone can go camping and even build their own campfire in the designated area.
In fact, before this became Baguio de Cebu, it was first a campsite for those who want to trek Mt. Manunggal. The campers would be pitching their tents and spend the entire night before climbing the mountain.
However, another addition to this camping activity is their newly built viewing deck which is just a few walks away from the camping site. The two-story viewing deck is made of metal boulders and wooden floors to accommodate guests and see the amazing 360-degree view of Balamban, Toledo City, Cebu City and even Lapulapu or Mactan Island. The buildings of Cebu and Mactan are quite visible but the greens of the mountains and the forest are much more relaxing from here.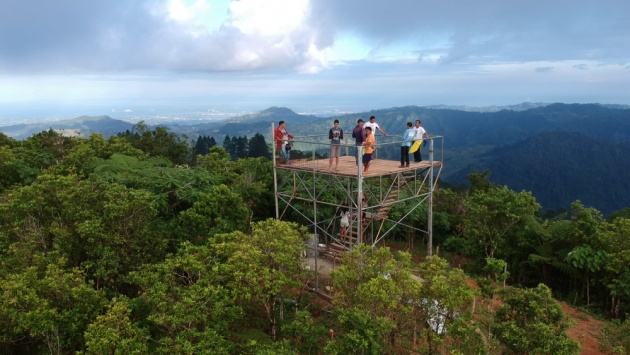 Image credits: Jean Beltran via bitLanders
There are also tents for rent worth Php 300 for those who don't have tents themselves. Those who would like a local to watch over them overnight, a fee of Php 50 only can be paid.
Manunggal Peak Trek and Climb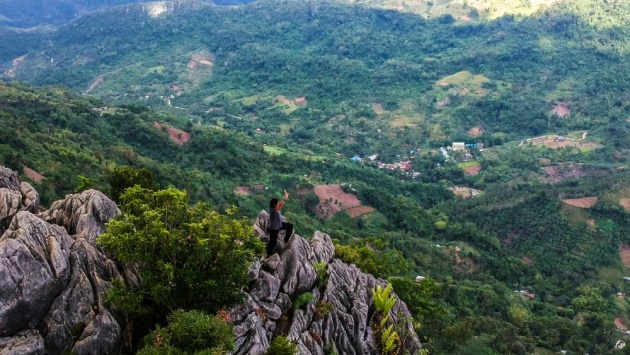 Image credits: Jean Beltran via bitLanders
But what a supposed sightseeing became an instant trek to the famous Mt. Manunggal in barangay Sunog, Balamban, Cebu where the Baguio de Cebu Eco Adventure Park is also located. I have no idea that this is where most mountain climbers go whenever they have trek activities to the said mountain. What I was only aware of was that there's a mini Baguio spot in Cebu and since we were already in Balamban, might as well check this out.
The local who showed the way to us going to the exact site later on introduced himself as Kuya Jerome, a tour guide for the Mt. Manunggal climb. He tried his best in persuading us to go climb Mt. Manunggal.
Actually, there are three other mountains which can be climbed: Mt. Mauyog, Monkey Mountain, and Manunggal Peak. But the latter is the easiest to climb and so after all the talking, James and I were persuaded to finally go trek and climb the Manunggal Peak.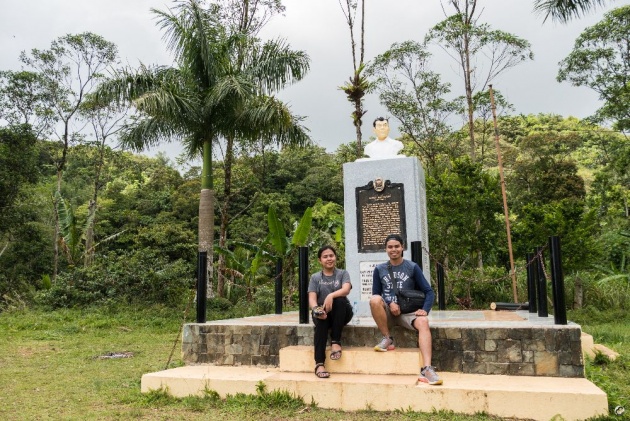 Image credits: Jean Beltran via bitLanders
Walking towards the peak was easy. The path has cemented blocks placed and since it was sunny, the path was not muddy at all. We passed by the exact spot where the former President Ramon Magsaysay's plane crashed. The airplane's engine was secured and a print of the list of the passengers as well as the history of the event can be found on the spot.
After around 20 minutes of walking, we finally reached a spot where we had to climb to reach the peak. That reminded me of our climb experience in Taraw Peak in El Nido, Palawan. The rocks were spiky and challenging, I had to make sure they are sturdy and stable before I should step on each platform. I had to pull myself and make use of my sleeping muscles to get myself up.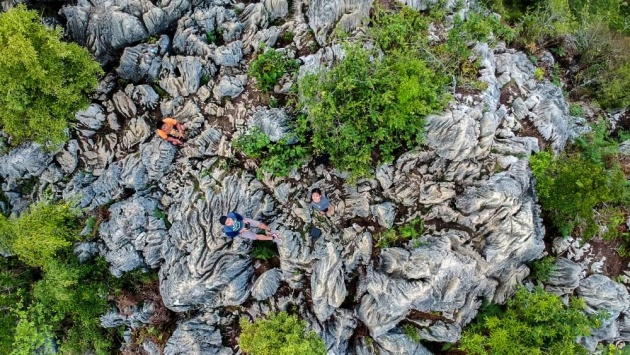 Image credits: Jean Beltran via bitLanders
As soon as I saw the view, I really felt accomplished! I can't imagine that I was able to get to this spot on that day. James and I had to stay for a couple of minutes, took lots of pictures and even flew the drone to give us a nice view of the stones at the top of the mountain.
Video credits: Jean Beltran via bitLanders
Going down, we met a lot more local tourists who were on their way up. It was more challenging going down, as the gravity seemed to be pulling us down and I have to stop myself a lot of time to decide which path to go and make sure that I won't be injured while on my way down.
But after that phase, we finally reached the trekking path, it was a little tiring because the path is already uphill this time going back to Baguio de Cebu Adventure Park then it also started sprinkling but stopped after a few minutes. I was catching my breath as we reached the original spot. I looked at Manunggal Peak and told myself well done Jean for conquering it!
This blog entry was written and published by Jean Beltran-Figues for bitlanders.com.